Say this for the 2021 Personal Ensign; Letruska may be the clubhouse leader as Champion Older Filly of the Year, but her rivals for that title don't scare easily.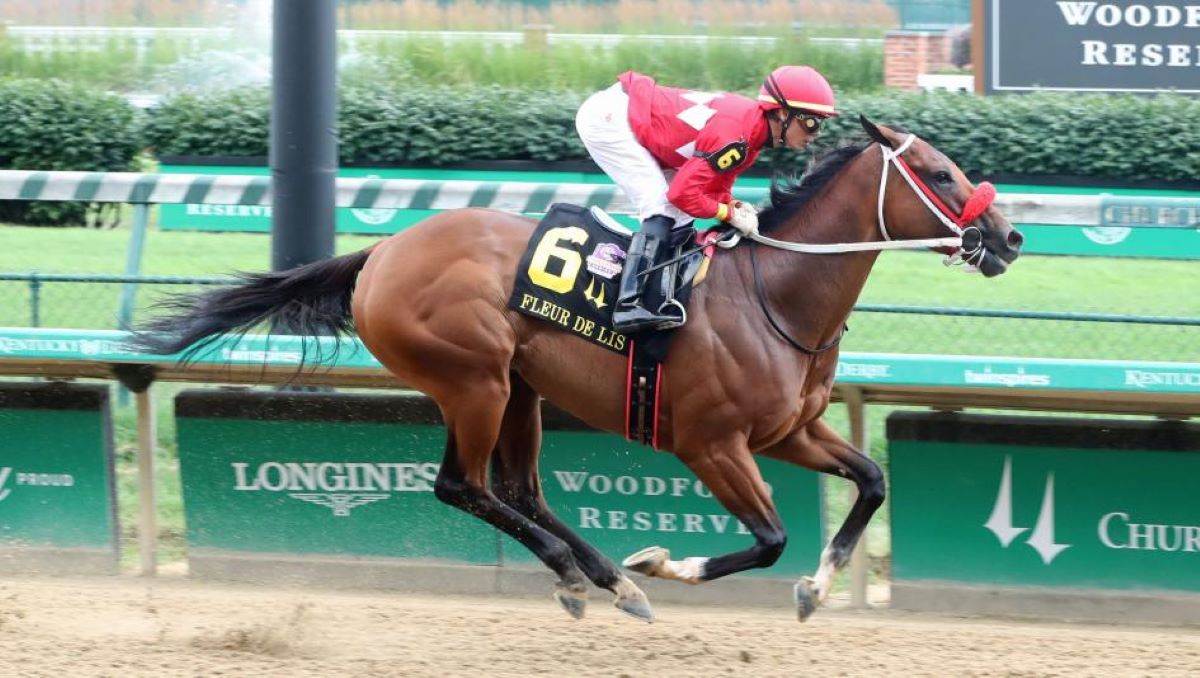 That explains why the Grade 1 Personal Ensign – one of Saratoga's six Grade 1s on Saturday — features a deep, accomplished field of nine older fillies and mares. How deep? Every horse in the field owns at least one graded-stakes title, from 6/5 favorite Letruska up the odds ladder to 20/1 long shots Dunbar Road and Miss Marissa.
That's appropriate for a race named after a mare who went 13-for-13 over her Hall of Fame career. The $600,000 Personal Ensign sends its nine contestants 1 1/8 miles on Saratoga's main track. Dating to 1948 under other names, the Personal Ensign boasts a typically strong winner's roll. There's Midnight Bisou (2019), Abel Tasman (2018), Royal Delta (2013), Beautiful Pleasure (1999-2000), and Heavenly Prize (1995), among others.
Win the Personal Ensign and you punch your ticket for the Breeders' Cup Distaff at Del Mar in November. The race is a Breeders' Cup Challenge Series "Win and You're In" event.
Letruska brings form, speed, class
Letruska has already booked her Distaff gate spot with her nearly three-length victory in the Grade 1 Ogden Phipps on the Belmont Stakes undercard. That gave the daughter of 2010 Kentucky Derby winner Super Saver her third consecutive graded-stakes victory.
Now, she comes into Saratoga 5-for-her-last-6, with only a second in the Grade 2 Azeri at Oaklawn spoiling the parade. Her last three wins came in the Grade 1 Apple Blossom, the aforementioned gate-to-wire in the Ogden Phipps, and the Grade 2 Fleur de Lis at Churchill Downs. Take it back further and she's 6-for-her-last-8, dating to her victory last summer in the Grade 3 Shuvee at the Spa. That validates her Saratoga credentials.
Her tactical speed often puts her on the lead, but unlike a couple of her counterparts here, As Time Goes By and Miss Marissa, she doesn't need it. "She's a horse with a lot of talent. She has a strong character and the different places that we ship get more serious and more competitive," trainer Fausto Gutierrez told the New York Racing Association.
Swiss Skydiver turns around on three weeks rest
Indeed they do. The serious competitors start with a familiar name: Swiss Skydiver (7/2). A familiar name who has familiar struggles in her 4-year-old season. There's the troubled trip in the Apple Blossom, where she finished third after getting stuck in traffic. There's the fever-induced layoff that kept her out of the Ogden Phipps. The quarantine of trainer Kenny McPeek's barn that kept her out of the Shuvee and forced McPeek to send her against the likes of Knicks Go and Maxfield in the Grade 1 Whitney.
There's nothing wrong with a fourth-place finish in that field, but nobody in this field needs a breakout performance more than the daughter of Daredevil. Swiss Skydiver is 1-for-3 this year, hardly the record you'd expect from the Champion 3-Year-Old Filly of 2020.
"She needed the race. She hadn't run since April," McPeek said about the Whitney. "She went through that little fever she had for the Ogden Phipps. She was just off a long time. My preference was the Shuvee. I think it certainly would have been a better launching pad, but it was a good run. I'm sure she's going to improve fitness-wise off that."
Don't ignore the Baffert factor
Three other candidates may factor here in some form, including As Time Goes By (6/1), Harvey's Lil Goil (8/1), and Bonny South (10/1). Putting aside that Bob Baffert enjoys success shipping in horses for Travers Day, As Time Goes By comes in from Baffert's California barn possessing legitimate front-running speed. She also comes in from a disappointing last-out trip in the Grade 1 Clement Hirsch at Del Mar, courtesy of a bad start.
But before then, the daughter of American Pharoah won the Grade 2 Santa Maria by a neck and the Grade 2 Santa Margarita by 9 ¼ lengths. That latter win came over this same nine-furlong length.
"The further the better for her. She's been working really well, so hopefully, we'll get a good clean break," said Baffert, who added that As Time Goes By is the best-bred horse in the field. "I think she'll like that big track. I've been very high on her and took my time with her so, hopefully, this race could be her coming-out party."
Personal Ensign puts Harvey's Lil Goil back on dirt
Another American Pharoah progeny, Harvey's Lil Goil, gets Saratoga's leading rider, Luis Saez, in the irons. She can use all the help she can get because, like Swiss Skydiver, Harvey's Lil Goil isn't enjoying a good 4-year-old season.
She owns stakes wins on both turf and dirt, but her last win came in the Grade 3 Beaugay Stakes at Belmont Park in the spring. Since then, she hasn't hit the board in either the Grade 2 New York or the Grade 1 Diana. The Personal Ensign marks her return to dirt for the first time in six starts.
As for Bonny South, she too needs a rebound. After a solid second to Letruska in the Ogden Phipps, trainer Brad Cox sent the closer to Delaware for the Grade 2 Delaware Handicap. What was supposed to be easy prep pickings turned into a miserable fifth by 8 ½ lengths.
---
Grade 1 Personal Ensign Stakes/Saratoga
Morning Line (Jockey/Trainer)
Dunbar Road, 20/1 (Flavien Prat/Chad Brown)
As Time Goes By, 6/1 (Mike Smith/Bob Baffert)
Bonny South, 10/1 (Manny Franco/Brad Cox)
Swiss Skydiver, 7/2 (Jose Ortiz/Kenny McPeek)
Royal Flag, 10/1 (Joel Rosario/Chad Brown)
Letruska, 6/5 (Irad Ortiz Jr./Fausto Gutierrez)
Miss Marissa, 20/1 (Daniel Centeno/James Ryerson)
Harvey's Lil Goil, 8/1 (Luis Saez/Bill Mott)
Graceful Princess, 15/1 (John Velazquez/Todd Pletcher)
---
"We're going to throw her last race out at Delaware," Cox said. "There was a lack of pace, and she probably didn't want to be that close. She needs a set-up and she didn't get it. She's been here for a good while and she's settled in, so I'm excited to give her this opportunity. I'm excited about getting her back in good form in the Personal Ensign. Hopefully, she has a pace to run at, and I think we'll get that."
The pick: Letruska. She's the only serious contender in this field without question marks, as her 2021 form illustrates. Her tactical speed and versatility give her the edge over need-the-lead types like As Time Goes By, who does warrant attention on your tickets. Getting a Baffert with good speed at a price is never a bad bet.