Jessica Andrade won the UFC Women's Strawweight Championship in 2019, and challenged Valentina Shevchenko for the flyweight title in 2021. Now she's back in her old stomping grounds for another run against streaking strawweight contender Amanda Lemos in the main event of UFC Fight Night 205.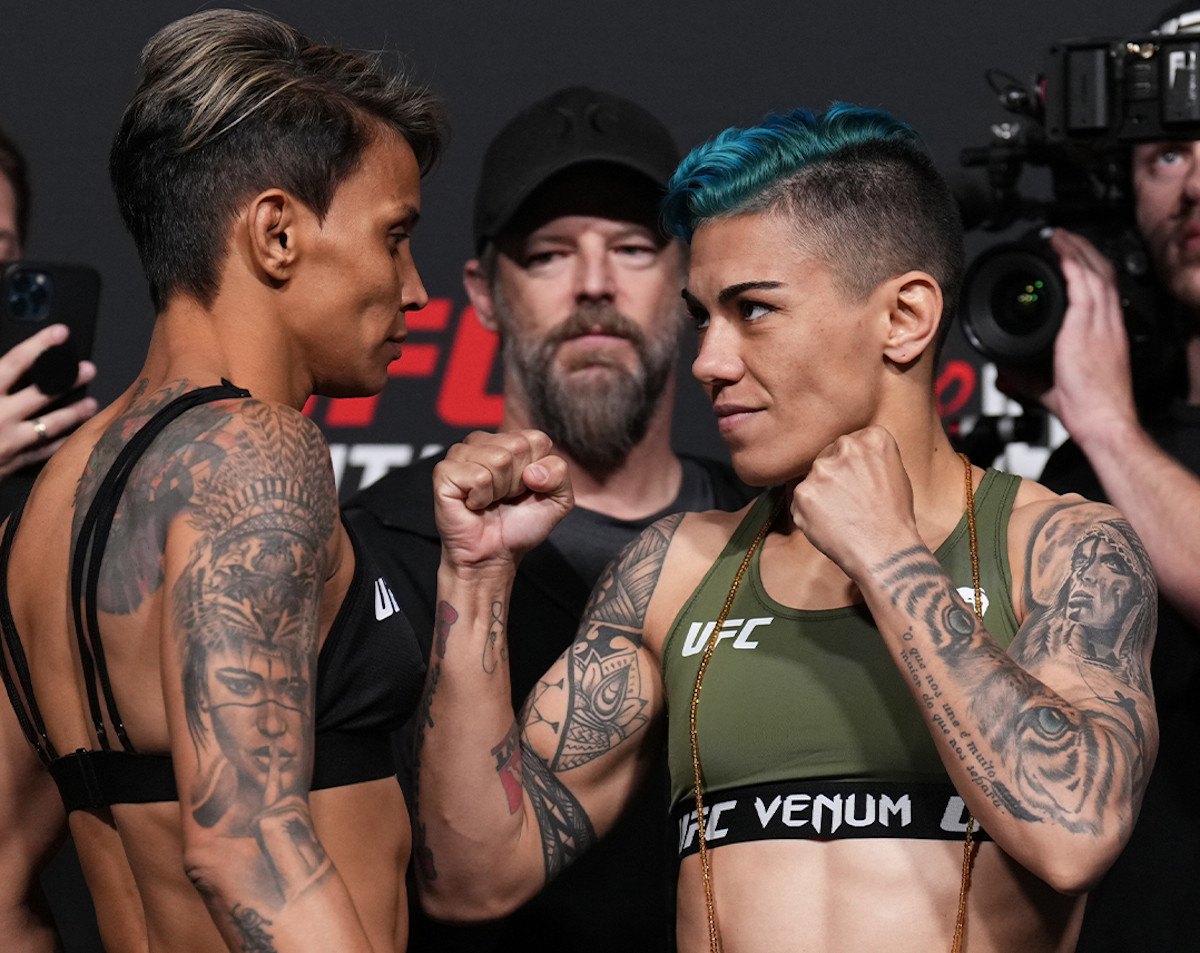 Andrade comes in as a -220 favorite over Lemos (+180) in her return to the strawweight division, according to DraftKings Sportsbook.
Andrade, Lemos both imposing as strawweights
It's not as if Andrade (22-9) struggled up at flyweight. She won two of her three fights, and currently ranks as the No. 1 contender in that division behind Shevchenko. She'll have to work to gain such a high position in the strawweight ranks, even with her prior success there.
"I wouldn't say it would be quicker at strawweight, because I was already No. 1 at flyweight, and it's a much tougher competition overall," Andrade told reporters. "At the end of the day, I'm a strawweight. I'm gonna perform by best at strawweight."
Lemos (11-1-1) made an even bigger move down in weight. Up through her UFC debut in 2017 – a TKO loss to Leslie Smith – she fought in the bantamweight division. She immediately moved past flyweight down to strawweight, and has found success. Lemos has won her last fight fights, three of them by stoppage in the first round.
Win won't be enough to earn title shot
While Lemos probably isn't in line for a title shot with a win – she ranks No. 10 in the division at the moment – a win over Andrade would undoubtedly be the biggest of her career and put her on the shortlist of true contenders.
"Right away, as soon as they offered, I just accepted right on the spot," Lemos told reporters of the opportunity to face Andrade, via an interpreter. "I knew it was gonna be a great fight and a reat opportunity for me to move up in the rankings."
Andrade usually comes into her strawweight fights as the biggest woman, but that may not be the case this time around. Lemos has flashed bantamweight power even down at 115 pounds, a dangerous proposition for any opponent. That doesn't mean she can physically dominate Andrade, but Lemos may be able to match her in strength and power. In other words, the underdog has more than a puncher's chance, even if she's not yet a well-known quantity for MMA fans.
On the other hand, Andrade has far more big fight experience while also being four years younger. She also knows she needs a big win if she wants to fast-track her way back into the championship picture.
"I have to climb the ladder back up again, so I'm fine if I get the No. 10 spot if I win," Andrade said. "Or maybe if I get a proper, dominant win maybe I will get pushed a little bit higher."