Jessica Andrade will try to win her first professional MMA title on Saturday night when she challenges Rose Namajunas for the UFC women's strawweight championship at UFC 237 in Rio de Janeiro, Brazil.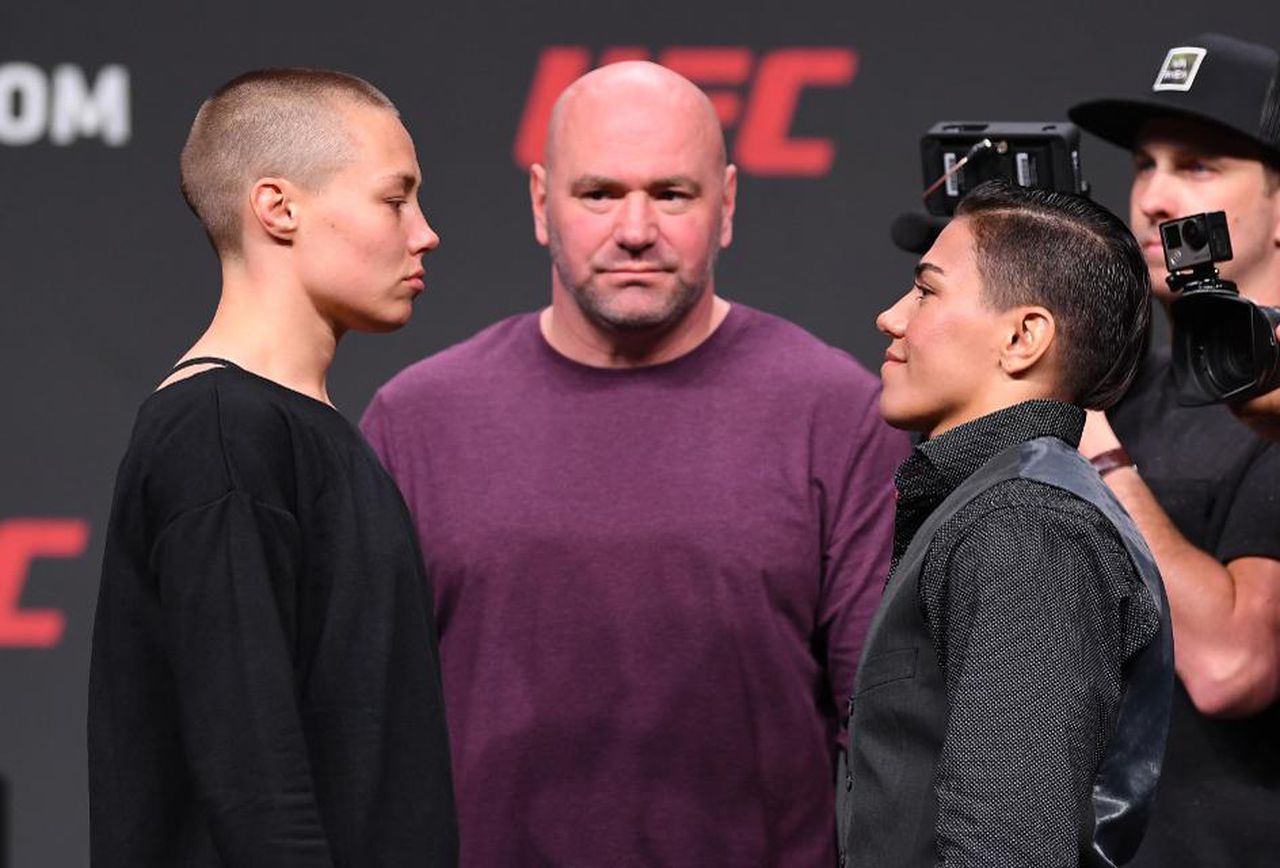 Namajunas has taken on the challenge of not only defending her title against a very dangerous opponent, but doing it in Andrade's home country of Brazil.
Namajunas Returns to the Octagon
That's something that UFC president Dana White has praised in the lead up to the fight, saying that Namajunas is taking on risks that other fighters might not be willing to.
"A lot of people will not go down to Brazil," White said on the Jim Rome Show. "They fear that they don't get the right call from the judges and the crowd is so hostile. It's basically Brazil versus the world."
Namajunas (8-3) earned her title in 2017 when she knocked out Joanna Jedrzejczyk in the first round at UFC 217. She then defender her title with a decision win at UFC 223 last April.
Since then, "Thug Rose" hasn't fought in over a year, looking to recover from injuries in the meantime. Now, she'll be returning to face perhaps the most dangerous opponent available to her in the strawweight division: No. 1 contender Jessica Andrade (19-6).
Andrade Believes Power Will Be the Difference
The Brazilian has an impressive resume, one that was capped off by a first-round knockout of Karolina Kowalkiewicz that led to this title shot. Andrade is known for raw, overwhelming power, and while three of her last four wins have come by decision, those victories have been overwhelming and have shown her strength advantage over her opponents in the strawweight division.
Andrade has made it clear that she thinks that power will lead her to victory over Namajunas on Saturday.
"She may move better than me, she may know her way around the Octagon better, but if I catch her, all it takes is one shot," Andrade told Combate. "I'm sure that this punching power will make a difference."
Namajunas will likely need to find a way to neutralize that power in order to win on Saturday. It's likely that her game plan will include a lot of movement, strikes from distance, and efforts to avoid the clinch, where Andrade's superior strength would likely prove decisive.
It's a testament to just how dangerous Andrade is considered that she comes into UFC 237 as the favorite despite the fact that she's not the current champion. FanDuel Sportsbook has posted Andrade as a -122 favorite, while Namajunas (+100) is listed as the slight underdog.
Those odds imply that the fight could go either way, an assessment that White says he agrees with.
"This is one of those fights I have no idea how this is going to go," White said on the Jim Rome Show. "I get why Rose is the underdog but people are underestimating Rose once again."