The NBA All-Star Weekend kicked off in Charlotte, North Carolina with the Rising Stars Challenge, and Kyle Kuzma from the Los Angeles Lakers scored 35 points and won the MVP while leading USA Rising Stars to a 161-144 victory over the World Rising Stars.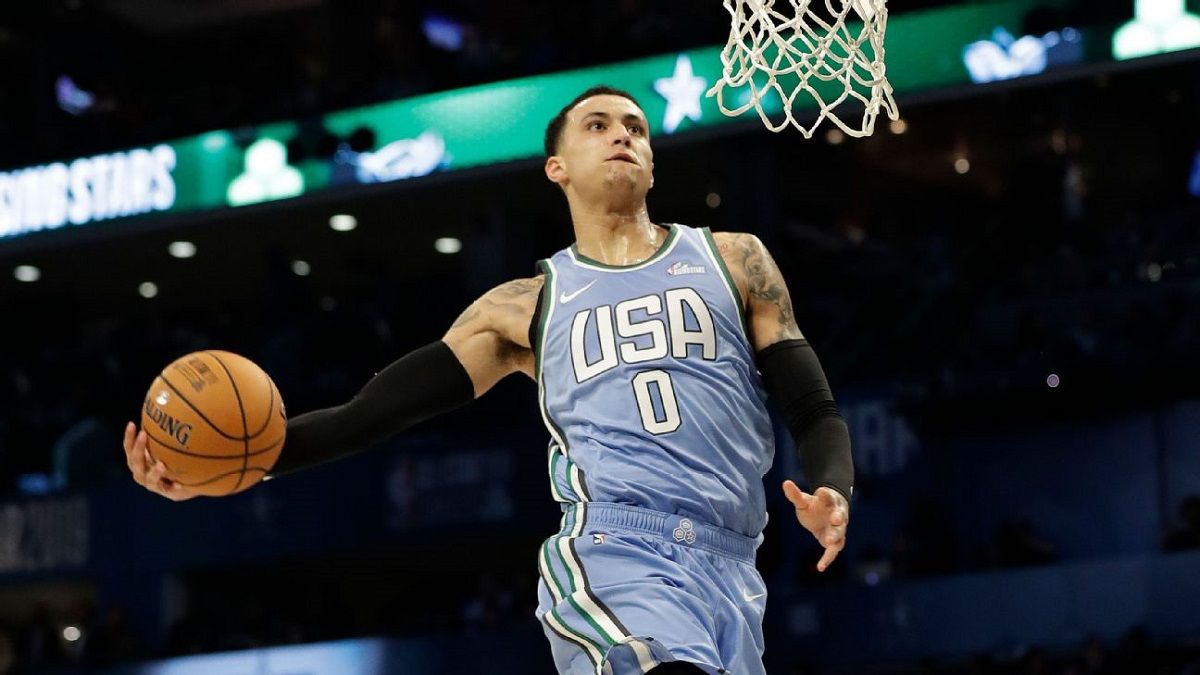 The Rising Stars Challenge featured the NBA's premier young talent with 20 rookies and second-year players. Teams were split into USA vs. World. Australian-born Ben Simmons, from the Philadelphia Sixers, led the World with 28 points. Kuzma, a second-year player from Utah, started for the USA team and participated in this game last year as a rookie with the LA Lakers.
"I played last year and was lackadaisical," Kuzma said, "I didn't want to do that again. There was a lot of great players out there, All-Stars, we're all young rising stars in this league. Obviously it's an exhibition, but it's always better to have bragging rights whenever you can."
2019 NBA RISING STARS CHALLENGE

Team USA: Kyle Kuzma (LA Lakers), John Collins (Atlanta), Jayson Tatum (Boston), De'Aaron Fox (Sacramento), Donovan Mitchell (Utah), Trae Young (Atlanta), Kevin Knox (NY Knicks), Marvin Bagley III (Sacramento), Jaren Jackson Jr. (Memphis), Jarrett Allen (Brooklyn)

Team World: Luka Doncic (Dallas), Deandre Ayton (Phoenix), Lauri Markkanen (Chicago), Ben Simmons (Philadelphia), Bogdan Bogdanovic (Sacramento), Shai Gilgeous-Alexander (LA Clippers), Josh Okogie (Minnesota), Rodions Kurucs (Brooklyn), Cedi Osman (Cleveland), OG Anunoby (Toronto)
The Sacramento Kings are one of the youngest teams in the NBA and currently on the playoff bubble in the Western Conference. The Kings sent three up-and-coming stars to the game: Bogdan Bogdanovic, Marvin Bagley III, and De'Aaron Fox.
Three former Kentucky players were involved in the Rising Stars Challenge including Kevin Knox, De'Aron Fox, and Shai Gilgeous-Alexander.
Kuzma MVP
Although teenager Luka Doncic from the Mavs has been tearing up the league, Kyle Kuzma stole the show. The Lakers forward dropped 35 points in 22 minutes. He went 3-for-10 from three-point range, but he went 12-for-17 from the floor overall. He finished with 6 rebounds and two assists, including a sweet no-look pass that led to a dunk.
Kuzma joked about the money as the incentive for team USA's victory. The winning team earned a $25,000 bonus per player.
"Facts," Kuzma said. "It was the second timeout, and I broke the huddle by saying, 'Bonus-1-2-3.' So there you go."
Kuzma is averaging 19.1 points and 5.6 rebounds per game in his second season with the Lakers. An impressed LeBron James raved about his teammate in an Instagram post.
"Yes sir!!" posted LeBron (aka @kingjames). That air up there just different ain't it lil bro?!?!? U said you was going to get it this year and you did. Way to show up and show out!"
It's been a rough first year for LeBron James and the Lakers, but Kuzma has been one of the breakout stars. Kuzma, along with almost all of the Lakers, were dangled as potential trade bait for Anthony Davis. With the trade deadline drama over, Kuzma put his supreme skills on display for everyone to see.
Kuz (14 PTS) no-look for the Spida SLAM! 🕷️💪

USA Team: 24
World Team: 21#MTNDEWICERisingStars on @NBAonTNT pic.twitter.com/Jxs2JmPDHC

— NBA (@NBA) February 16, 2019
Australia (Simmons) and Finland (Markkanen) Shine
Ten players represented the World. Basketball has become a global sport and the Rising Stars Challenge included players from the Bahamas, Serbia, Slovenia, Canada, Latvia, Finland, Nigeria, Australia, Turkey, and Great Britain. Slovenian sensation, Luka Doncic, leads all rookies in scoring this season. He had a rather quiet game with 13 points in 24 minutes. He dished out 9 assists for Team World.
Ben Simmons grew up in Melbourne, Australia, but spent a season playing for the LSU Tigers. The Philadelphia Sixers drafted him with the overall number one pick in the 2016 NBA Draft. The point guard averages 16.8 points per game for the Sixers, up from, 15.8 points from his rookie year. He's also averaging 9 rebounds and 8 assists per game.
Simmons led the World with 28 points in a mere 21 minutes of action. He missed only three shots on 14-for-17 shooting and added 6 assists.
Ben Simmons leads the World Team with 18 PTS in the first half! 💥#MTNDEWICERisingStars on @NBAonTNT pic.twitter.com/2OTqMcrRjE

— 2019 NBA All-Star (@NBAAllStar) February 16, 2019
The majority of professional athletes from Finland playing in North America are from the NHL. Lauri Markkanen is an exception, because you do not find too many 7-foot Finnish goalies on the ice. After a strong collegiate career with the Arizona Wildcats, the Chicago Bulls selected him with the seventh overall pick in the 2017 NBA Draft.
In his rookie season, the 20-year old Markkanen averaged 15.2 points for the Bulls and started 68 games. This season, he averages 18.5 points and 8.8 rebounds per game, even though he missed 20-plus games with an elbow injury. In the Rising Stars game, Markkanen made Finland proud with 21 points and 6 assists.