According to team doctors with the Golden State Warriors, guard Klay Thompson suffered a torn ACL in Game 6 of the NBA Finals and he is expected to miss anywhere between eight and nine months before returning to action.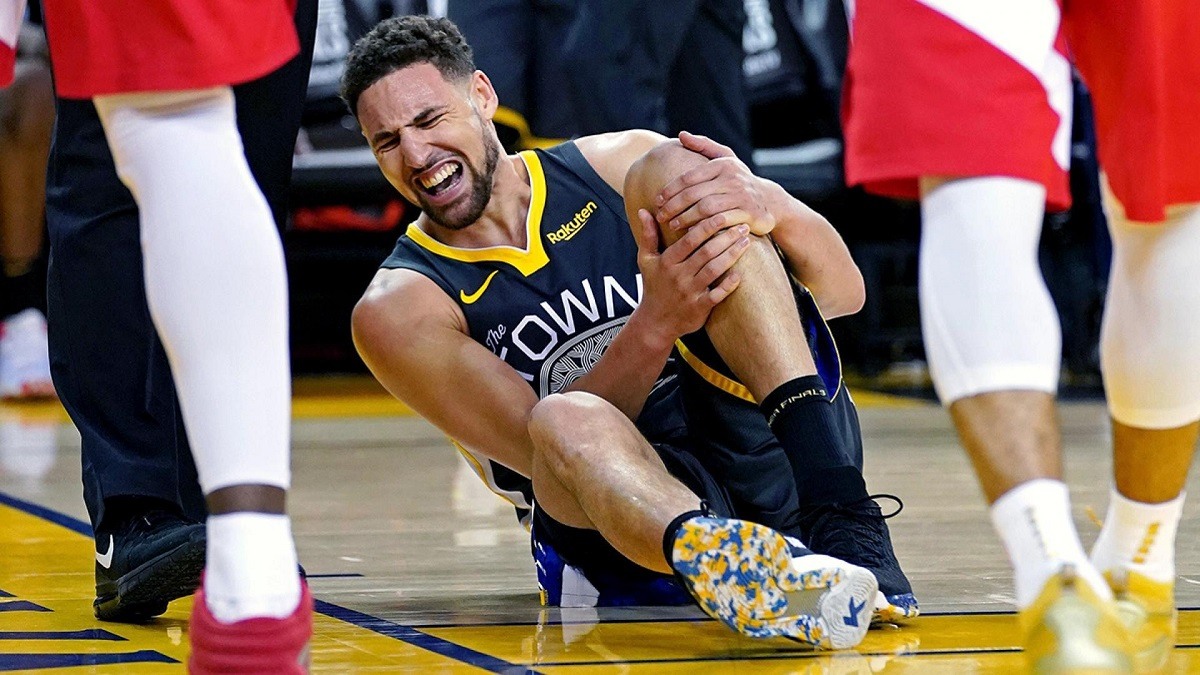 Klay Thompson led all scorers with 30 points when he injured his knee in Game 6 of the NBA Finals. Once he departed the game, the Raptors smothered Steph Curry and the Warriors did not have any other high-volume scoring options with both Kevin Durant and Thompson unavailable. The Warriors struggled to score points and they were unable to prevent the Raptors from winning Game 6 and the first NBA championship for Toronto.
"I don't know if it's related to five straight seasons of playing 100-plus games, or just all the wear and tear, but it's devastating," said head coach Steve Kerr.
Thompson averaged 20.7 points per game in 21 postseason games this year. Despite an early slump for the Splash Brothers at the start of the playoffs, Thompson connected on a career-high 44.3 percent of his three-pointers in the postseason.
Thompson, 28, played all seven seasons of his career with the Warriors. He averaged 19.5 points per game in his career that spanned 615 games. The Warriors selected Thompson, who played three seasons with Washington State, with the 11th overall pick in the 2011 NBA Draft. He's been a starter since his second season with the Warriors. He's won three NBA titles and named to five All-Star teams.
On multiple occasions, Golden State Warriors owner Joe Lacob said he wanted to re-sign Thompson and have him as a member of the Warriors the rest of his career.
"Obviously, my intention is to keep them as part of our organization forever," Joe Lacob said. "That's our goal. We'll see what happens."
Tough Klay
Thompson injured his hamstring in Game 2. He wanted to play in Game 3, but the team held him out as a precaution. The Warriors lost Game 3 and he return to action for Game 4.
Late in the third quarter of Game 6, Thompson landed awkwardly after drawing a foul. He tweaked his knee and had to be carried off the court. He returned to hit his free throws but did not return to the rest of the game.
"Obviously he's a warrior," said teammate DeMarcus Cousins said. "He's a true definition of a warrior. Dude was basically on one leg, and he's still trying to come out to play."
ACL injuries are not career-enders like they once were. The technology and rehab techniques improved vastly in recent years. Thompson could come back as early as March of next season, but that's if he does not suffer any setbacks.
LA Rumors
Klay Thompson's father played 14 seasons in the NBA including four with the LA Lakers. Thompson won back-to-back titles as a backup center on the Showtime Lakers squads in the late 1980s. Mychal Thompson always wanted to see his son play for the Lakers someday.
Klay Thompson grew up in Southern California. He's more of a SoCal guy than a NoCal guy. Between the Lakers and the LA Clippers, Thompson had two teams that would love to have his services.
The Lakers are in the middle of their own drama. Things got so bad that Magic Johnson abruptly quit without telling owner Jeanie Buss. Meanwhile, Davis' agent told the Pelicans that AD wanted to be traded to the Lakers or the Knicks. The Lakers want to trade the farm to acquire AD, but they have yet to reach an agreement with the Pelicans.
After the Tobias Harris trade to the Philadelphia Sixers, the LA Clippers cleared extra room in the salary department. The Clippers can afford two max free agent contracts this offseason. They have been sweating Kawhi Leonard hard, but there have been plenty of other names mentioned as the other possible free agent including Kyrie Irving, Jimmy Butler, and Klay Thompson.
Everyone anticipated it would be an interesting offseason with Klay Thompson and Kevin Durant on the free agent market. However, now that both players suffered severe injuries, their futures are in doubt. Of course, there's a scenario in which both Thompson and Durant remain with the Warriors. However, all signs point toward the Knicks luring Durant to play at MSG, while Klay sticking around to finish his career alongside Steph Curry in the Bay Area.