When NBA free agency begins, Kevin Durant will engage in discussions with four teams that want his free agent services: LA Clippers, NY Knicks, Brooklyn Nets, and the Golden State Warriors.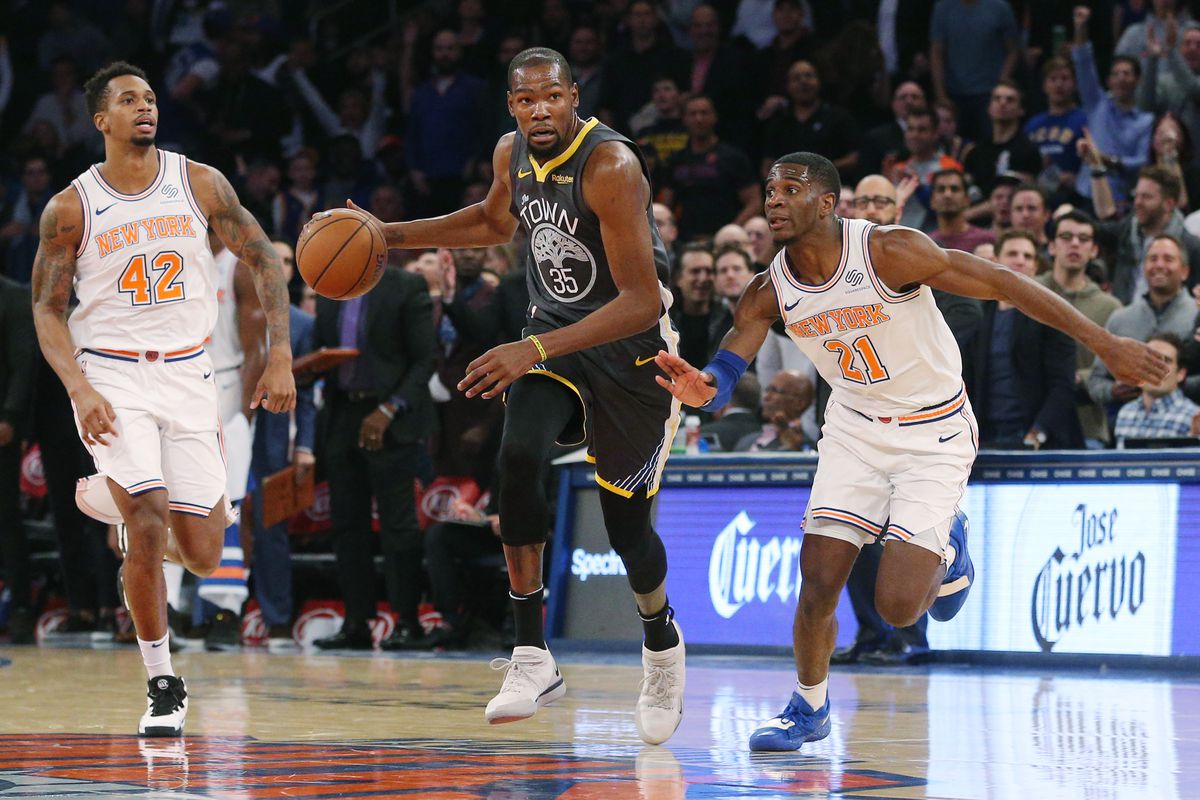 KD's final four comes to no surprise. It would have been a much bigger story if a random team like the Sacramento Kings or New Orleans Pelicans had a shot at signing the 30-year old All-Star.
Durant recently declined his one-year player option worth $31.5 million. That doesn't mean that the Golden State Warriors are out of the picture, but at this point it seems like KD will be headed elsewhere.
NBA rumors are always swirling on Twitter and on playgrounds all over the world. One of them involved the rumor that KD sold his home in Malibu.
The NYC tabloids had a field day this week with KD coverage. One story pointed to the fact that KD recently bought a home in the NYC metropolitan area. Although the Knicks play home games at historic Madison Square Garden on 33rd Street in Manhattan, their practice facility is on the campus of SUNY-Purchase located in Westchester County, just north of the NYC border.
NYC: Knicks or Nets?
A couple of major publications, including ESPN and The Sporting News, indicated that the Nets were no longer legit contenders to snatch up KD.
The Brooklyn Nets made moves in order to free up enough cap space to pursue two free agents. Kyrie Irving has been linked to the Knicks for a long time, but over the last month or so, word got out the Irving sold his house in the Boston suburbs. The latest buzz is that Irving is headed to Brooklyn while trying to persuade KD to join him across the bridge.
The Knicks always had the inside track to KD. It came down to whether or not he wanted to play in NYC in James Dolan's circus. Of course, Dolan didn't help things when word got out that he was cautious about signing KD due to his most recent Achilles injury. Of course, it would be foolish to acquired Durant if he's expected to have major complications returning to action. However, it's not exactly the kind of story you want to get out in the local press.
Of course, it would be the biggest Knicks thing ever to sign a hobbled veteran way past his prime. Except KD still has a couple good years left in him. At least, Knicks fans hope they won't have to wait more than a full season to see KD return to his old form. After all, the Knicks sat through the ugly Phil Jackson years and survived an ugly season in which they were tanking for Zion but ended up with one of his Duke teammates instead.
Cali: SoCal or NoCal?
Who wants to get rich in Hollywood? The LA Clippers cleared room for two max contracts. They were trying to lure local product Kawhi Leonard and a point guard such as Kyrie Irving.
if Kyrie heads to NYC to play with the Knicks or Nets, that leaves an extra spot for someone to play with Kawhi. If the Clippers somehow convinced KD and Kawhi to play together, they'd become overnight favorites to win the 2020 title.
The Clippers and Nets seem like they're only in the mix to keep KD's other suitors (a.k.a. the Knicks) hungry and thirsty.
If KD remains in California, he'll most likely want to stay in the Bay Area. It's a beast he already knows and he got along great with his GSW teammates. KD had a thorny relationship with the local Bay Area sports media and of course, he has a legit beef with team doctors.
At this juncture, it seems like California is just a pipe dream. It's now up to the Knicks to deliver the perfect pitch to KD. But then again, it's the Knicks. If anyone can screw up an easy layup, it's the Knicks.