Kevin Durant earned his second-career MVP award at the NBA All-Star Game with a team-high 31 points as he led Team LeBron to a victory over Team Giannis in Charlotte, North Carolina.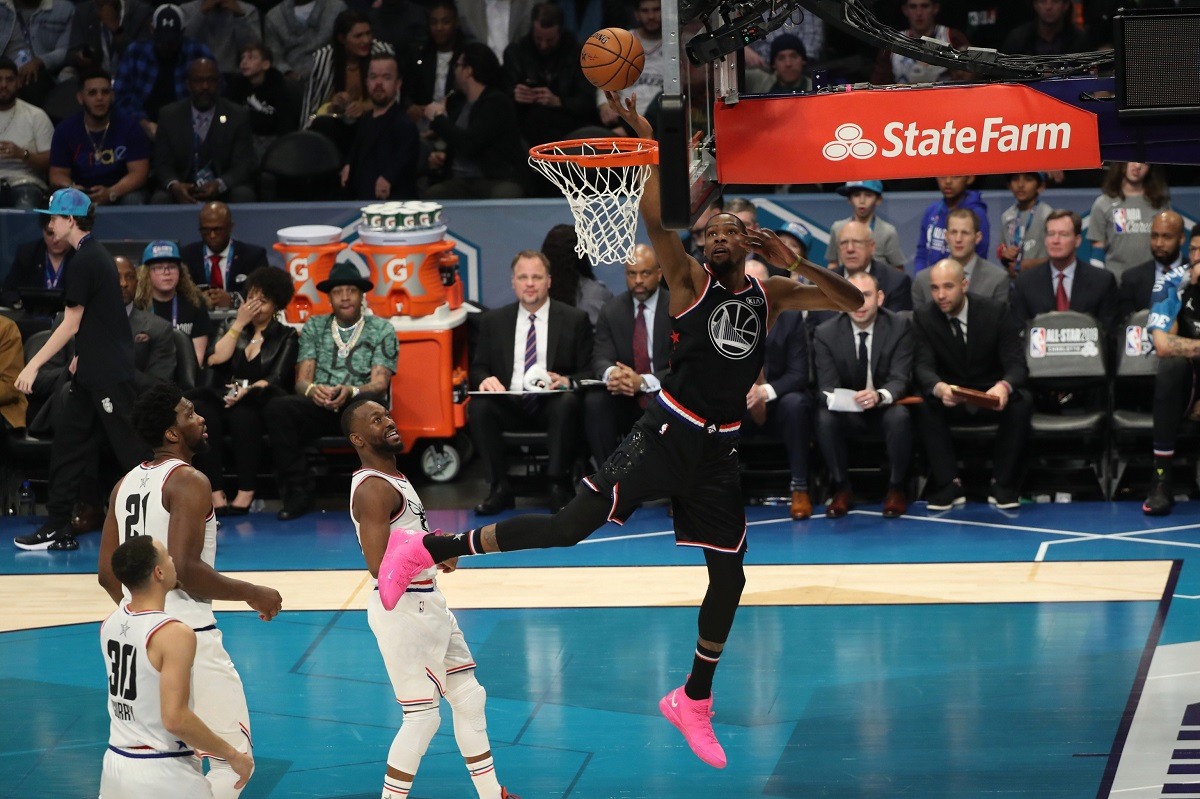 This year's NBA All-Star Game featured teams selected by captains LeBron James and Giannis "Greek Freak" Antetokounmpo. Team LeBron came from behind to win 178-164. They covered the 6-point spread. The squad, captained by LeBron James, set an NBA All-Star Game record with 35 made three-point shots.
Durant went 6-for-9 from three-point range and he missed just five overall shots all night. He also added 7 rebounds.
Durant, appearing in his tenth All-Star Game in 11 seasons in the NBA, previously won the MVP at the 2012 All-Star Game.
KD = MVP
Kevin Durant stepped up in the fourth quarter. He did not miss a shot, hitting all four attempts. He also went a perfect 3-for-3 from beyond the arc. In addition to 31 points, Durant added two blocks and a steal.
"Didn't want to lose," Durant said in an interview with Rachel Nichols. "We know we had a lot of talent over there that can do multiple things. We just wanted to turn it up a bit on the defensive side. I think the group closed the third quarter really changed the game for us. It is fun being around such greatness."
Refs typically swallow the whistle in the All-Star game. There are not too many fouls because of the lack of defense. Despite that, Durant also went a prefect 5-for-5 from the free throw line. Team LeBron shot only 8 free throws all night.
Defense for J Cole
Team LeBron trailed by 13 points heading into the locker room at halftime. They played Swiss cheese defense and allowed 95 points to Team Giannis in the first half.
Coach Mike Malone from the Denver Nuggets didn't want to give up the NBA record (194) for most points.
The team wanted to catch some of J Cole's halftime show. Malone said he would let everyone watch the set so long as they played better transitional defense.
"I said, listen, I'll let you go watch the concert if you promise to get your ass back in transition," said Malone. "LeBron made my words known, they watched the concert, and they came out and played great."
LeBron James made a deal with Malone and the team lived up to it. Team LeBron allowed only 65 points in the second half.
Freak Effort
The Greek Freak, captain of Team Giannis, led all scorers with 38 points. He got off to a hot start in the first half. He also added 11 rebounds and 5 assists.
Antetokounmpo's teammate with the Milwaukee Bucks, Khris Middleton, added 20 points. Paul George from the OKC Thunder also contributed 20 points in a losing effort.
Steph Curry had his homecoming ruined by an off night. The Golden State Warriors star grew up in the Charlotte area, where his father, Dell Curry, played for the original Charlotte Hornets franchise. Curry scored 17 points but missed 13 three-point shows and 17 missed shots in total.
Team Giannis hit only 35.1 percent of their three-point shots. They attempted 77. Team LeBron did slightly better with a 38.9 percent clip, but they hoisted 90 treys.