Most pundits thought Holly Holm had done just enough to win in her return fight on Saturday night. The judges, however, gave a key split-decision victory to Ketlen Vieira instead in the main event of UFC Fight Night 206.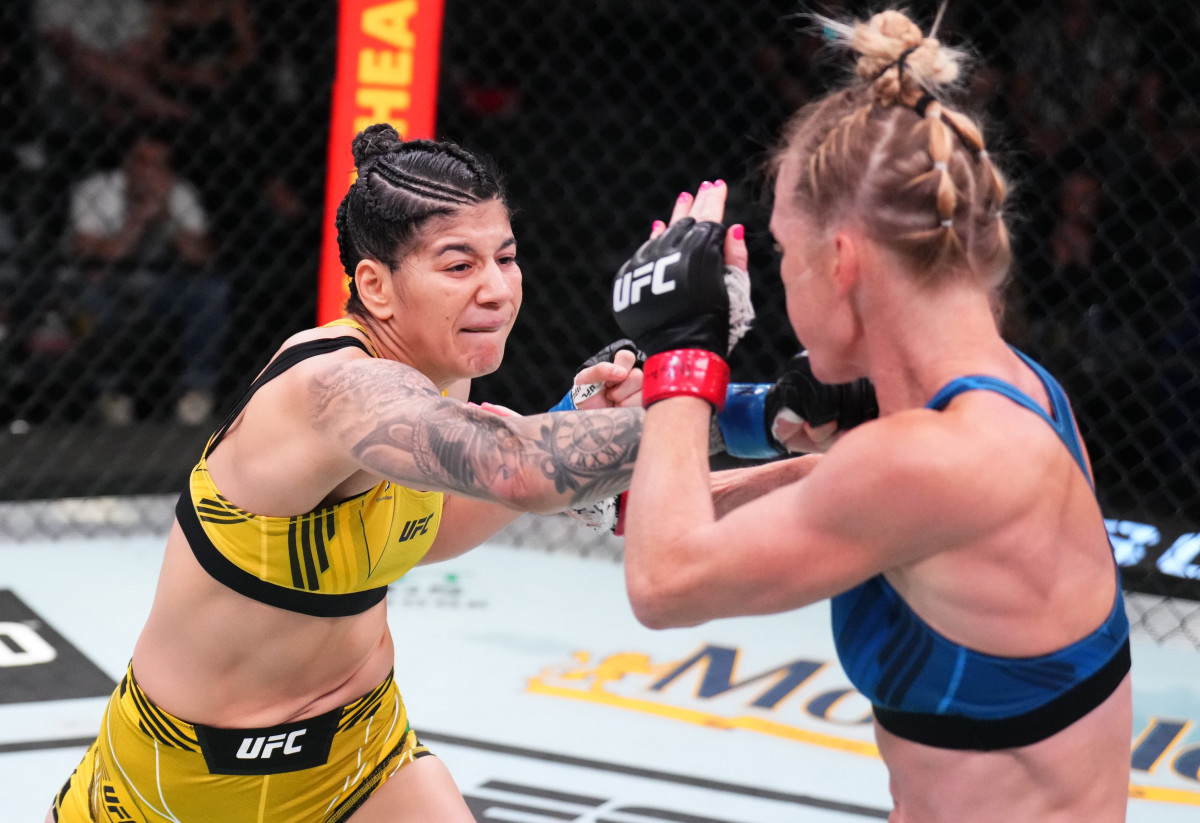 Vieira (13-2) won a split decision over Holm by a razor-thin 48-47, 47-48, 48-47 margin, moving herself closer to a potential bantamweight title shot.
Holm insists she beat Vieira
That didn't sit well with Holm (14-6), who was making her return to action after 19 months off. Afterward, she made her feelings clear.
"I thought I won the fight," Holm told Daniel Cormier in a post-fight interview. "I gave her Round 2, and I feel like I won all the rest of the rounds. I always feel like I can do more and be more perfect, but I thought I won the fight."
All three judges gave the second and fourth rounds to Vieira, while awarding Holm the first and fifth rounds. Two of the three judges saw Vieira as the winner in the third round, creating the split decision.
MMADecisions.com collected 20 media scorecards. Eighteen gave the fight to Holm, though 16 of those saw it as a 48-47 victory for her, confirming the fact that the bout was close.
Vieira entered the bout as a +180 underdog at DraftKings Sportsbook.
Nurmagomedov lobbies for Makhachev title shot
Khabib Nurmagomedov may not be returning to the Octagon, but he's still trying to throw his influence around in the UFC. According to the undefeated former lightweight champion, he texted UFC president Dana White, arguing that his friend and teammate, Islam Makhachev, should get the next title shot against Charles Oliveira. While Oliveira lost his title due to missing weight, he is the current No. 1 contender and titleholder in all but name.
Nurmagomedov says he hasn't heard back from White.
"Honestly, this is first time since we started talking to each other that he don't respond to me," Nurmagomedov told ESPN. "I send him message saying 'No way someone else can fight for the title. Islam has to be there.' He don't respond. I think he busy, maybe. It's OK. Everybody make mistake."
Makhachev (22-1) has won 10 straight fights, last beating Bobby Green by first-round TKO in February. He currently ranks No. 4 in the UFC's lightweight division.
A-Rod joins PFL board of directors
The Professional Fighters League added a big-name investor last week, as baseball legend Alex Rodriguez joined the board of directors for the MMA promotion.
The PFL also announced $40 million in new funding, though it didn't disclose how much of that money came from Rodriguez.
"I love the global reach of MMA," Rodriguez said in a statement. "The PFL continues to build and innovate for fans, media and fighters, and there is massive demand in the marketplace."
Rodriguez can certainly afford to invest in the PFL. He made more than $450 million in his MLB career before retiring in 2016.