Former UFC Women's Bantamweight Champion Holly Holm missed over a year and a half due to health issues. Finally healthy, she'll try to fight her way back to another title shot starting with a main event showdown with Ketlen Vieira on Saturday night at UFC Fight Night 206.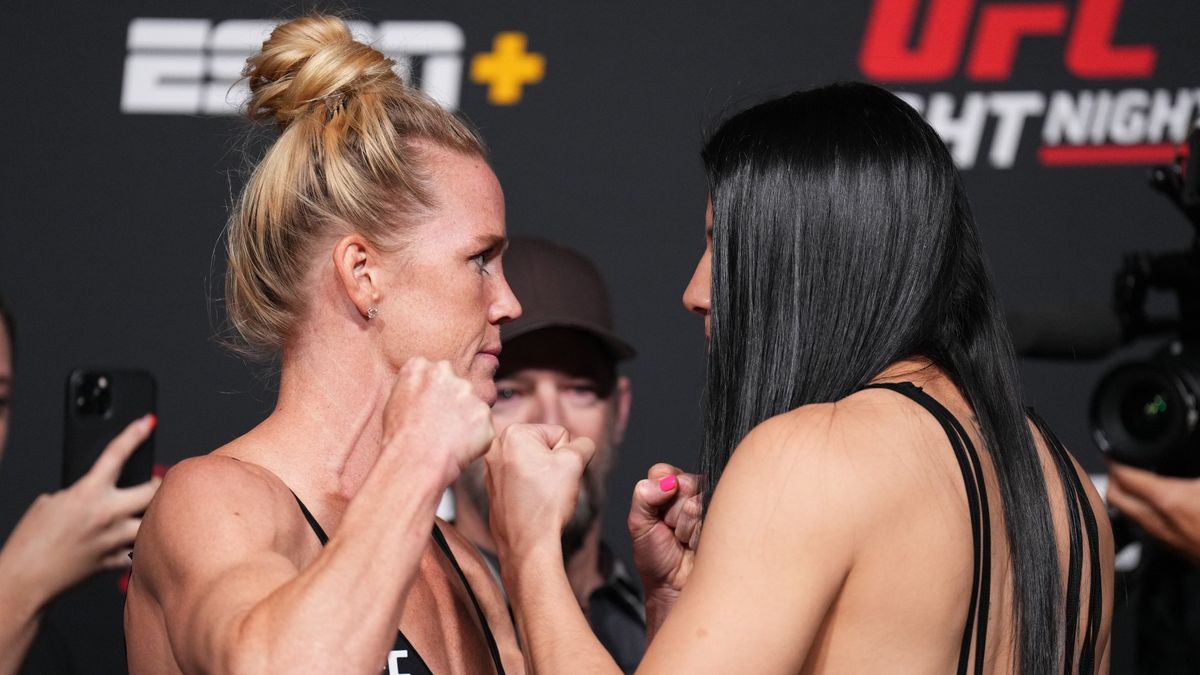 Vieira and Holm will headline the event in Las Vegas, with Holm entering as a -220 favorite over Vieira (+180), according to DraftKings Sportsbook.
Holm ready to fight after long layoff
Holm (14-5) last fought in October 2020, beating Irene Aldana by unanimous decision. She later learned of a kidney issue, which required an operation, then also underwent knee surgery during her layoff. Now, she says she's ready to get back to fighting.
"It feels good to be in a place that I'm actually competing," Holm told reporters. "I've been training. Even through the stuff I had going on, I've been training. Not to where I could really go 100 percent and have this goal I'm shooting for…It feels good to get in there, and it also comes with all the nerves that come with it."
Vieira (12-2) is coming off a unanimous decision victory over Miesha Tate in November. That victory lifted Vieira up to No. 5 in the UFC's bantamweight rankings after she had lost two of her previous three fights.
While Vieira understands the challenge she faces against Holm, she sees a path to victory for herself as well.
"I know I can't make mistakes," Vieira told reporters. "Holly has a really solid striking game, she's a big name in boxing and kickboxing and I believe I have a good grappling game. She's very experienced. Sometimes she feels like things are difficult on the feet and she tries to grapple you. She does MMA really well. I'm sure she expects me to take her down, so I need to be ready to impose my gameplan and I've been practicing quite a few."
Winner could get shot at bantamweight title
Both Holm and Vieira could earn a title shot with a win on Saturday. While that's not guaranteed, the winner should be in line to face the victor of the rematch between current champion Julianna Pena and longtime titleholder Amanda Nunes. The potential opportunity was clearly on the minds of both women ahead of this weekend's bout.
"I have to win regardless," Holm said. "But as far as a career, if you don't win your next steps and your next options are never as many as you want and they're more limited. You take a step back instead of a step forward. So yes, in the long run, I need this win so that I can keep progressing forward because I want to get to the belt."
For Vieira – who has never had a UFC title opportunity, but has won championships in smaller Brazilian promotions – a win over Holm would be the biggest victory of her career.
"If I beat the No. 2 athlete [Holm] and No. 1 is already fighting for the title, then there could be a few changes and I'd end up in Holm's place," Vieira said. "If I beat a top fighter like Holly, a former champion who has fought in different divisions, I think it puts me on the verge of a title shot."