Government officials in two of the country's biggest horse racing states, Kentucky and New York, opened the doors for live, spectator-free racing to begin amid the COVID-19 pandemic.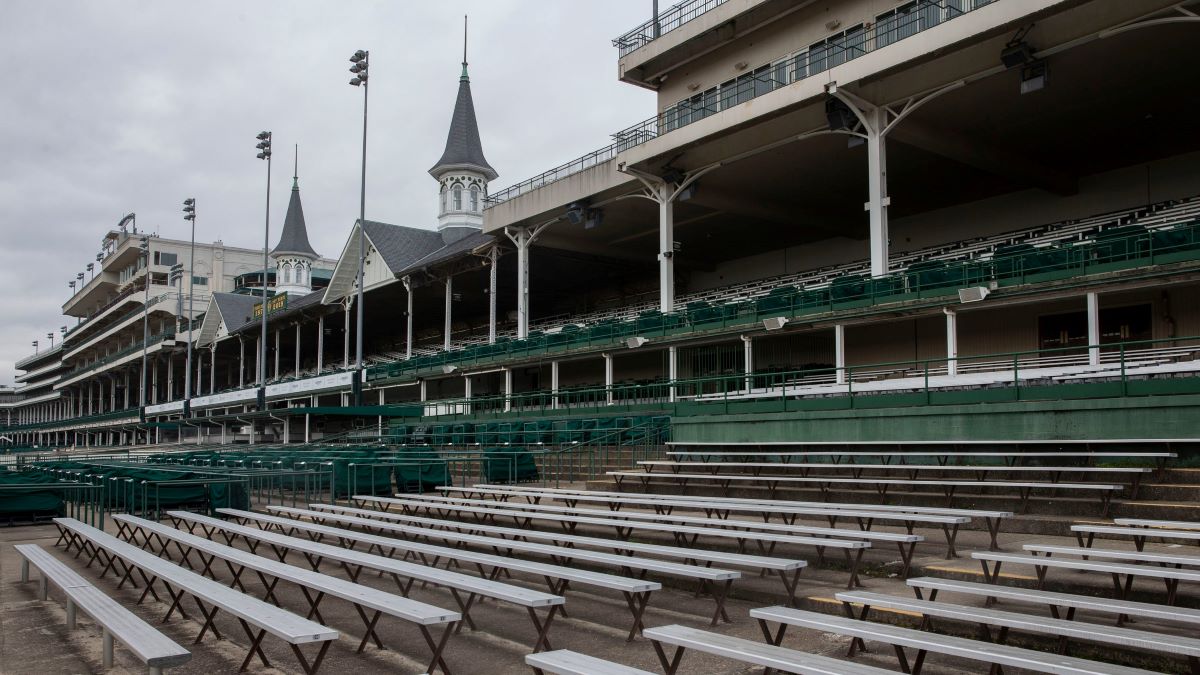 The announcements came separately and, in both cases, contained few details on exactly when live racing would begin again. But in the coronavirus era, with all but a few American tracks shuttering for everything but training, this is welcome news for bettors and racing fans.
In Kentucky, where there will be no Kentucky Derby on the first Saturday in May for the first time in 75 years, Gov. Andy Beshear said in his Wednesday press briefing that horsemen may return to Churchill Downs starting May 11.
"We were able to come to an agreement (Tuesday) specifically with the group that's going to start, Churchill Downs," Beshear said. "I will tell you this is one of the most detailed plans that we have seen about specific security checks that everybody has to go through and be temperature-checked to masking to having a very limited group that is there."
In New York, meanwhile, the New York Racing Association (NYRA) issued a statement confirming plans to race this spring at Belmont Park, and this summer at Saratoga. Both meets will take place without spectators.
Racing Could Resume as Early as May 14
Beshear did not give a fixed date as to when the first races will happen, but did say they will run without spectators in the stands. Track officials said the races will happen with strict health protocols in place, including quarantines, social distancing, onsite check-ins for backside workers, and limited access to on-track facilities.
The first open race date on Churchill Downs' calendar is May 14, but it's unclear as to whether track officials and horsemen will be ready to race by then.
Opening Day for Churchill Downs' spring meet was set for Saturday – Derby Day. The Kentucky Derby has run every year since 1875 and you'd have to be old enough to remember World War II to recall the last time Churchill Downs was quiet the first Saturday in May.
That would have been in 1945 when World War II pushed the Run for the Roses back to after V-E Day. That year, it ran on June 9.
While it's starting date remains unclear, Churchill Downs' spring meet is scheduled to run through June 27. After that, Ellis Park takes over in the state from June 28 through Aug. 31. Racing then returns to Churchill Downs from Sept. 1-5 with the Kentucky Oaks on Sept. 4 and the Kentucky Derby on Sept. 5.
Bluegrass Race Fans Feeling Blue Since March
Kentucky pulled the reins on racing on March 21 when Turfway Park halted its winter/spring meet and canceled the last three days of that event. Keeneland canceled its April 2-24 spring meet and spring horse sale. According to the Louisville Courier-Journal, some trainers believe Keeneland may ask for racing dates in July or August to run the Blue Grass Stakes.
That Derby prep was scrubbed with the rest of Keeneland's spring slate. It was one of six Derby preps canceled or postponed due to the coronavirus, including the Sunland Derby (New Mexico), the UAE Derby, the Santa Anita Derby, the Lexington, and the Wood Memorial in New York.
Speaking of New York, NYRA's announcement came hours after Gov. Andrew Cuomo issued a warning about fans "overwhelming" the small town of Saratoga and possibly spreading the coronavirus. The statement did not mention a fixed day for racing to return to Belmont Park, nor did it say if the June 6 Belmont Stakes would keep that day.
Saratoga's season is set to begin July 16 and run through Labor Day.
Abrupt End Foreshadows a Cautious Return
New York racing abruptly stopped on March 19 after a Belmont Park backstretch worker tested positive for the coronavirus. NYRA immediately canceled the rest of Aqueduct's winter meet and delayed Belmont Park's spring meet.
"We recognize that decisions about large scale events are rightly left to our elected leaders and public health officials," NYRA's statement said. "At the same time, horse racing is in a unique position as a sport that can be safely staged without attendees. Earlier this week, Governor Cuomo encouraged sports entities to consider how they could operate without fans in attendance that would be economically viable while providing much needed entertainment."
NYRA said New York racing accounts for 19,000 jobs and more than $3 billion in annual economic impact to the state. The Saratoga racing season is especially crucial to the region. Along with the Saratoga Performing Arts Center, that meet is one of the main economic engines for New York's Capital Region, responsible for an estimated economic impact of $337 million.
Last year, more than 1.05 million attendees wagered a record $705 million during Saratoga's 40-day meet.
State Officials Walking A Delicate Tightrope
New York, however, must balance economics against its unwelcome status as the coronavirus epicenter in the US. As of Wednesday, the state recorded more than 300,000 coronavirus cases, with 18.015 deaths. That's 28% of the nation's confirmed cases.
"By closing to spectators and reducing employees and support staff to only those who are required under the rules of racing, the running of races would support the small businesses and hourly workers who form the backbone of the sport," the NYRA's statement read.