Epicenter's connections were looking for a sign that the Kentucky Derby runner-up wanted a piece of the horse — Rich Strike — who upset him last Saturday. After receiving that sign during a Wednesday training session at Churchill Downs, Epicenter will run in the 147th Preakness Stakes at Pimlico Race Course.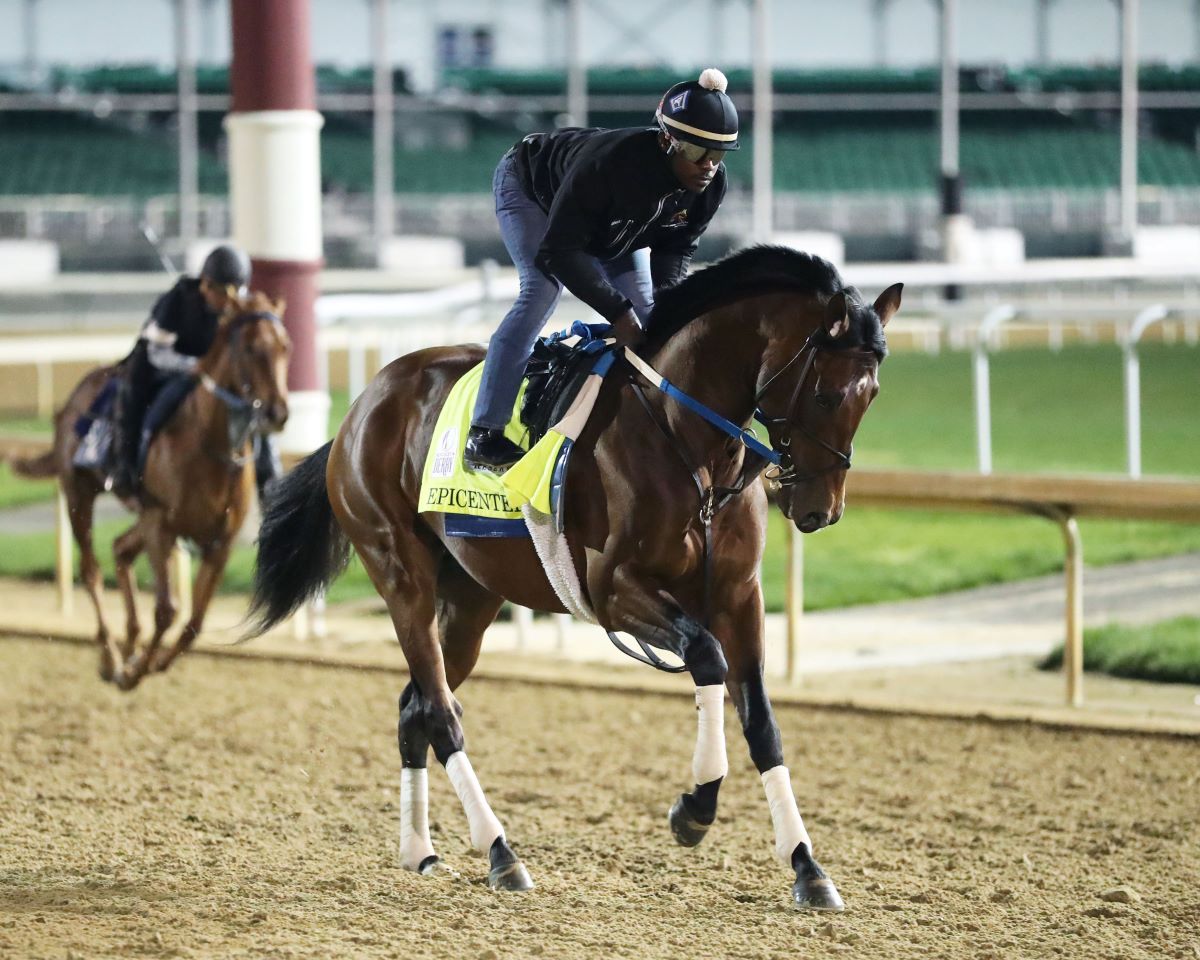 Under trainer Steve Asmussen's watchful eye, Epicenter turned in a jog and gallop with exercise rider Roberto Howell. The Hall of Fame trainer and two-time Preakness winner conferred with David Fiske, the bloodstock manager for Epicenter's owner, Winchell Thoroughbreds.
The decision: head to Pimlico next Tuesday, after Epicenter puts in a Monday half-mile workout at Churchill Downs.
"Steve said he was really pleased with how he went back to the track this morning," Fiske told the Maryland Jockey Club. "He said he looked great. I mean we were going. It was just that (Epicenter) needed to tell us he wanted to go."
Epicenter is Preakness favorite despite no Derby glory
Epicenter, the 4/1 Derby favorite, was 50 yards from the wire when Rich Strike, the 80/1 longest shot on the board, rolled by him on the inside for a three-quarters length victory. Even with that improbable outcome, expect Epicenter to be the Preakness favorite, according to Pimlico morning-line author Keith Feustle.
Feustle told the Daily Racing Form that Epicenter definitely will be the Preakness favorite, "probably right around 9/5, depending on who else is in."
As for Rich Strike? The 80/1 ship has sailed. Feustle said you're looking at most likely around 8/1. "I'd definitely make Zandon the second choice if he goes, followed by Early Voting and even Secret Oath before you get to Rich Strike," Feustle told the DRF.
Not all Derby winners are Preakness favorites
This is hardly surprising. In fact, that skepticism is normal. The DRF illustrated the last two Derby winners crossing the wire at 50/1: Giacomo (2005) and Mine That Bird (2009), both left the Pimlico starting gate at 6/1. Giacomo finished third, Mine That Bird second.
Zandon remains on the fence, according to trainer Chad Brown, who entered Wood Memorial runner-up Early Voting. Secret Oath is likely, according to her conditioner, D. Wayne Lukas.
The Preakness entries will be drawn on Monday.
Epicenter now a millionaire
As for Epicenter, his $600,000 Derby payday took him over $1.4 million in earnings just this year. It took him north of $1.6 million for his career. And it extended his streak of top-two finishes to six. (4-2-0).
"He's a remarkable physical specimen. He's very strong," Asmussen said. "I thought he traveled well (his first day back training). Roberto said he was himself, more of the same. Being himself is a good thing. I thought he took the Derby really well. He laid down like he normally does. He's been nice and relaxed and traveled real good on the racetrack this morning."