Portland Trail Blazers center Jusuf Nurkic suffered compound fractures in his lower left leg on Monday night, an injury that will keep the Bosnian star out of action indefinitely.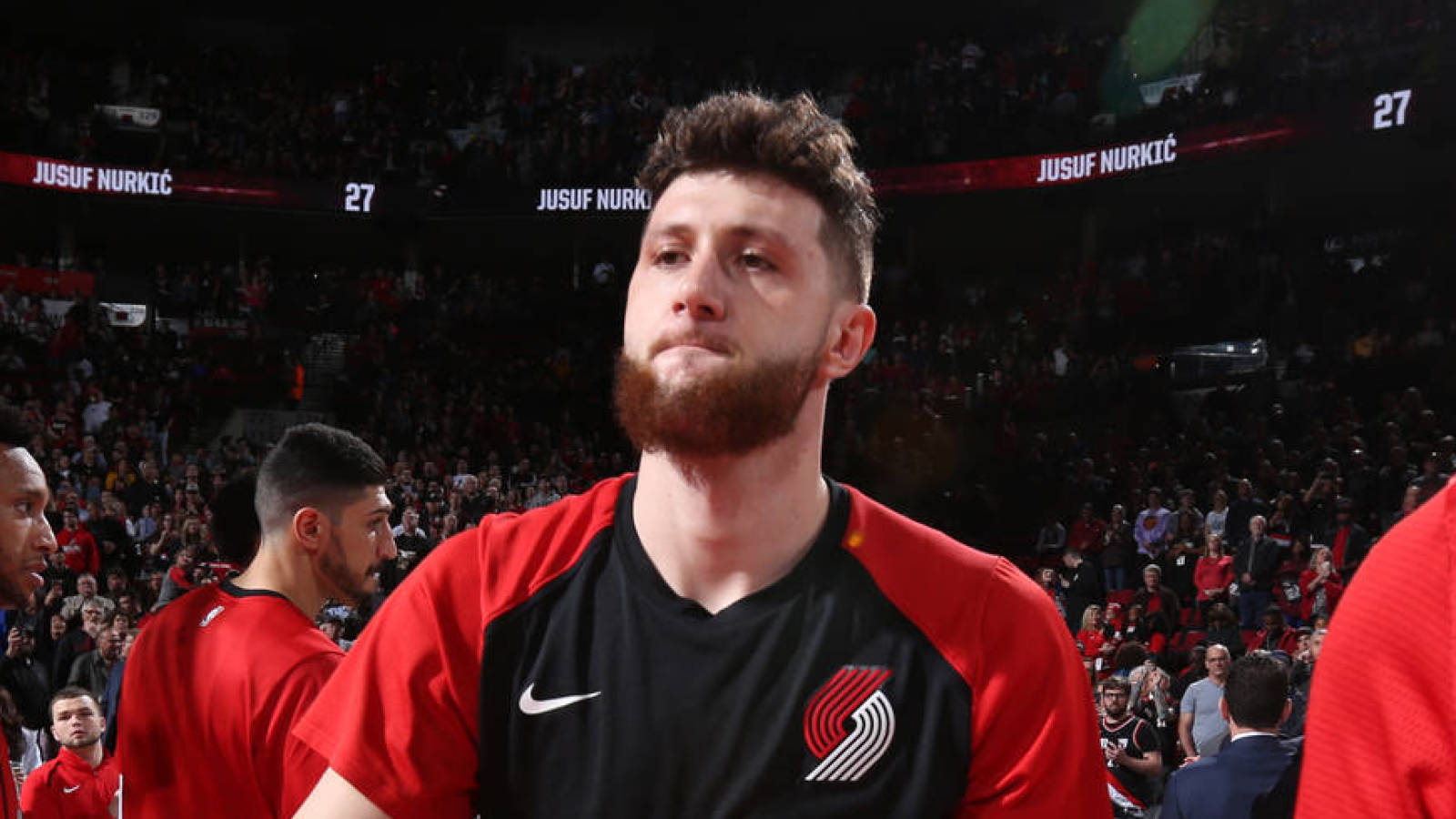 The injury occurred in the second overtime period of Portland's Monday game against the Brooklyn Nets, a game the Trail Blazers would go on to win.
No Timeline for Recovery
With just over two minutes remaining in double-overtime, Nurkic went up for a rebound and came down awkwardly around a number of other players who were also going for the ball. After Nurkic crumpled to the floor, it was quickly apparent that the injury was serious, and players on both teams ran away from the scene to allow him to receive medical attention.
"It made me sick to my stomach," teammate Damian Lillard told reporters after the game, saying the injury reminded him of a similar one that happened to Paul George during a 2014 Team USA exhibition. "As I was walking over there, I saw everybody else turn around real quick and walk away, and then I looked and saw his leg – and you just hate to see that happen to him."
Nurkic's injury is not only season ending, but could certainly keep him out of the NBA for at least some of the 2019-2020 campaign as well. While the Trail Blazers reported Tuesday that Nurkic had successfully undergone surgery in Portland and was expected to make a full recovery, there is no timetable for his return to basketball activities.
Nurkic Enjoying Career Season
The injury comes at the worst possible time for the 24-year-old center. Playing in his fifth NBA season, Nurkic was averaging career highs in points (15.6), rebounds (10.4) and assists (3.2), and appeared to be coming into his own as one of the premier young centers in the league.
"You hate to see him have to go through something like that, having his best season in the NBA," Lillard added. "You never want to see that for your friend or teammate, and then especialy as a player, you don't want to see anyone have to go through that."
The injury leaves a difficult hole to fill for the Trail Blazers, who clinched a playoff spot with the win over the Nets and currently hold the fourth seed in the Western Conference thanks to a four-game winning streak.
Portland does have some center depth thanks to the signing of Enes Kanter, who was averaging 14 points and 10.5 rebounds a game for the New York Knicks before being waived by the team. Zach Collins is also likely to receive additional minutes due to the injury.
While the Trail Blazers weren't considered a likely championship contender, they had been moving up oddsmakers' boards before Monday's injury. William Hill currently lists Portland at 66/1 to win the NBA title this year, the same odds given to Western Conference rivals Utah and San Antonio.