Multiples teams are interested in acquiring seven-time Pro Bowl wide receiver Julio Jones in a trade from the Atlanta Falcons, with the Tennessee Titans the odds-on favorite over a dozen interested teams, including the Seattle Seahawks, San Francisco 49ers, New England Patriots, Las Vegas Raiders, and LA Rams.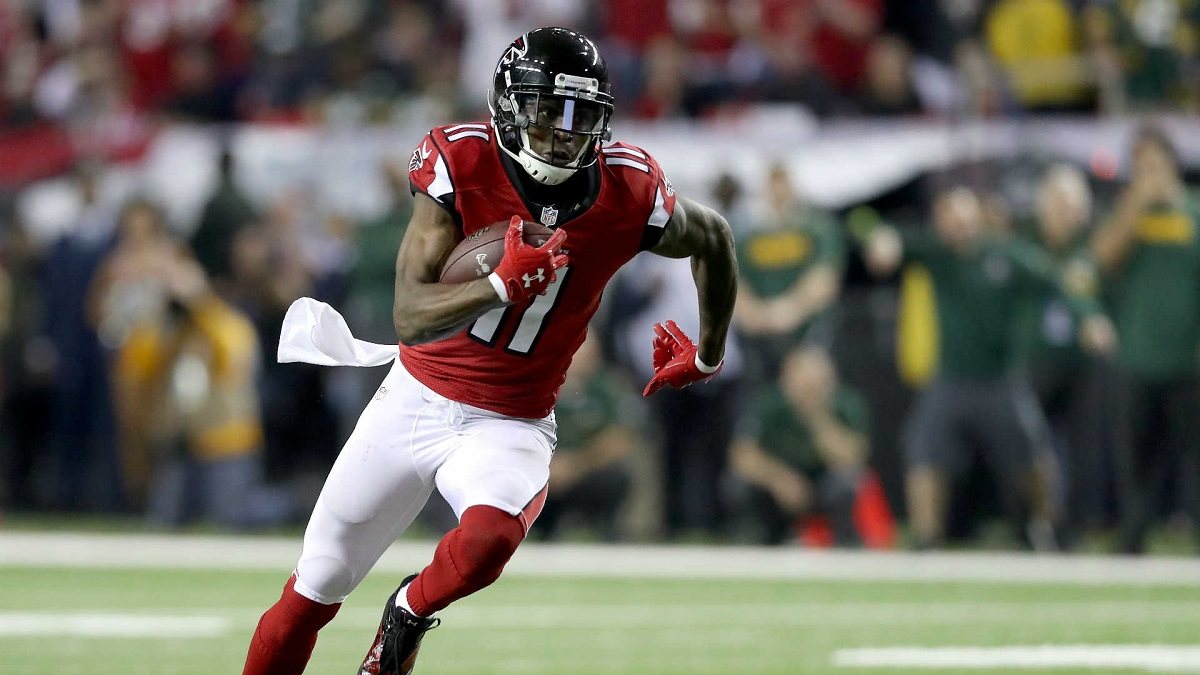 Jones requested a trade from the Atlanta Falcons, but the Dirty Birds are asking for too much in return for the future Hall of Fame wide receiver. The Falcons have to trade Jones before June 2, otherwise, they're on the hook for $15.3 million with less than $600K in cap space.
Teams are interested in giving up a second-round pick and a third rounder, but the Falcons want a package of picks including a future first-round pick.
---
Tennessee Titans +200
Seattle Seahawks +300
New England Patriots +300
San Francisco 49ers +500
Baltimore Ravens +600
Las Vegas Raiders +700
Green Bay Packers +900
Indianapolis Colts +1000
LA Chargers +1200
Washington Football Team +1300
Miami Dolphins +1400
Jacksonville Jaguars +1500
LA Rams +1800
Dallas Cowboys +2000
Kansas City Chiefs +2000
---
According to oddsmakers at SportsLine, the Titans are +200 odds to land Jones in a trade with the Falcons. The Seattle Seahawks and New England Patriots are the second co-favorites at +300 odds. Bill Belichick and the Patriots need a big-time wideout for Cam Newton to throw bombs to this season. Jones would be a great addition to help mentor first-round draft pick and former Alabama quarterback Mac Jones.
The Rumor: JJ to the Titans?
Jones, 32, missed seven games with the Falcons last season due to a hamstring injury. He scored just three touchdowns and notched 51 receptions in nine games. He's the Falcons' all-time leader in touchdowns (60) and receiving yards (12,896).
Jones indicated he wants to go to a winning team like the Titans or Patriots. He was caught on a hot mic telling Shannon Sharpe he's "outta here," referring to Atlanta. The Titans and Falcons were open to a Jones trade before the 2021 NFL Draft, but there are conflicting reports of how those discussions went down and what exactly was offered. Apparently, the Falcons turned down a second-round pick because they wanted a first-rounder.
With the Falcons' self-imposed deadline approaching, the Titans lowered their offer to a third-rounder.
Jones going out West?
All four teams in the NFC West would love to add Julio Jones to their rosters. The Seahawks and Falcons had a couple of meetings over the holiday weekend to discuss a Jones trade. Once again, the Falcons wanted more than the miserly Seahawks were willing to give up. Aside from the Titans, the Seahawks were one of the top three favorites at +300 odds to acquire Jones
The San Francisco 49ers need the most help. Jimmy G and Jones could make a perfect couple, so long as both remain healthy over the duration of a season. The 49ers are +500 odds, but seem like the most logical choice as a potential future home for Jones.
The LA Rams are also looking to bolster their wide receiving corps, which includes Cooper Kupp and DeSean Jackson. The Rams leveraged their future in a blockbuster trade with the Lions to get quarterback Matthew Stafford. They don't have much wiggle room or excess trade capital, which is why the Rams are a long shot to land Jones at +1800 odds
The Arizona Cardinals added DeAndre Hopkins last year in a crazy coup of a trade from the Houston Texans. The Cardinals wanted to surround Kyler Murray with top-notch, veteran wideouts, including Larry Fitzgerald and Hopkins. They're a super moon shot to snag Jones.