Jimmie Johnson announced Friday he has tested positive for COVID-19, and will not be competing in Sunday's Brickyard 400 at Indianapolis Motor Speedway. This is the 44-year-old's final full-time season in the Cup Series. He has made 663 consecutive Cup series starts, the longest streak among active drivers.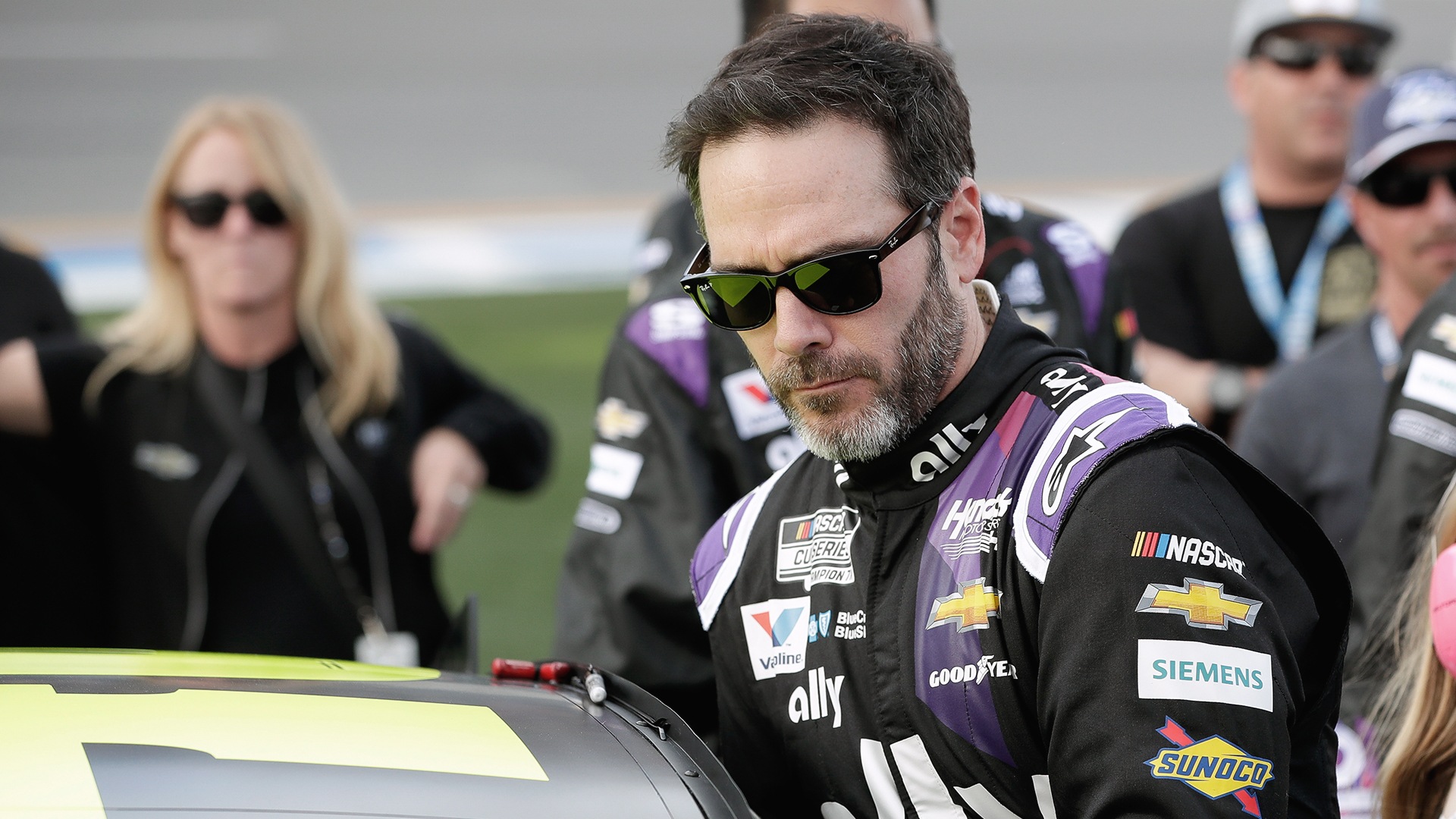 Johnson has won this race four times. He was trying to match Jeff Gordon as the only other NASCAR driver to win at Indianapolis five times. Justin Allgaier will replace him in the No. 48 Chevrolet. Johnson was a 50/1 pick to win the race. Kevin Harvick is the favorite at 7/2.
Johnson's wife, Chandra, tested positive for COVID-19, and he immediately took a test. He informed NASCAR that it had come back positive.
"My first priority is the health and safety of my loved ones and my teammates," Johnson said in a statement. "I've never missed a race in my Cup career, but I know it's going to be very hard to watch from the sidelines when I'm supposed to be out there competing. Although this situation is extremely disappointing, I'm going to come back ready to win races and put ourselves in playoff contention."
Johnson First COVID-19 Casualty in NASCAR
Even though NASCAR was one of the first sports to return to live action, they had been relatively unaffected by coronavirus. The circuit had run 11 races since returning May 17, and no drivers on either the Cup Series, Xfinity, or Truck Series had reported a positive test.
Rick Hendrick, Johnson's boss, said a crewmember with Johnson's team was going into quarantine mode as a precaution.
"Jimmie has handled this situation like the champion he is," Hendrick said.. "We're relieved he isn't showing symptoms and that Chani is doing great, and we know he'll be back and ready to go very soon. It's going to be difficult for him to be out of the car and away from his team, but it's the right thing to do for Jimmie and everyone involved."
Johnson Following NASCAR Protocols
When Johnson can return depends on his next test result. As part of NASCAR's protocol with COVID-19, Johnson must show no symptoms. He must also have two negative tests at least 24 hours apart, and be cleared by a physician.
NASCAR issued a statement on Friday saying it had been informed by Johnson of the positive COVID-19 test.
"Jimmie is a true battle-tested champion, and we wish him well in his recovery. NASCAR has granted Jimmie a playoff waiver. We look forward to his return as he races for an eighth NASCAR Cup Series championship," the statement read.
It was definitely been a strange final season for Johnson. Earlier in the year he failed a post-race inspection after finishing second at the Coca-Cola 600 in May. He was disqualified and placed last.
"It's a tough reality to process but we are ready for Wednesday and what ever else 2020 throws at us," Johnson said.