It was a rough weekend for Jimmie Johnson, as he was disqualified Sunday from the Coca-Cola 600. The 44-year-old originally finished second to winner Brad Keselowski, but failed a post-race inspection and was placed last.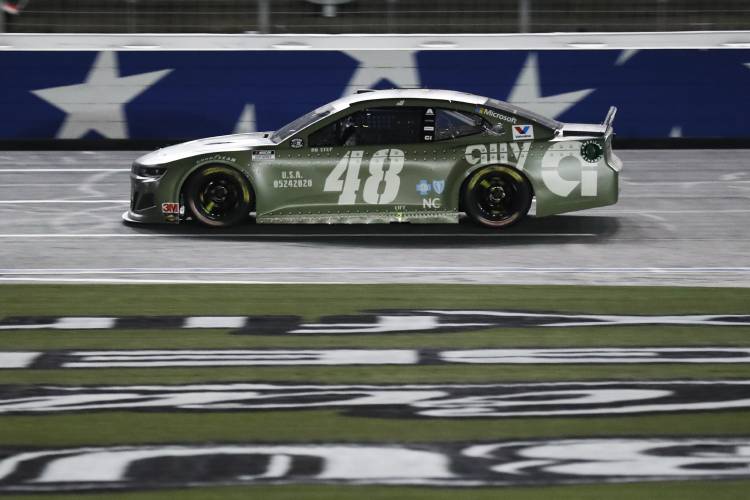 The reason for Johnson's disqualification was because his Chevrolet Camaro's rear alignment was found to be past the allowed tolerance. NASCAR Cup Series managing director Jay Fabian said the car went through the Optical Scanning Station (OSS) when the problem was detected. He told reporters that Johnson's car failed following the scan.
"It's the same thing we checked at least a handful of cars for post-race after every event," Fabian said. "I can't really give specifics on the numbers. Yes, there is a pre-race number and a post-race number that does give a pretty tolerance (and) it was outside of those post-race numbers."
Tough Ending to a Good Drive
Johnson was looking to win the Coca-Cola 600 for the fifth time in his career and tie Darrell Waltrip for the most victories at the annual Memorial Day weekend race. He lost to Keselowski by .293 seconds. Johnson didn't realize he'd been disqualified until well after the race was over.
"I learned on my drive home last night we had been disqualified," Johnson said on Twitter. "It's a tough reality to process but we are ready for Wednesday and what ever else 2020 throws at us."
Johnson is in his final season, announcing last year that 2020 would be his last in the NASCAR Cup Series. Even though the schedule has been changed because of the COVID-19 global pandemic, Johnson still plans on retiring.
Meanwhile, Johnson's winless drought continues. He hasn't won a Cup Series race since June 4, 2017 at Dover.
Johnson Caught in Well-Meaning Rule
The rule that Johnson apparently, and inadvertently, violated was established by NASCAR to guard against crews intentionally designing parts to break in such a way that the car would gain a speed advantage. Fabian did not suggest that Johnson's crew knowingly broke the rule.
"The 48 ran strong tonight, all night. I hate it for them," Fabian said. "They had a good car, performed well. The allowance is built-in for parts that move. There's an allowance for that. But if parts break, the number is the number. There is no real parameter of that."
Johnson's crew chief, Cliff Daniels, said in a tweet the team was unaware of the part breaking.
Disappointed about our post-race OSS. We think something must've broken but won't know until we get it back to the shop tomorrow and can diagnose. Tough news after a strong night. This team is getting stronger We are focused forward. We'll be back Wednesday with another great car

— Cliff Daniels (@DanielsCliff) May 25, 2020
Bad Breaks Continue for Johnson
Johnson's disqualification was the second bad break for the driver in as many days. The first came during qualifying for the Coca-Cola 600 on Saturday. Johnson had the pole until Kurt Busch came in and edged him out by 0.009 seconds. Johnson took it in stride, though, sending out a funny tweet afterward.
Note to self:

– take @KurtBusch of our Christmas card list.

😂

— Jimmie Johnson (@JimmieJohnson) May 24, 2020
Last week, at The Real Heroes 400, Johnson was set to claim the race's first stage until he crashed on Lap 90 and took himself out of the lead.
"What I would do to get that corner back to do it over again," Johnson said in the pits following the incident.