James Holzhauer is now second on the all-time Jeopardy! wins list with 21 consecutive victories. The professional sports bettor amassed $1,608,627 in earnings during his record-smashing run on the popular quiz show.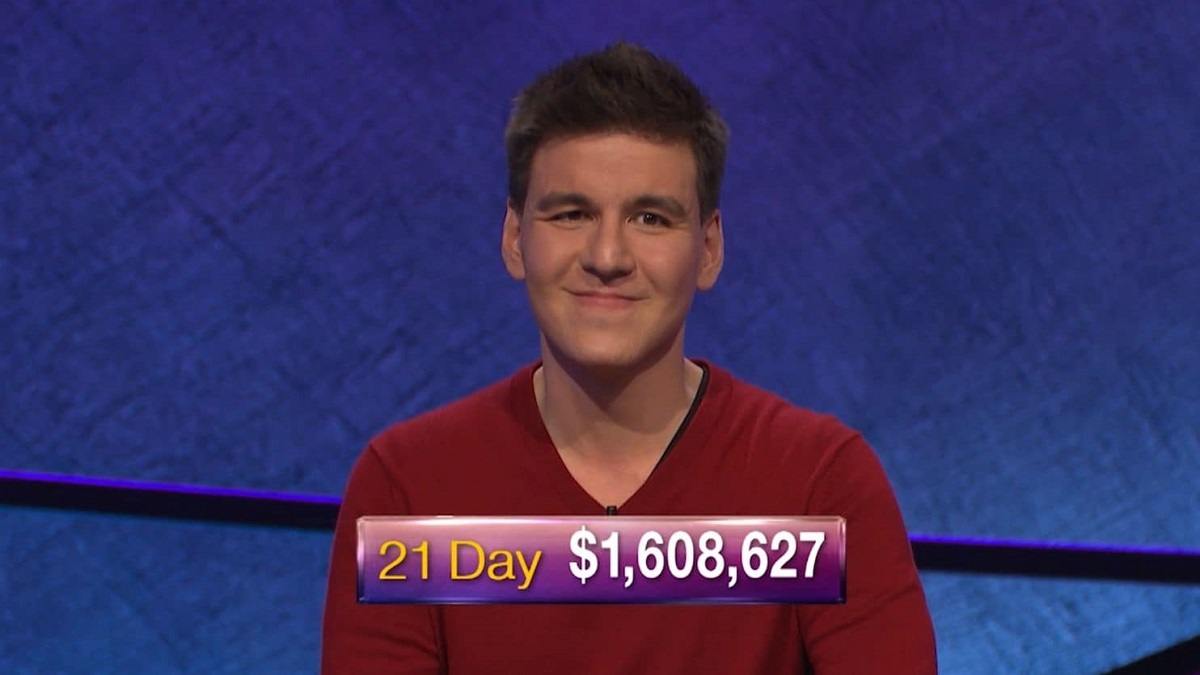 Josh Archibald-Seiffer, a musician from Seattle, Washington, and Jessica Efron Sauer, an accountant from Muncie, Indiana, were Holzhauer's latest challengers. Holzhauer destroyed his opponents for his 21st win and led by $41,012 heading into Final Jeopardy!
Holzhauer is still 53 wins short of the all-time mark of 74 set by Ken Jennings in 2004. Jennings won $2.5 million during his mind-boggling run that many Jeopardy! fans thought would never get broken. Jennings high-water mark of 74 games is still a long way away from being broken. However, Holzhauer is well within reach of surpassing Jennings' all-time money mark.
HOLZHAUER BY THE NUMBERS
Wins: 21
Money Won: $1,608,627
Best Game: $131,127
Average Final Score: $76,601
Correct Final Jeopardy!: 20/21

**Stats via TheJeopardFan.com
Holzhauer's average score has ticked up a bit to approximately $76,600. Holzhauer is projected to pass Jennings' total of $2.5 million in 12 more episodes, or somewhere during his 33rd show.
Weird Week for James
It's been another wild week for James Holzhauer. Firstly, he got a slap on the wrist for his shoutouts during Final jeopardy! The producers stepped in and decided that all contestants were prohibited from using their screens to give birth greetings and other salutations to friends and family.
Holzhauer had been engaging in the cheeky practice since his initial appearance on Jeopardy three weeks earlier. When other contestants began following suit, the producers instituted a new rule prohibiting writing anything other than the wager amount and the answer in the form of a question.
On Monday's appearance, Holzhauer had one of his closest matches since he began his winning streak. Holzhauer won by only $18 after Adam Levin, a sports information director from the Boston suburbs, gave Holzhauer a run for his money. Holzhauer did not have a runaway game and he only led by $6,500 heading into Final Jeopardy! Of course, Holzhauer nailed the Final Jeopardy! answer to continue his winning streak.
On Wednesday, an opponent ran an entire category (Josh Archibald-Seiffer crushed "B.B.") on Holzhauer, which does not happen very often. Holzhauer actually missed a couple of clues along the way, which was sort of odd seeing him slightly off his game. His opponents were unable to unearth Daily Doubles and failed to take advantage of a few rare miscues.
On Thursday in Las Vegas, Holzhauer was awarded the key to the Las Vegas Strip by Clark County Commission Chair Marilyn Kirkpatrick. Kirkpatrick designated May 2, 2018 as "James Holzhauer Day" across the county.
20+ Wins
It is sort of astonishing to think that 20 wins was the previous benchmark for second-highest winning streak. When you put Ken Jennings' 74 wins in perspective, no one really had even come close to his dominance.
Julia Collins previously held onto second place with 20-straight victories. Holzhauer tied her on Wednesday's episode and passed her with his 21st victory on Thursday.
20-WIN CLUB
74 Ken Jennings
21 James Holzhauer
20 Julia Collins.
According to TheJeopardyFan.com, Holzhauer is 20-for-21 on Final Jeopardy! through 21 matches. Ken Jennings posted only a 67 percent rate on Final Jeopardy! by correctly answering 14-for-21.
The Final jeopardy! round is where Holzhauer has been raking in the dough. He's been trying to lock up the win by the end of the second round so he could then try to maximize his overall daily winnings during Final Jeopardy! round.
Holzhauer correctly guessed Final Jeopardy! 15 times in a row, which is a new record.
Jeopardy! will feature teachers and educators the next two weeks. Regular programming will resume on Monday, May 20, 2019. In the meantime, fans will continue to talk about a heavyweight bout between Jeoaprdy! GOAT Ken Jennings and James Holzhauer.