James Harden requested the Houston Rockets trade him, and the Brooklyn Nets and Golden State Warriors are the latest teams interested in his prolific scoring services, according to the latest NBA rumor.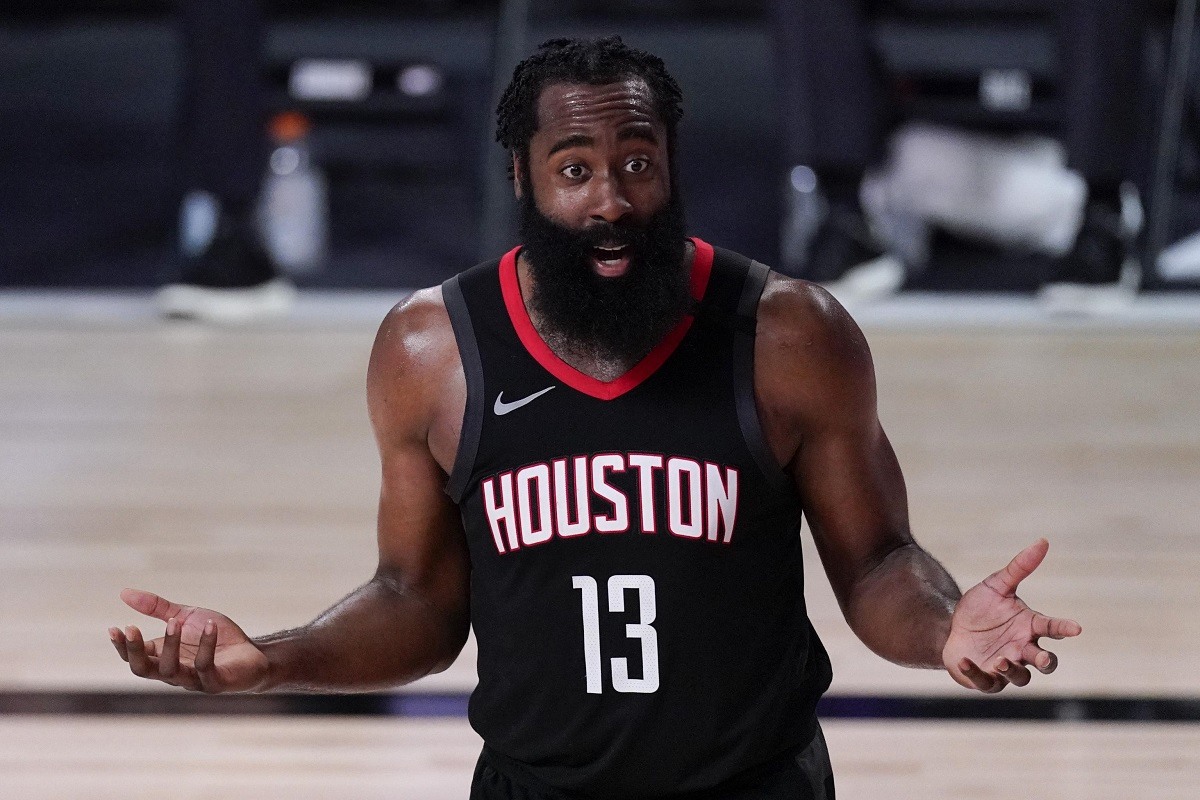 Harden led the NBA in scoring through the past three seasons. He averaged 34.3 points, 7.5 assists, and 6.6 rebounds last season.
Before the NBA draft, word got out that the Brooklyn Nets and Houston Rockets reached a verbal agreement on a Harden trade. However, the two teams were still in the process of finalizing the deal.
SNYTV's Anthony Puccio reported that the Rockets weren't in a rush to trade Harden, despite the agreement.
"Wouldn't consider it dead, but nothing is imminent at this moment," tweeted Puccio.
If the Rockets pull off the trade, Harden would be reunited with his old teammate Kevin Durant. KD, who is recovering from a blown Achilles, has yet to play a game with the Nets after sitting out last season to rehab his injury. But will Harden be willing to modify his selfish game?
The Rockets are also shopping Russell Westbrook, who requested a trade. Westbrook has been linked to both the Charlotte Hornets and New York Knicks.
I reported that sources believed there was a verbal agreement in place. From what I've gathered over the last couple of days, Houston is not bowing down to Harden or the Nets, and is in no rush to make a trade.

Wouldn't consider it dead, but nothing is imminent at this moment.

— Anthony Puccio (@APOOCH) December 1, 2020
Harden to Warriors?
Apparently, the Houston Rockets talked to the Golden State Warriors about a possible trade for Harden. They initiated the chat before Klay Thompson injured his Achilles in a workout.
"The Warriors made a call for James Harden to try to create a Curry-Klay-Harden trio before the injury," tweeted Shams Charania.
Thompson, one half of the Splash Brothers, missed last season with a torn ACL. He will miss an undetermined amount of time this season after blowing out his Achilles in a workout. The Warriors were just putting out feelers before the injury, but now, they could be in the market for a top scorer.
The Warriors recently acquired Kelly Oubre in a trade. They also selected big man James Wiseman with the second pick in the NBA Draft. Would they be willing to give up both players, along with Andrew Wiggins and draft picks, to acquire the shot-happy Harden?
Curry and Harden in the same backcourt could be awesome to watch from a fan perspective, and they would be a nightmare to defend on a nightly basis.
For now, it looks like the Rockets are simply using the Golden State Warriors to sweeten an inevitable deal with the Brooklyn Nets.
Tim MacMahon from ESPN reported that Houston will trade Harden if they can acquire "a proven, young star as a centerpiece, along with a massive picks package, according to sources."
Washington Wizards' star John Wall recently requested a trade. The Wiz are a potential trade partner for the Rockets as well, but Wall is also recovering from an Achilles injury.