James Harden exploded for a season-high 54 points for the Houston Rockets in a crushing 135-131 overtime loss to the Washington Wizards.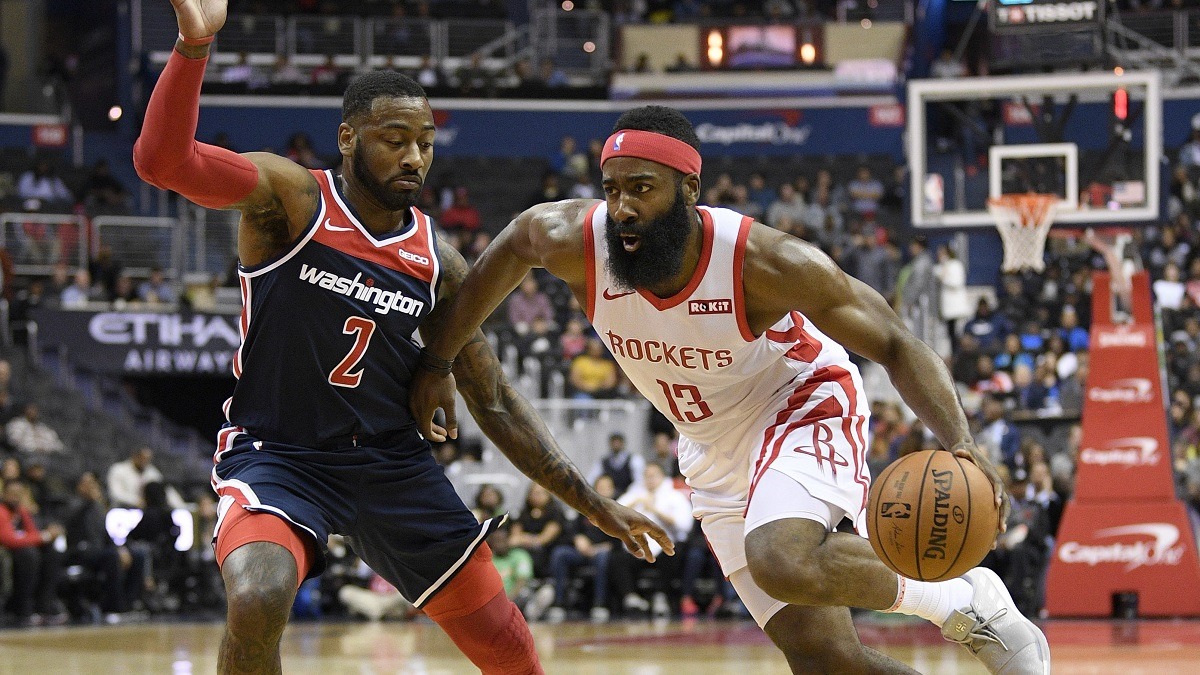 Harden averages 31.5 points per game as the NBA's leading scorer. Through 19 games, this marked Harden's first 50-point game of the season.
Fear the Beard
With point guard Chris Paul out with a sore left leg, James Harden knew he would have to handle a little more of the offensive workload.
In a road game against the Washington Wizards, Harden exploded for 54 points and added 13 assists. He drilled 7 out of 15 3-pointers. The quick and shifty Harden is known for his prowess at drawing fouls. He went to the charity stripe 15 times and hit 13 free throws.
"I tried to be aggressive with Chris out," Harden said. "At the same time, I tried to get guys involved and get guys in position to score."
In the first half, Harden scored 23 points. In the second half and overtime session, Harden posted 31 points.
This game marked the third time Harden scored 50 or more points and his team lost.
"We let our guard down and we let them get comfortable," said Harden.
Harden scored 40 points in a loss to the last-place Cleveland Cavs over the weekend. The NBA's top scorer scored 40 or more points in three of his last four games. The Rockets are 1-3 in that span.
Backcourt Wars: Harden/Gordon vs. Beal/Wall
James Harden and Eric Gordon combined for 90 points. The Rockets' dynamic duo posted the second-highest scoring total for a starting backcourt. Gordon filled in for an injured Chris Paul.
Harden and Gordon were up against Bradley Beal and John Wall. The Wizards' tandem, regarded by some aficionados as one of the best backcourts in the NBA, combined for 68 points. Wall dropped a season-high 36 points and Beal contributed 32 points. They shot a combined 60.7 percent from the floor.
"You watched a lot of high-level players play at a high level," Washington Wizards coach Scott Brooks said. "Amazing players all had great games."
The Wizards (8-12) have been embroiled in their own locker room drama. The young team is loaded with scorers but only one ball. There's discontent among the Wizards with rumors of John Wall on the trading block.
Despite the internal issues, the Wizards held off the Rockets for the 4-point victory in overtime. The Wizards are currently in third place in the Southeast Division.
Wall/Beal and Harden/Gordon combined for 158 total points. Those four guards set a new NBA record for most points scored by both starting backcourts in a single game.
In 2016, the Portland Trailblazers and Toronto Raptors set the previous record of 140 combined backcourt points. Damian Lillard dropped 50 points that night and his backcourt mate CJ McCollum added 24. On the opposite side, the Raptors' DeMar DeRozan scored 38 and Kyle Lowry added 28.
Melo, Dead Weight or Scapegoat?
With Carmelo Anthony no longer a member of the Rockets, the team does not have a built-in excuse for their problems.
After Melo left the team, the Rockets won five games in a row. Their much-needed winning streak thrust them over .500 with a 9-7 record.
Even without Melo, the Rockets have a tough time defending opponents. They allow 109.3 points per game, which is 10th worst in the NBA.
The Rockets regressed in the last week. They lost all three games on their current road trip and dropped to last place in the Southwest Division and fell to 9-10 overall.
Harden and the Rockets return home to play rookie Luca Doncic and the Dallas Mavericks on Wednesday. After that, they will be on the road for four out of their next five games.
"We lost three in a row, but we go back home and have a chance to redeem ourselves," said Harden.