Jairzinho Rozenstruik earned a TKO victory with just one second remaining in the first round of his heavyweight fight against Augusto Sakai in the main event of Saturday's UFC Fight Night card.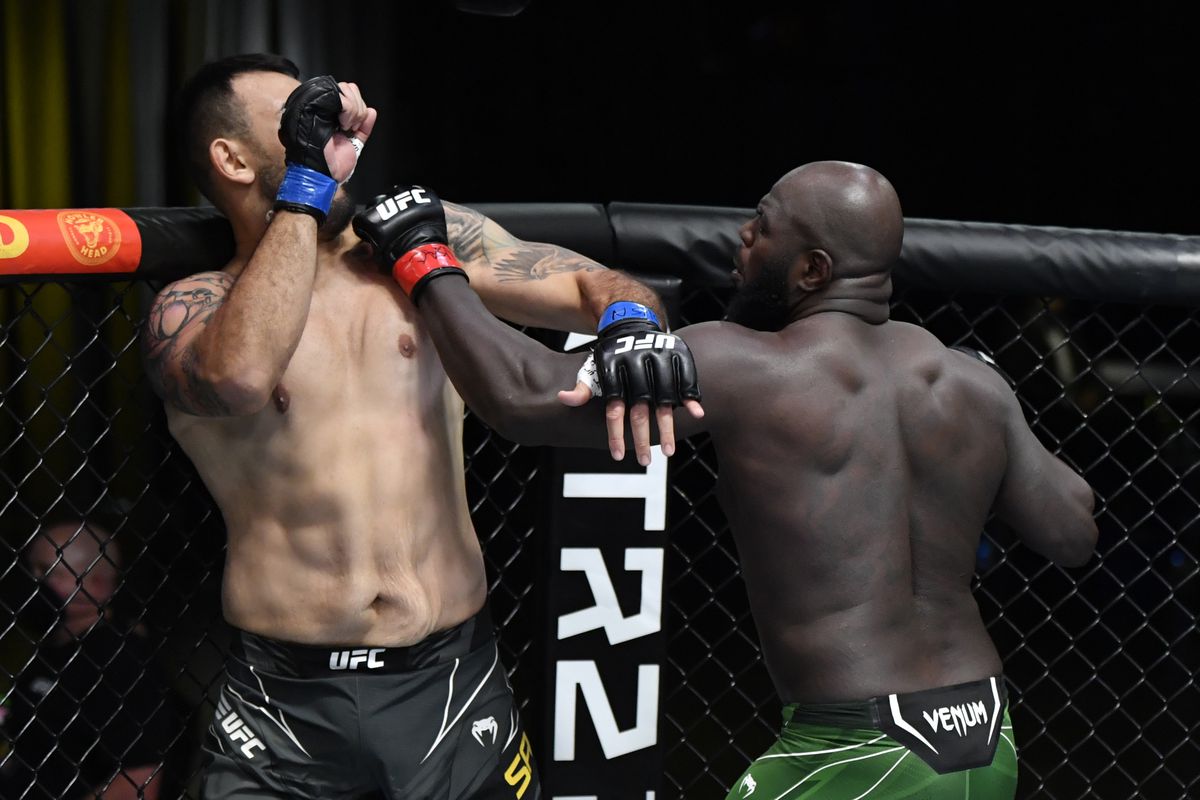 Rozenstruik dropped Sakai with a big left hook followed by a right, then landed punches on the ground. Referee Herb Dean stopped the fight at 4:59 into the first, just before the bell sounded.
Rozenstruik wants top-five opponent next
Rozenstruik (12-2) has a history of finishing fights late in rounds. In 2019, he beat Alistair Overeem at 4:56 of the fifth round.
"As soon as a I heard the [10-second warning] – tock, tock, tock – I faked him with the right, hit him with the left, and hit him with the right again," Rozenstruik said of the finish.
Rozenstruik came into the fight ranked sixth in the UFC heavyweight division. Sakai (15-3-1) held the No. 9 contender position. Rozenstruik didn't ask for a title shot after his win. However, he said he wants a quick turnaround and is interested in stepping up against one of the top UFC heavyweights.
"Anybody that's ranked above me makes sense," Rozenstruik said. "There's the top five there. I'm coming for you guys. I'm coming."
Shields has simple plan for PFL fight
Women's boxing legend Claressa Shields will make her MMA debut on Thursday when she'll take on Brittney Elkin in the Professional Fighters League. Shields won two Olympic gold medals at middleweight, and held all four major boxing titles in two weight classes simultaneously, the only boxer ever to pull off that feat.
Now, the world's best women's pound-for-pound boxer will tackle a new challenge. Shields comes in as a -455 favorite over Elkin (+315), according to DraftKings Sportsbook. Elkin holds a 3-6 record in professional MMA, and boasts a brown belt in Brazilian jiu-jitsu. That makes the game plan for Shields – a world-class striker who is only now learning the finer points of MMA – simple.
"The game plan is to stay the f— away from the cage," Shields told ESPN. "That's it. Stay in the center."
UFC fighters sound off on pay
The big story in combat sports over the weekend was the exhibition boxing match between Logan Paul and Floyd Mayweather Jr., which ended without a winner on Sunday. That fight made both men a ton of money, certainly dwarfing what UFC stars and other MMA fighters receive. That didn't sit well with some big names in the sport.
It's crazy to think that Logan Paul (0-1) just made $20M on a boxing exhibition.

WHAT ARE WE DOING WRONG? 🤔

— Francis Ngannou (@francis_ngannou) June 7, 2021
"It's crazy to think that Logan Paul (0-1) just made $20M on a boxing exhibition," UFC heavyweight champion Francis Ngannou tweeted. "What are we doing wrong?"
Middleweight contender Paulo Costa also vented over pay after Kelvin Gastelum replaced him in a fight against Jared Cannonier in the main event of a UFC Fight Night event on Aug. 21.
UFC needs to pay me as main fighter to have fighting in main events.
Youtubers are showing all disgrace on this business.

— Paulo Costa ( Borrachinha ) (@BorrachinhaMMA) June 5, 2021
"UFC needs to pay me as main [event] fighter to have [me fight] in main events," Costa wrote on Twitter. "YouTubers are showing all disgrace on this business."