Jackie's Warrior came into Saturday's Grade 1 Alfred G. Vanderbilt Handicap wanting to make progress toward his ultimate goal – the Breeders' Cup Sprint.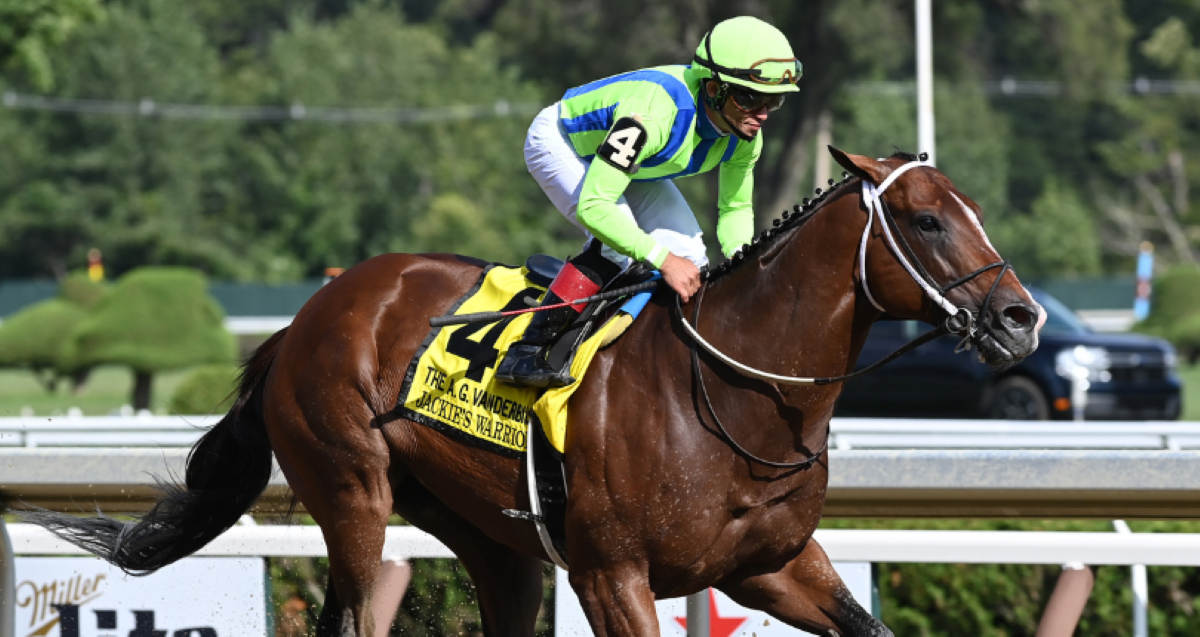 He ended up making history.
Jackie's Warrior won the Vanderbilt by two lengths Saturday, a victory that made him the first horse in Saratoga history to win Grade 1 races three consecutive years. He won the 2020 Hopeful as a 2-year-old and the H. Allen Jerkens as a sophomore last year.
This has trainer Steve Asmussen, who said earlier this week he ran out of superlatives to describe Jackie's Warrior, searching for more. Along the way, he put Jackie's Warrior's feat into proper perspective.
"Saratoga – the great racehorses that have won here and he's the only one to do that. I just can't say how much I have wanted that for him and am proud of it and Jackie's Warrior has done it," Asmussen told the New York Racing Association's Keith McCalmont. "He's the whole package. He just has a tremendous amount of ability and confidence in himself. A game horse."
Jackie's Warrior's record haul continued
Along with his fifth career Grade 1 victory, Jackie's Warrior won his fifth Saratoga stakes race. According to Equibase, that ties him with standout Fourstardave atop that ladder. Along with the three Grade 1s, Jackie's Warrior won the 2020 Grade 2 Saratoga Special and the 2021 Grade 2 Amsterdam.
"I wanted this more than you're supposed to want things," Asmussen said about his record fourth Vanderbilt title. "Immortality, a record like that. We owe everything we have to these horses and when one comes along as special as him, you go through the crowd and see all the fans he has. He's the only horse to have ever done that and I'm so proud of him and the whole team. You can't imagine how much this horse means to the barn."
Asmussen's admitted he was nervous going into the six-furlong Vanderbilt, even saddling the 1/5 favorite and putting the Spa's hottest rider – Joel Rosario – aboard. Rosario won his sixth stakes race at the Spa and second Grade 1, bookending his opening-weekend win aboard In Italian in the Diana Stakes.
'Poised like a statue in the irons'
But even carrying a field-high 127 pounds, Jackie's Warrior had things well in hand. He let Doc Amster set a quick, 22.39-second opening quarter-mile. Then, Rosario sent the Maclean's Music colt coming into the turn and that was that. By the stretch call, Jackie's Warrior led by 4 ½ lengths.
The Equibase race notes read that Jackie's Warrior "accelerated clear without being asked into upper stretch, extended the advantage with the rider poised like a statue in the irons into the final furlong, remained well clear without the rider moving his hands an inch into the final sixteenth and prevailed very handily."
It was that easy.
Jackie's Warrior didn't exactly bring value
At 1/5, Jackie's Warrior paid $2.50 and $2.10. Kneedeepinsnow was the game, but overmatched, runner-up. At 22.80/1, he paid $7.70 to place. Willy Boy was third, five lengths back. There was no show wagering.
You've got two more chances to see Jackie's Warrior run. Asmussen said he'll return to Saratoga for the seven-furlong Grade 1 Forego on the Aug. 27 Travers Stakes undercard. After that is the Breeders' Cup Sprint Nov. 5 at Keeneland.
"Those will be his last two races and then  he is off to Spendthrift (Farm) for his stud career," Asmussen said.