Jessie Royer leads the 2020 Iditarod Alaska sled dog race becoming the first team to reach the Ruby, Alaska checkpoint, which unofficially marks the halfway point at 495 miles into the 975-mile race. With 480 miles to go, the Iditarod is still wide open as it reaches the heady 4 Day, 20 Hour mark since it commenced last Saturday in Anchorage.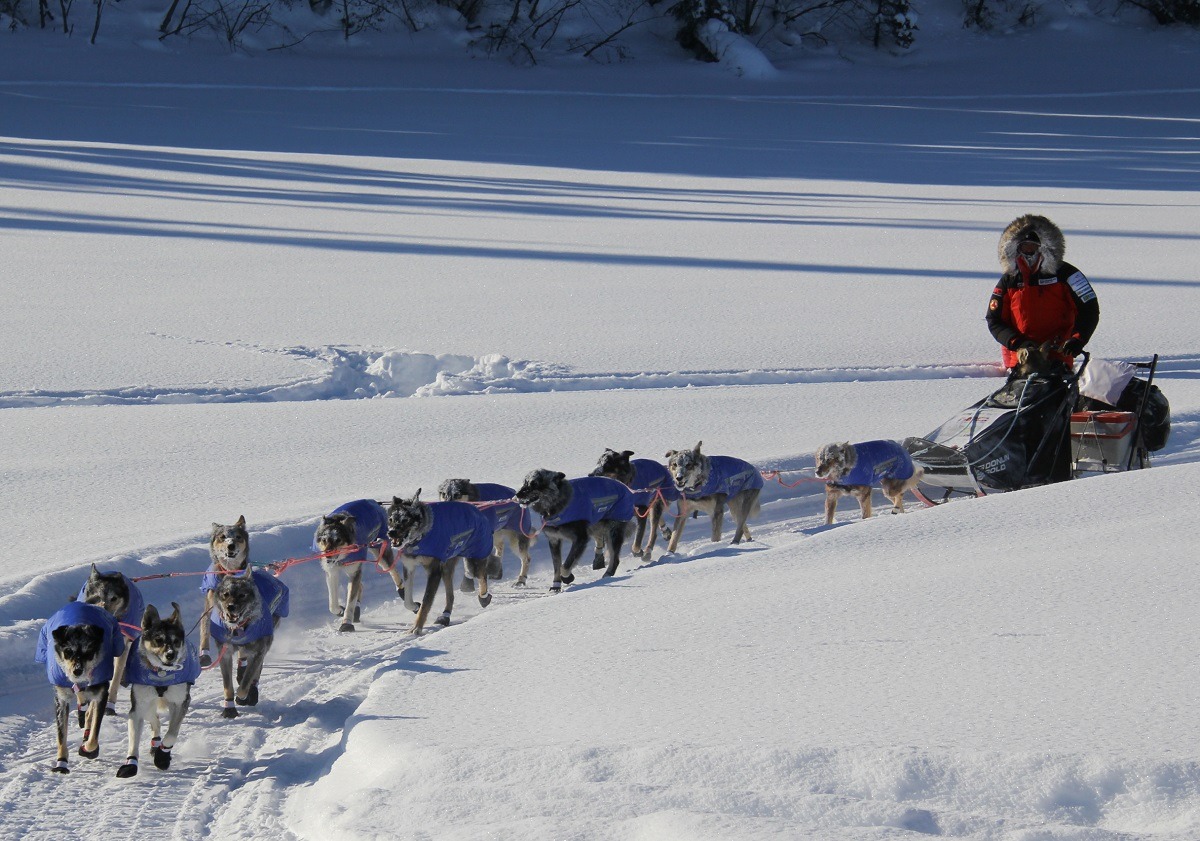 The first musher into Ruby wins a bonus worth $3,500 and a gourmet meal. Royer snatched up the coveted Ruby prize.
Ruby, nestled along the Yukon River, is an old mining town with a population of 187 people and located 70 miles from the previous checkpoint in Cripple. The difficult terrain during this stretch includes steep hills on the last 35 miles heading into Ruby. The local temperature is currently 5 degrees Fahrenheit.
Jessie Royer and her 14 dogs are among the first three teams to arrive at Ruby. Thomas Waerner (14 dogs) and Aaron Burmeister (12 dogs) arrived approximately 35 minutes behind Royer. Royer departed the previous checkpoint at Cripple approximately 90 minutes ahead of Waerner, who closed the gap on the way to Ruby.
2020 Iditarod Standings
Jessie Royer (14 dogs)**
Thomas Waerner (14)**
Aaron Burnmeister (12)**
Brent Sass (13)**
Richie Diehl (14)
Joar Leifseth Ulsom (13)
Ryan Redington (13)
Wade Marrs (14)
Peter Kaiser (11)
Jason Campeau (12)
** Reached Ruby, AK
The 2018 champion and 2019 runner-up, Joar Leifseth Ulsom, is in sixth place and a few miles outside of Ruby. Ulsom's team currently has 13 dogs.
Last year's champ, Peter Kaiser and his team are in ninth place. Kaiser is down to 11 dogs with a couple in heat that slowed him down. Kaiser is still at least a dozen miles away from arriving in Ruby.
Break Time in Ruby
The lead mushers on the 2020 Iditarod will take a lengthy break in Ruby. Royer's dogs looked tired upon arrival and she had to carry one dog for the last stretch heading into town.
Waerner arrived 35 minutes or so behind Royer. Waerner's dogs looked animated upon arrival, but he also opted to rest for several hours.
Burnmeister, currently in third place, confirmed that his dogs will rest and nap for up to eight hours before it's time to head back on the trail. The next checkpoint in Galena is located 5 miles away.
There is snow forecast for Saturday as the mushers hit the Bearing Sea coast for the second half of the race. This is when the volatility of the weather, particularly the wind and lack of visibility, will pose a major threat to the mushers.
"You never know what the Yukon River will throw at you," said veteran musher Danny Seavey. "A little wind off the river changes everything."
That's why many Iditarod mushers will take the opportunity for a longer rest than usual in Ruby.
Mackey CBD Edge?
Lance Mackey, a four-time Iditarod champ, is in 17th place. Mackey became the first person to win the Yukon Quest and Iditarod in the same year when he pulled off the double victory in 2007. He won the Iditarod four years in a row between 2007 and 2010.
Mackey, a cannabis connoisseur and former cancer survivor, has taken guff from many other mushers because of his affinity for marijuana. In the past, he consumed cannabis during the Iditarod to help his body heal during the grueling race that could take up to 10 or more days to complete.
His fellow mushers believed the mary jane was a performance-enhancing drug, which contributed to his remarkable stretch of victories. His jealous opponents persuaded Iditarod race officials to list marijuana as a banned substance in 2010. Mackey still won the 2010 Iditarod in a 420-free environment for his four-straight title.
Mackey has come under fire from Iditarod's head vet for his choice to add CBD oil to his dogs' food. CBD oil is not on the list of banned substances for dogs, but its usage is frowned upon in the sled-dog racing community. Mackey is one of two mushers in the 2020 Iditarod that openly administers CBD to their dogs.
"Their recovery time is impressive," Mackey told the Anchorage Daily News.
Mackey feeds human-strength CBD to his dogs. The dogs consume approximately $100 of CBD per day on the trail. He gets the oil for free because he's the pitchman for The High Expedition, a local dispensary in Talkeetna.