Peter Kaiser, a construction worker from Bethel, Alaska, came from behind to win the 2019 Iditarod Sled Dog Race after front-runner Nicolas Petit's team of dogs quit on him approximately 200 miles from the finish line.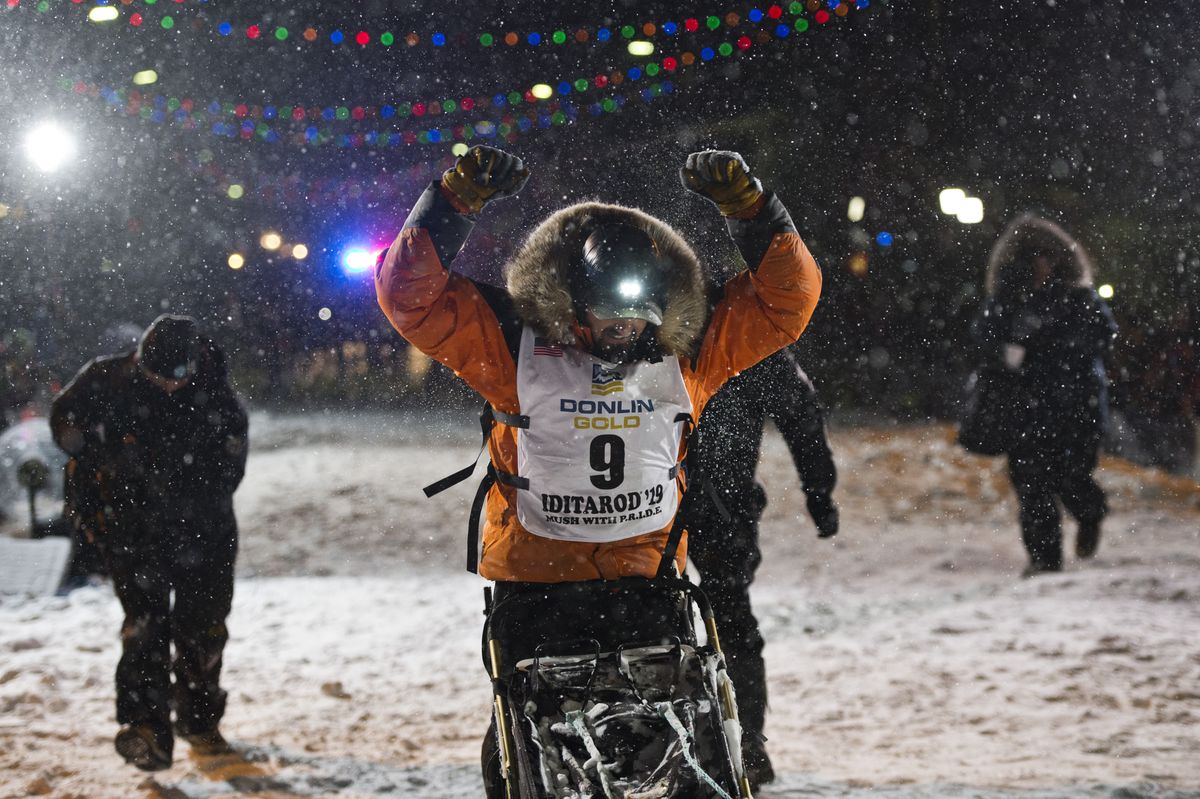 Kaiser, 31, completed the 998-mile journey in 9 days, 12 hours, and 39 minutes. The annual sled dog race from Anchorage to Nome included treks over two treacherous mountain ranges in the grueling Alaskan terrain.
Kaiser became only the fifth Alaskan musher to win the 47th annual running of the Iditarod. An Alaskan-born musher has not won since 2011. Kaiser is the first musher of Yup'ik descent to win the Iditarod. Kaiser finished in fifth place last year.
"Just years of knowledge gained," Kaiser said in a post-victory press conference. "And trying to put it all together to have a better race, better dog team this year. Every little detail coming into play."
Kaiser wins $51,000 for the victory, plus a new truck.
2019 Iditarod Final Standings – Top 5:
1. Peter Kaiser 3:39:06 (8 dogs)
2. Joar Leifseth Ulsom 3:51:22 (8)
3. Jessie Royer 9:34:05 (11)
4. Aliy Zirkle 17:26:56 (11)
5. Travis Beals 18:37:25 (8)
The defending champion, Norway's Joar Leifseth Ulsom, finished in second place. With only eight dogs remaining, Ulsom reached Nome only 12 minutes after Kaiser.
Aliy Zirkle, who led the race at the mid-point, finished in fourth place. Zirkle attempted to become the first woman to win the Iditarod since Susan Butcher's fourth-career victory in 1990.
Dogs on Strike
The big story from the 2019 Iditarod is another collapse from Nicolas Petit. The Frenchmen had another horrible experience on a 50-mile stretch of Bering Sea ice in between Shaktoolik and Koyuk checkpoints.
Petit incurred a severe bad beat when his dogs quit on him. On Monday, two of his dogs were involved in an incident in which a younger dog defecated during an unscheduled break. Joee, the alpha dog in the pack, confronted the premature pooper.
"I yelled at Joee," explained Petit. "And everybody heard Daddy yelling. It doesn't happen. And then they wouldn't go anymore. Anywhere. So, we camped here."
When Petit yelled at the alpha, the rest of the dogs freaked out and refused to run. The next morning, Petit withdrew from the race.
"It's just a head thing," Petit added.
Last year, Petit held the lead before he got lost in a blizzard near the windiest section of the race outside of Shaktoolik. Joar Leifseth Ulsom passed Petit in the storm and the Norwegian won the 2018 Iditarod by two hours.
Tenth Time a Charm
Sled racing is not as lucrative as NASCAR or winning the World Series of Poker. Coming into this year's Iditarod, Kaiser earned $243,700 in prize money in nine years. However, the mushers that participate in the Iditarod are among the most resilient athletes on the planet. By winning one of the toughest endurance races in the world, Iditarod mushers earn a certain street cred and level of respect that you cannot quantify in dollars and cents.
Kaiser first raced in the Iditarod as a 21-year old in 2010. Since 2012, he finished in fifth place at three different times in his career, including a fifth-place finish last year. It took Kaiser ten times, but he finally won.
"It's amazing," Kaiser told reporters in Nome after the race. "It still has not sunk in yet."
Kaiser has been a musher since "he was a kid" according to his bio. His parents operated a kennel in Bethel, a quaint town of 6,000 people located in a rural segment of southwestern Alaska. Kaiser won his first sled dog race in high school, the 65-mile Akiak Dash, and he never looked back. Over the last decade, he worked seasonal construction jobs in the summer months so he could race and train dogs in the winter months.
Kaiser's friends and family flew in from Bethel to support him at the finish line in Nome. Many other villagers, including the mayor, followed the action online via live stream.
"I didn't get a wink of sleep last night," said Mayor Fred Watson. "This is groundbreaking. This is amazing."
"Our support system is incredible and the whole community and region and everybody out there," said Kaiser. "Half the town jumped on jets to come up here and watch me finish and it's incredible. I'm so humbled by that and appreciative and it's so motivating. It's very special."