Hunter Renfrow might be undersized for an NFL player, but the 5-foot-10 wide receiver has a lot of heart and grit — plus knack for getting open — which is why the Las Vegas Raiders offered him a $32 million contract to remain with the team for two more seasons.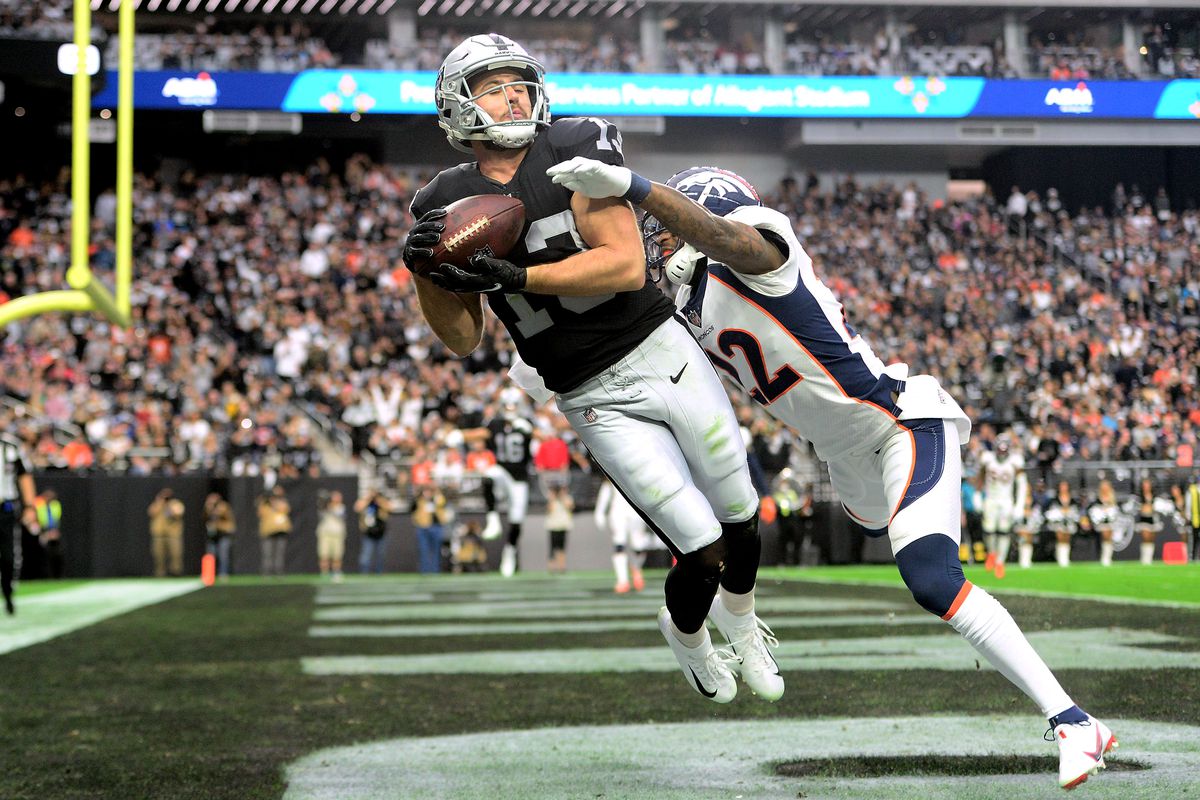 The Raiders drafted Renfrow with a fifth-round pick in 2019 out of Clemson, where he won a national championship. A lot of doubters did not think Renfrow could thrive in the NFL, but he proved everyone wrong with a solid rookie campaign catching 49 passes for 605 yards and four touchdowns in 13 games.
In his third season last year, Renfrow set a career high with 103 receptions for 1,038 yards and nine touchdowns in 17 games. He missed the franchise record of 104 receptions, which Tim Brown set in 1997.
Hunter Renfrow with a NASTY route for the TD 🔥
pic.twitter.com/uoA0jXWtts

— PFF Fantasy Football (@PFF_Fantasy) December 12, 2021
$32 Million Renfrow: 'Gets the Bag'
Renfrow, 26, will also get $21 million in guaranteed money to go along with his $32 million contract extension. He still has one more season remaining on his rookie contract, which will pay him $2.5 million this season, but the Raiders locked up Renfrow through 2025.
It's been a heck of an offseason for wide receivers getting paid big bucks. The NFL is a pass-first league these days, so teams want to lock up their stud wide outs. The LA Rams offered Cooper Kupp — the reigning Super Bowl MVP — to a hefty contract extension. The Miami Dolphins acquired Tyreek Hill in a trade with the Kansas City Chiefs, and then gave him a huge contract extension.
The Raiders were able to persuade Devante Adams to leave the Green Bay Packers — even though the Packers offered him more money — and migrate to Sin City.
Adams and Renfrow will provide a heck of a one-two punch for the Raiders offense. Renfrow will definitely get a lot of action with defenses trying to shut down Adams.
Raiders new head coach Josh McDaniel loves what he saw on tape, and compared Renfrow to former New England Patriots slot receivers like Wes Welker and Julian Edelman, who were also undersized yet made huge contributions to their championship runs.
Hunter Renfrow goes 56 yards for a TD in his first game back.#WRU // #ClemsonNFL

— #ClemsonNFL (@ClemsonPros) December 22, 2019
Gambling on the Sin City Raiders
The Raiders were 10-7 last season and qualified for the postseason, but lost to the Cincinnati Bengals in the AFC Wild Card. Bookies have the Raiders with a 8.5 over/under win total during McDaniel's first season in Sin City.
The Raiders play in one of the toughest division in the NFL with the stacked AFC West. The Kansas City Chiefs and Patrick Mahomes are trying to win another Super Bowl, but the AFC West also has Justin Herbert and the up-and-coming Los Angeles Chargers. Let's not forget that the Denver Broncos made a bold move when they acquired Russell Wilson in a trade with the Seattle Seahawks.
The Broncos and Chargers might not be ready to make a legit title run this year, but they're only going to improve, which makes winning a division title in the AFC West in the immediate future an arduous task for McDaniel and the Raiders.
You can back the Raiders at +650 odds to win the AFC West this season, but they're the long shot on the NFL futures board at DraftKings. The Chiefs are the betting favorite to win the AFC West at +175 odds, followed by the Chargers (+225) and Broncos (+250).
If you're thinking big — like Super Bowl champion big — the Raiders are +4000 odds to win Super Bowl 57, and +2000 odds to win the AFC Championship.