In the Western Conference semifinals, the Los Angeles Lakers have an opportunity to knock out the Houston Rockets with a 3-1 series lead. The Rockets face a win or go home scenario in Game 5 and will play without backup swingman Daniel House, Jr., who was bounced from the NBA Bubble for rules violations.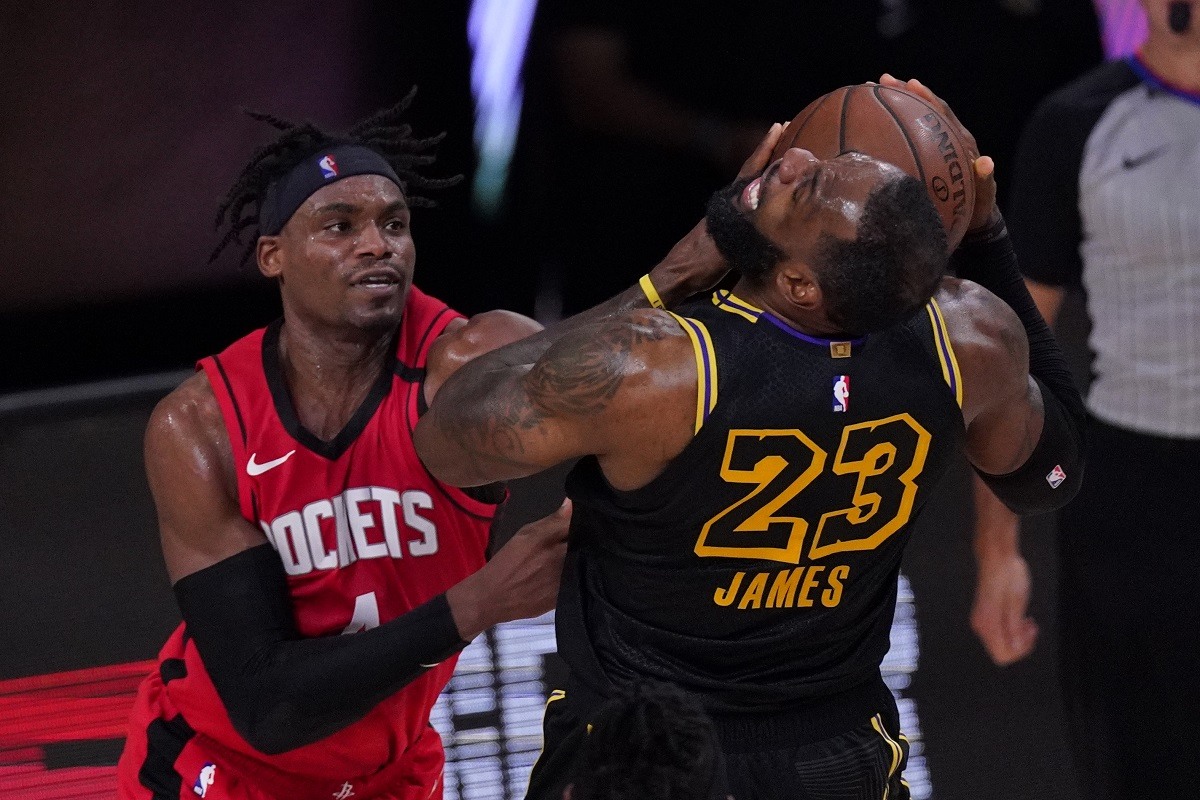 House violated NBA protocol and allegedly invited a COVID-19 tester into his room at Grand Floridian Hotel at Disney.
House had left the NBA bubble earlier in the week and the team cited "personal reasons" for his departure.
According to The Athletic, "A woman entered the Rockets' team hotel on Monday night, passing multiple security checkpoints before being flagged for her entry, sources said. She exited the hotel in the early hours of Tuesday morning, and the league cited early data points that implicated two members of the Rockets, House and Tyson Chandler, sources said."
House maintains his innocence, but NBA security set him home anyway.
"This is done out of precaution and making sure the NBA's campus standards are upheld," a source told The Athletic.
---
#1 LA Lakers (3-1) vs. #2 Houston Rockets (1-3)
Tip-off: 5:00pm PT
Point Spread: Lakers -6.5
Total: 215 o/u
Money Line: HOUS +225 / Lakers -260
---
The Rockets come into an elimination game as a +6.5 underdog.
According to DraftKings' series odds, Lakers are a ridiculous -5000 odds to win the series. The Rockets are 14/1 odds to pull off a comeback down 3-1.
For the first time since the start of the NBA Bubble, the Lakers saw their championship odds dip below 2/1. Right now, you can find the Rockets at +190 odds to win the title at DraftKings.
Rockets Running on Empty
At least one positive thing happened for Houston in Game 4. They finally showed up in the fourth quarter. In previous games they were gassed by the final frame.
"We know we're in a big hole now and we've got to win," said Mike D'Antoni. "We'll go out and if we lay it on the line like the way we did in the fourth quarter, we'll be fine."
The Rockets looked sluggish at times in this series, and that was before they lost Daniel House. Between a seven-game series with the OKC Thunder in the opening round and the fact that Mike D'Antoni had shortened his player rotation, the short-handed Rockets struggled to find scoring from the forward position.
What the Rockets and D'Antoni need more than ever is a swingman like House providing an additional scoring punch off the bench. House averaged 11.4 points per game in the postseason.
Houston's starting forwards, PJ Tucker and Robert Covington, combined for 3 points in Game 4's loss. Jeff Green and Ben McLemore combined for 18 points off the bench. But in total, Houston forwards contributed only 21 points, or exactly 21% of the Rockets' offense in Game 4.
Meanwhile, Harden and Westbrook provided 46 combined points in the Game 4 loss.
"We know what we have to do," said Westbrook. "It's going to take a lot of effort. It's going to take everyone being uncomfortable in their role and making sure that we understand that we all have to sacrifice some of the things we may love to do. But we've gotta scramble. That gives us the best chance to win games."
Lakers Seek Close Out
The Lakers are just five victories away from a berth in the NBA Finals. Of course, they're not looking that far ahead into the future.
"It's one day, one game at a time," said head coach Frank Vogel.
One more win will put the Lakers into the Western Conference Finals.
Vogel unleashed his version of small-ball to counter the Rockets smaller, trigger-happy squad has paid off dividends with a 3-1 series lead. However, the Lakers are nowhere close to playing their best basketball.
"Obviously, we've got to be better," said LeBron James. "We've got to close out games the right way."
LeBron missed out on a triple-double once again with 16 points, 15 rebounds, and 9 points. He only scored 16 points, but the Lakers got plenty of scoring from the rest of the team. Anthony Davis led all scorers with 29 points and 16 rebounds.
Alex Caruso chipped in 16 points off the bench. Rajon Rondo continued his "Playoff Rondo" ways by also nearly missing a triple-double. Rondo finished Game 4 with 11 points, 10 rebounds, and 8 assists in only 29 minutes.