With most horse racing canceled throughout the country in response to the COVID-19 pandemic, Gulfstream Park in Florida finds itself a surprising beneficiary due to horsemen staying put in one of the few states still featuring live racing.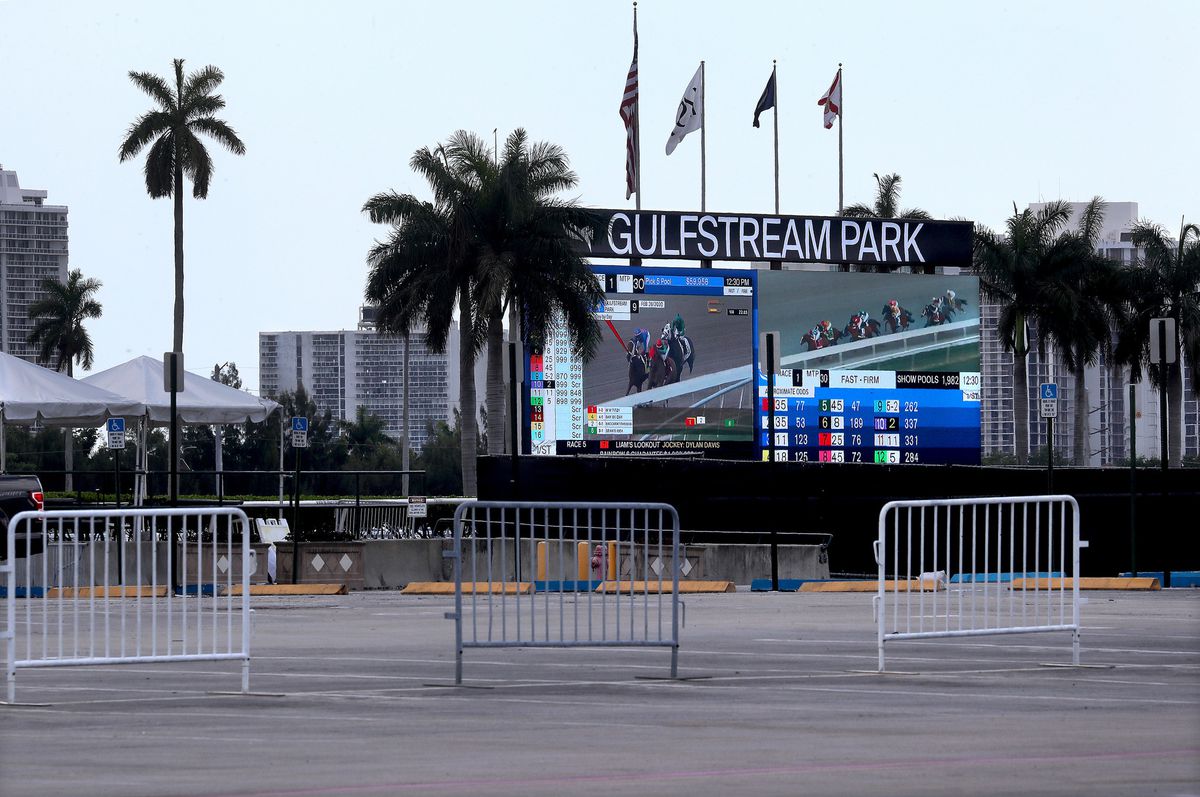 As a result of a deeper-than-usual horse population – both in numbers and in quality – Gulfstream officials began altering the races it normally cards for its spring meet. Gulfstream racing secretary Dave Bailey began writing new races for the spring meet condition book. Those races reflect the higher caliber of horses remaining in Florida.
Normally, those horses migrate to northern tracks such as Aqueduct and Belmont Park in New York, Churchill Downs and Keeneland in Kentucky, Monmouth Park in New Jersey, and Pimlico and Laurel Park in Maryland. But with those tracks shuttered because of the coronavirus, horsemen are keeping their charges stabled in Florida.
Gulfstream is the most prominent facility in the state, but Tampa Bay Downs, Gulfstream Park West, and Palm Meadows Training Center also find themselves with good horses needing a place to run.
So deep is Gulfstream's current horse population that 13 races are on Saturday's card. Those include three allowances and three maiden special weight races normally seen during the track's winter meet. Bailey and Mike Lakow, Gulfstream's vice president of racing, are even testing the waters with the first 2-year-old races of the season on April 16-17.
Two Overnight Stakes Planned, More in the Works
The new races begin April 23. They'll include two $75,000 overnight stakes races: the 1 1/16-mile Unbridled Stakes for 3-year-olds on dirt on April 25, and the Sunshine Forever Stakes over the same distance on turf for older horses on May 9. Lakow said there will also be a couple of five-furlong overnight turf sprints and a 1 1/16-mile overnight stakes for 3-year-old fillies at yet-to-be-determined dates.
"Obviously, our first condition book for the spring meet was not written for the kind of horses that are still with us here now," Lakow told The Daily Racing Form. "So we plan to throw more races in, kind of ease into the situation, when we see the need. Most of our stakes categories were covered just recently on Florida Derby Day (March 28), so there is no immediate need for those types of races at the moment."
Racing remains without spectators at Gulfstream, despite pressure from Hallandale Beach city officials to close the track, and increased restrictions from Florida Gov. Ron DeSantis. There are also purse reductions because Gulfstream closed its casino. The lack of on-track wagering is further affecting purses because the track keeps a higher percentage of those bets than it does from wagering apps and remote bets.
Wait-and-See Approach
"As far as the condition book itself, we're just feeling our way through and we're writing short books just to see how this plays out," Lakow said to Bloodhorse. "What we don't want to do is find ourselves writing a book and, all of a sudden, a lot of our horse population leaves, and then we're stuck. So we're playing it slow and steady at this point."
Not surprisingly, this approach has drawn the attention of race-starved horsemen up and down the East Coast. And not surprisingly, track officials drew the line with safety protocols instituted by The Stronach Group, which owns Gulfstream, Palm Meadows, and Gulfstream West.
Horses traveling out of state, then returning to Florida, face a mandatory 14-day quarantine outside of TSG facilities. In addition, humans traveling with those horses may not return to a TSG facility.