Despite threats from a Hallandale Beach city official to take "legal action" if racing isn't stopped, Gulfstream Park has no plans to close its doors this week and intends to run Saturday's Florida Derby without any spectators in the grandstands.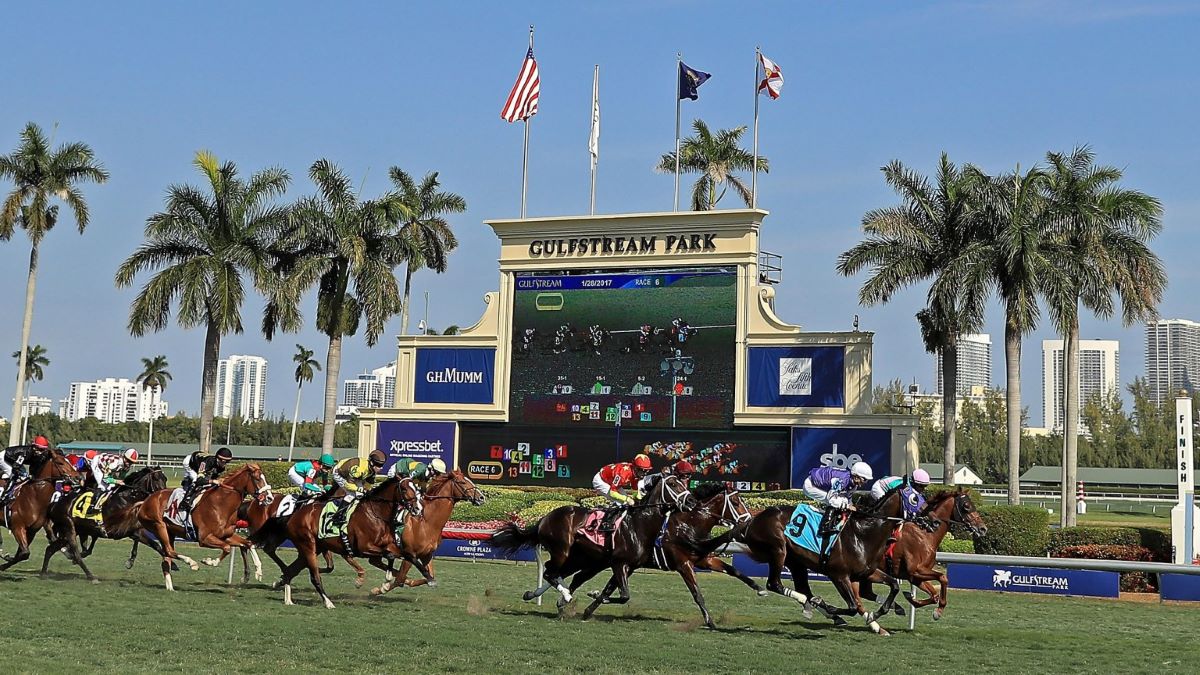 Hallandale Beach Vice Mayor Sabrina Javellana said Broward County's ban on non-essential business during the COVID-19 pandemic includes Gulfstream Park. She maintains the park needs to follow that order.
"They need to stop the racing," Javellana told the Ft. Lauderdale Sun-Sentinel. "We can't just bend to their will just because they say they're going to sue us or (take) whatever legal action. They're a powerful entity, but we can't just allow that to go on. They're blatantly violating the Broward County order."
The order, signed on Sunday by Broward County Administrator Bertha Henry, calls for the closure of non-essential businesses in the county, located north of Miami in southeastern Florida. Essential businesses include medical offices, grocery stores, gas stations, childcare facilities, hotels, and smaller entities. Before the order went into effect, Gulfstream raced over the weekend without spectators.
Gulfstream Denies Legal Threats
Bill Badget, the executive director of Florida racing operations for Gulfstream Park's owner, The Stronach Group, said the track did not threaten legal action against Hallandale Beach.
"We value our relationship with the City of Hallandale and any suggestion of legal action during this time is false," he said in a statement.
"On March 12, we voluntarily closed our venues to the public and we will continue to work with all stakeholders including city, county, and state officials to ensure that we are in full compliance with all requirements for social distancing."
According to the Sun-Sentinel, at least 20 people are required to conduct a race card, which exceeds the 10-person maximum allowed under the order. This doesn't factor in the hundreds of stable workers in the barns who provide necessary daily care for the horses.
To clarify, the horses housed at this track should absolutely still be fed, walked, and cared for. I do not believe commercial racing is essential and it should not continue at this time. CDC guidelines of less than 10 people working should be followed.

— Sabrina Javellana (@jvellana) March 25, 2020
"I do not believe commercial racing is essential and it should not continue at this time," Javellana said in a recent tweet. "CDC guidelines of less than 10 people working should be followed."
While Javellana maintains it's a second-degree misdemeanor to violate the county order, she has no idea who she would charge in this case. She said she doesn't want to charge individual employees and that she simply wants the track to follow the county order and shut down.
Along with that, Javellana said Hallandale Beach city staff are communicating with Broward County officials "because we really just want to have clarifications from the county order just to have legal standing in the courts if it does come to that.
"They're not mentioned in any of the exemptions. We want to have it in a clear order from the county that says horse racing is not an exempted business," she added.
Certain Race Days Exempt
The Sun-Sentinel story said Javellana reached out to Florida House of Representatives member Dan Daley and he told her the Florida Department of Business and Professional Regulation is the waiving requirements that call for a specific number of race days.
Gulfstream's sister track, Santa Anita Park in California, has continued racing with the permission of California Gov. Gavin Newsom. Earlier this month, Newsom issued a stay-at-home order for all California residents.
"Racehorses are living, breathing animals that require constant supervision and care – from feeding to exercise, to veterinary care," Santa Anita said in a statement after Gov. Newsom's edict allowing racing. "Horses cannot survive without human contact and care. Racehorses are conditioned athletes and standing in a stall without daily exercise is detrimental to their health, safety, and welfare."
Business Almost As Usual
Despite Javellana's saber-rattling, racing resumed Wednesday at Gulfstream. Only trainers and essential personnel licensed by the Florida Department of Business and Professional Regulation's Division of Pari-Mutuel Racing who have horses running that day were allowed on the track.
Saturday's Grade 1 Florida Derby is a mainstay on the Kentucky Derby Trail and a prep race that has sent 24 horses to the winner's circle at Churchill Downs. Maximum Security, who won the Florida Derby last year, was the 25th before his disqualification.
This year's Florida Derby features a showdown between Tiz the Law and Ete Indien, two East Coast standout 3-year-olds.
Gulfstream's Championship Meet ends Sunday. It's Spring-Summer Meet begins April 3.
"I just really feel for the jockeys, the cameramen, the different staff that go into putting together this operation who are going to have to come home, who probably don't want to go into work," Javellana told the Sun-Sentinel. "It's just not the ideal situation and they're not an essential business. I'm sorry to say, but the Derby does not have to go on. The Olympics are being postponed. The horses can wait."