Kyler Murray, quarterback for Oklahoma and 2018 Heisman Trophy winner, will enter the 2019 NFL Draft, which puts two-sport athlete's immediate future with the Oakland A's in doubt.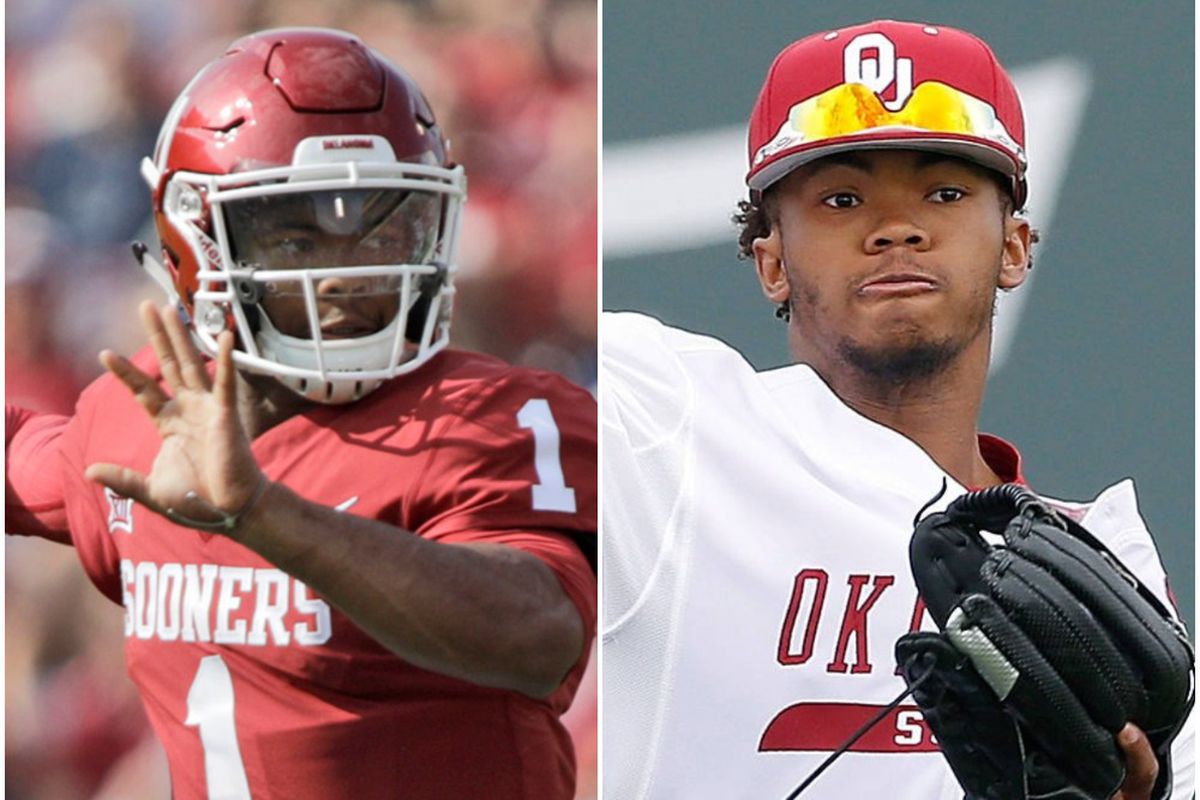 The Oakland A's selected Murray, an outfielder, with the ninth overall pick in the 2018 MLB Draft. The undersized Murray, 5-foot-10, was expected to forgo a career in the NFL to pursue professional baseball.
Without many premier quarterback prospects in the upcoming draft, Murray's entry puts him to the top of the QB list.
Murray replaced the 2017 Heisman winner Baker Mayfield as the starting quarterback in Oklahoma. This season for the Sooners, Murray finished with 42 touchdowns and only seven interceptions and was the clear-cut favorite to win the Heisman Trophy.
Oakland Strikes Out
After Murray crunched the numbers, he concluded that he could make bigger money much faster if he played pro football. Sure, there's a bigger risk with injuries and potential CTE damage, but there's also a bigger payday. Although he has a $4 million signing bonus awaiting him, it would take Murray several years of toiling in the minor leagues before he made it to the show. And even by then, he would not be guaranteed to earn a lucrative contract until he reached his 30s.
Murray is still slated to report to Spring Training for the A's and the franchise thinks they can persuade Murray to stick with baseball. In high school, Murray played infield but moved to the outfield in college.
Murray declared himself eligible for the NFL draft. Pundits projected Murray as a late first rounder. Some mock drafts saw Murray picked early in the first round by the New York Giants, or in the middle of the first round by the Miami Dolphins.
If Murray is selected in the first round, he will become the first two-sport athlete who could be drafted in the first round for both the NFL and MLB.
Haskins In, Herbert Out
Over the last couple of weeks, two quarterbacks from premier programs made announcements about next season. Justin Herbert decided to stay at Oregon and play out his senior season, while Dwayne Haskins decided to leave Ohio State after his sophomore season.
Herbert was expected to go pro and was considered the top QB prospect in the country. Oakland Raiders head coach Jon Gruden expressed his love for Herbert on numerous occasions. Gruden stated he would draft Herbert with one of the Raiders three first-round picks. Herbert will stick around Eugene one more season and will have the chance to play with his younger brother, who will be a tight end for the Ducks next season.
Haskins excelled in Ohio State's final game under head coach Urban Meyer. Haskins tossed three touchdowns in the Rose Bowl against Washington. Instead of playing for the Buckeyes next season, Haskins decided it was time to go pro. Haskins set records with 50 touchdowns.
Class of 2019 Quarterbacks
The NFL Draft Class of 2018 featured five stellar quarterback prospects. All five played significant time with their teams this season. Lamar Jackson guided the Baltimore Ravens to a playoff berth. Top pick Baker Mayfield finally got a shot to start and flourish as soon as OC Todd Haley and head coach Hue Brown were fired. Sam Darnold started every game he played in for the Jets. Josh Allen gave the Bills Mafia something to be excited about. Josh Rosen held his own for the Arizona Cardinals during a rough season, but now he's getting offensive guru Kliff Kingsbury to help open up the passing game.
TOP 6 COLLEGE QBs IN 2019 NFL DRAFT:
1. Dwayne Haskins (Ohio State)
2. Kyler Murray (Oklahoma)
3. Will Grier (West Virginia)
4. Drew Lock (Missouri)
5. Daniel Jones (Duke)
6. Ryan Finley (NC State)
The 2019 class looked thin after Justin Herbert opted to stay in school. Since then, both Haskins and Murray threw their hats into the ring. Both are talented players that boosted the pool of quarterbacks. West Virginia's Will Grier might be the best of rest that also includes Drew Lock from Missouri, Daniel Jones from Duke, and Ryan Finley from North Carolina State.