The NBA's Sixth Man of the Year will be sidelined tonight. Miami Heat guard Tyler Herro has a groin injury and won't play in Game 4 against the Boston Celtics.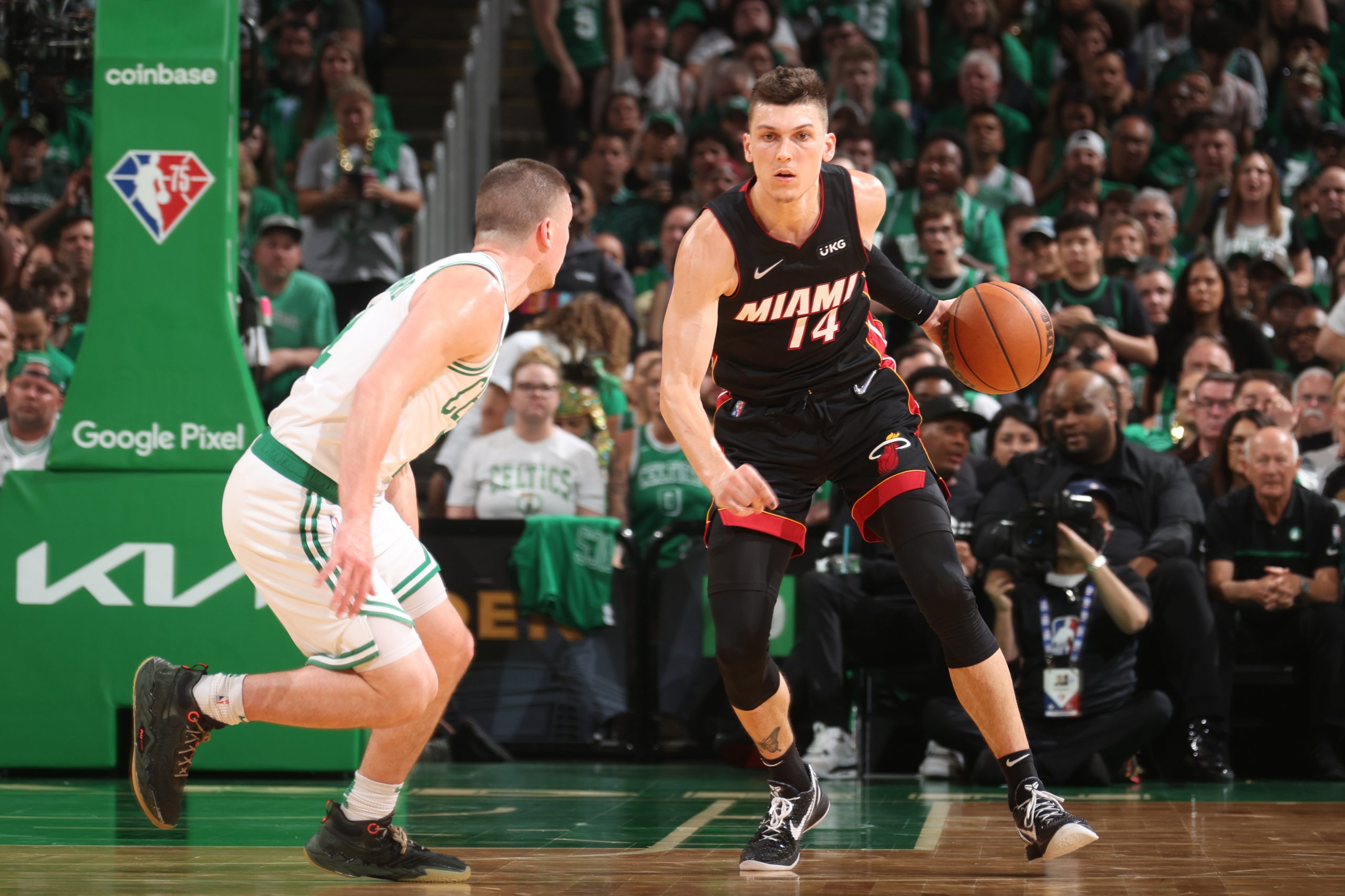 The Heat ruled Herro out after the morning shootaround and currently list him as day-to-day with a left groin strain.
Herro didn't play in the closing minutes of Game 3 and was spotted on the sidelines with an ice pack wrapped around his left leg. The groin injury flared up sometime in Game 3. The Heat squandered a 26-point lead, but held on to beat the sloppy Celtics in Game 3 to retake the series lead in the Eastern Conference finals. The Heat are up 2-1 heading into Game 4.
Herro's injury didn't alter the betting line because the Heat are still +7 underdogs playing the Celtics at TD Garden in Boston. At least the Heat got some good news with Jimmy Butler expected to play in Game 4 after he missed the second half of Game 3 with a knee injury.
Herro: struggling from Deep
Herro had a stellar regular season, averaging 20.7 points, 5.0 rebounds, and 4.0 assists per game while shooting 39% from 3-point range. He was the Heat's second-best scorer as their first guy off the bench. The NBA recognized Herro's excellence, naming him the prestigious Sixth Man of the Year.
"We just had to be responsible and take the decision out of his hands," said head coach Erik Spoelstra. "He really wants to be out there tonight. The trainers and Dr. Selesnick don't think that's the best idea just because of the intensity. He's young, we'll treat him day-to-day, and we'll see what happens."
Herro hasn't put up the best numbers in the postseason and fans began wondering what is wrong with him, and why he's missing so many 3-pointers. Perhaps he's been playing through this groin injury, which happened at a time undisclosed by the Heat. The groin injury could explain Herro's poor long-range shooting as of late.
Herro is a career 38.5% 3-point shooter in his three seasons with the Heat. However, he's only connecting on 23.2% in the postseason.
Herro made just one trey in three games against the Celtics, shooting 1-for-14 for 7.4%. He scored zero 3-pointers in four out of his last five games where he's gone 1-for-18 for a paltry 5.5%. Herro had seven games this postseason when he didn't hit a trey, and he had three games when he knocked down just one. In those 10 games, he combined for 3-for-40 from deep for an awful success rate of just 5%.
In his three best games this postseason, the inconsistent Herro shot 11-for-22 or 50% from downtown.
Check out more coverage of the 2022 NBA playoffs.