The UCLA Bruins (0-5) are off to their worst start since 1943. UCLA head coach Chip Kelly is still seeking his first victory after a 31-24 loss to the #10 Washington Huskies. Kelly, known for his masterful offensive schemes, was brought in to UCLA to revamp the offense and bring a Pac-12 title home to Westwood. After a disastrous 0-5 start, fans are starting to wonder if UCLA made the right choice.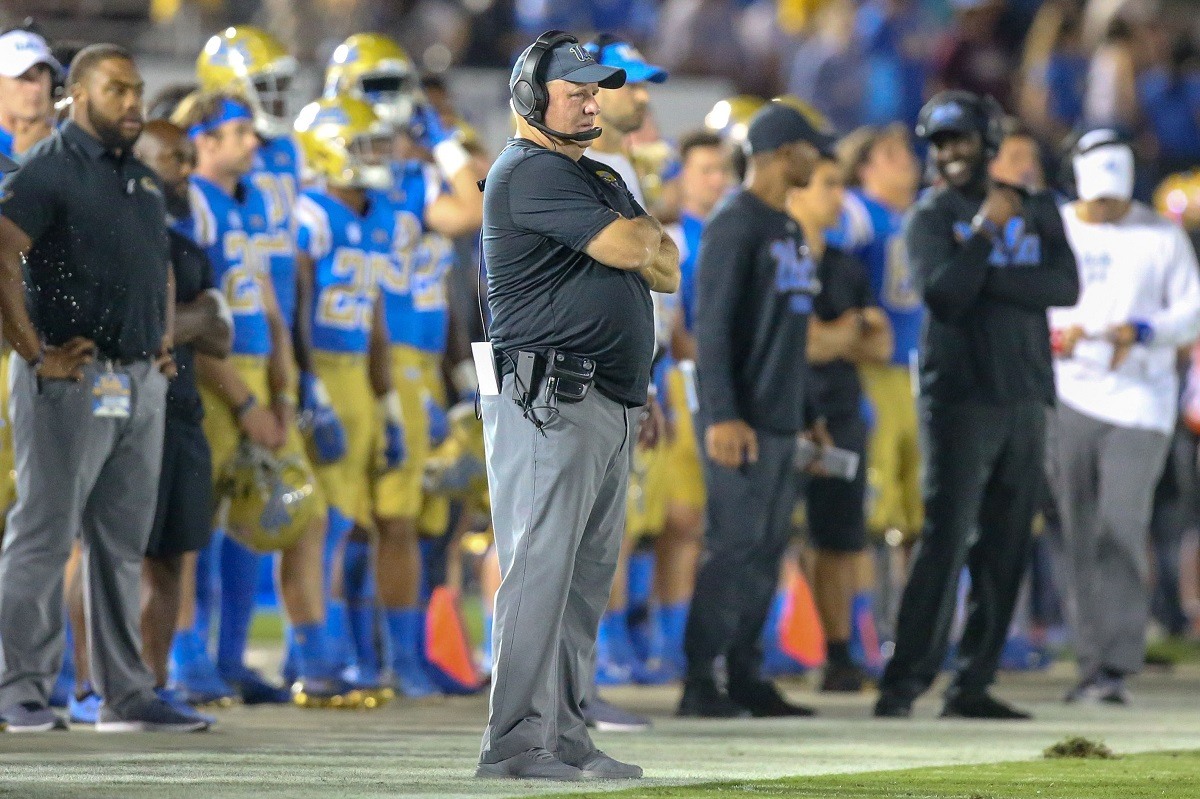 Chip Kelly's Coaching Record

NFL: 28-35

Oregon: 46-7

UCLA: 0-5
Kelly, former head coach of the Oregon Ducks, took the high-flying Oregon to a BCS Championship game in 2011. Oregon was the best team in the Pac-12 during Kelly's four-year reign from 2009-2012.
Kelly is 0-5 in his return to the college ranks and 0-3 in the Pac-12, a conference he once dominated.UCLA has losses against Cincinnati, #5 Oklahoma, Fresno State, Colorado, and #10 Washington.
Points Factory in Oregon
After a success early career in New Hampshire, the Oregon Ducks hired Kelly in 2007 as their offensive coordinator. The Ducks took to Kelly's spread offense quickly. In two seasons, the Ducks went from a fun team to watch score ton of points to a legit contender thanks to Kelly.
Oregon promoted Kelly to head coach in 2009. He went 10-3 in his first season. Over the next three seasons, Kelly had at least 12 wins every year. Kelly's Ducks finished the end of the season ranked #2 on two occasions and finished ranked #4 once.
In Kelly's second season as head coach, the Ducks were ranked #2 and had a showdown against #1 Auburn Tigers in the BCS Championship. Auburn beat Oregon 22-19 to win the championship.
NFL Woes
Kelly ended his career at Oregon with a 46-7 record. He left Oregon to accept a head coaching job with the Philadelphia Eagles in the NFL. Kelly's run ended in less than three years with the Eagles.
In four seasons as an NFL head coach, Chip Kelly went 28-35 and was fired twice. After losing his job with the San Francisco 49ers in late 2016, Kelly was rumored to become the next head coach of Oregon.
Savoir for UCLA
In Jim Mora's last two seasons as head coach of UCLA, the Bruins were 11-14 overall with a 6-11 record in Pac-12 games. After a 5-6 season and the second losing season in a row, the Bruins needed a change of pace and they fired Jim Mora with one game remaining in the season.
In November 2017, UCLA made the surprising announcement they hired Chip Kelly. It was back to the Pac-12 for Kelly, who signed a five-year contract worth $23.3 million.
Impossible to Please the L.A. Crowd
Los Angeles is a tough crowd. The Bruins had to take back seat to crosstown rival USC the last two decades. UCLA hired Chip Kelly in order to reinvigorate the offense, and reboot the football program. Plus, he was a high-profile name, and Hollywood loves a brand name.
With two NFL teams in town these days, UCLA is struggling to stay relevant. Getting off to a 0-5 start is not the type of headlines Bruins fans want to see right now.
Close, But No Cigar
UCLA played their best game of the season in a 31-24 loss against #10 Washington. The Bruins were overpowered and over matched against the best team in the Pac-12, but still held their ground in front of a hostile crowd in Seattle. Bruins established a successful running game with 150 yards and 1 TD against an excellent defense.
"It's the #1 ranked defense in country," Kelly said in a post-game press conference. "You can't be one-dimensional. We have to be somewhat balanced and run the ball as well as throw the ball."
UCLA sill lost and Kelly won't accept a moral victory.
"You got to win. We're not into moral victories. We don't go into locker room and high-five each other and say that was close. Close isn't good. Close is bad."
UCLA plays at Cal this week. The Bruins are a +7 underdog according to the Westgate SuperBook in Las Vegas.