Giannis "Greek Freak" Antetokounmpo posted his fifth triple-double of the year for the Milwaukee Bucks with 33 points, 19 rebounds, and 11 assists in a 106-97 comeback win against the Indiana Pacers.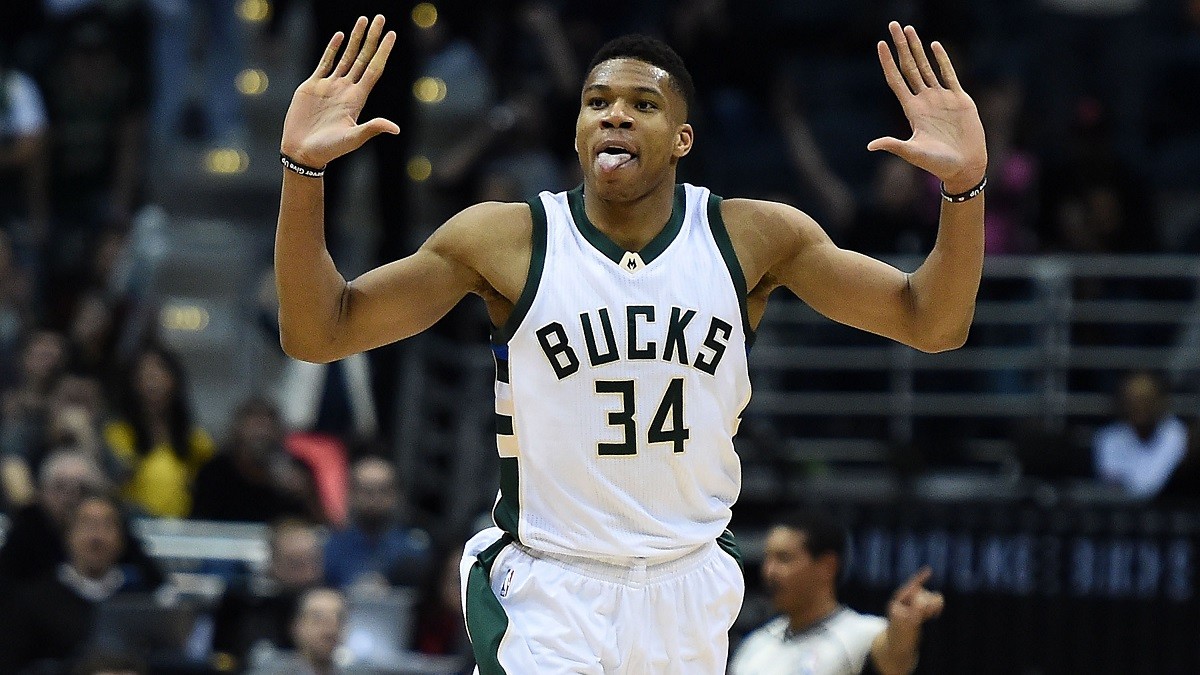 The Milwaukee Bucks are the best team in the Eastern Conference with a 43-14 record, including a 20-9 clip on the road. Antetokounmpo's 19-rebound night thrust him into an elite category with only four other 33-19-11 triple-double denizens: Oscar Robertson, Wilt Chamberlin, Elgin Baylor, and Kareem-Abdul Jabbar.
The young Antetokounmpo has quickly become a fan favorite in the NBA. His voluminous stats and juicy advanced metrics make fantasy nerds drool. He's now posting numbers big enough to put him alongside some of the greatest big men to ever play the game. Any time you're on the same list as Chamberlin and the Big O, you're doing something right.
This season, Antetokounmpo received the second-most All-Star votes behind LeBron James. The two were named captains and were responsible for drafting teams for this weekend's All-Star Game.
Five Triples
The Greek Freak is having his best season as a pro. The Bucks drafted the fifth-year player out of Greece with the #15 pick in the 2013 NBA Draft. Antetokounmpo is the third-most efficient player in the NBA with a 30.37 PER. He trails only James Harden and Anthony Davis.
Antetokounmpo leads the Bucks in scoring, rebounding and assists with 27.2 points, 12.7 points and 6 assists per game. He scores nearly ten points more than the second-leading scorer, Khris Middleton, with 17.1 points. The backcourt, comprised of Malcolm Brogdon and Eric Bledsode, both average 15.8 points per game.
FREAK TRIPLE-DOUBLE:
2/13 @ IND: 33 points, 19 rebounds, 11 assists
1/15 vs MIA: 12 points, 10 rebounds, 10 assists
12/29 vs. BKLYN: 31 points, 10 rebounds, 10 assists
11/4 vs. SAC: 26 points, 15 rebounds, 11 assists
10/24 vs. PHI: 32 points, 18 rebound, 10 assists
The Bucks are 5-0 in games which Antetokounmpo posts a triple-double. He's been averaging one triple-double a month this season. His four previous triple-doubles occurred at home. Three of them were 31-plus efforts.
The Freak's three-point shooting is the weakest aspect of his game. He takes about two per game, but hits only 22.3 percent of his treys, which is off from 30.7 percent last season. The remainder of his shots are high percentage buckets. He's posting a career-high 58.1 percent overall from the floor.
Milwaukee Bucks Steal of 2013?
A dozen teams wish they drafted the Freak six years ago, while the Milwaukee Bucks hit the lottery. The 2013 NBA Draft included a couple of busts among the top 15 players. Michael Carter-Williams started out hot and won rookie of the year, but he's flamed out since.There's also a couple of obvious standouts including Victor Oladipo, Otto Porter, CJ McCollum, and Steve Adams.
2013 NBA DRAFT – TOP 15:
1. Anthony Bennett (Cleveland Cavs)
2. Victor Oladipo (Orlando Magic)
3. Otto Porter (Washington Wizards)
4. Cody Zeller (Charlotte Bobcats)
5. Alex Len (Phoenix Suns)
6. Nerlens Noel (New Orleans Pelicans)
7. Ben McLemore (Sacramento Kings)
8. Kentavious Caldwell-Pope (Detroit Pistons)
9. Trey Burke (Minnesota Timberwolves)
10. CJ McCollum (Portland Trailblazers)
11. Michael Carter-Williams (Philadelphia 76ers)
12. Steve Adams (Oklahoma City Thunder)
13. Kelly Olynyk (Dallas Mavericks)
14. Shabazz Muhammad (Utah Jazz)
15. Giannis "Greek Freak" Antetokounmpo (Milwaukee Bucks)
Victor Oladipo became an All-Star with the Indiana Pacers before the former #2 pick blew out his knee. The Washington Wizards recently traded #3 pick Otto Porter to the Chicago Bulls. Cody Zeller is still with Charlotte, but they're known as the Hornets these days. Zeller started 166 games but only averaged 7.9 points. The Ukraine's Alex Len started 140 games, but he averaged only 7.2 points for the Suns.
The Blazers drafted CJ McCollum (21 ppg this season, 17.7 ppg career) with the tenth pick. He has become a part of one of the most dangerous backcourts in the Western Conference with Damien Lillard. OKC took a flier on Steve Adams from New Zealand with the #12 pick. He's a banger on both ends of the court and emerged as a key started for the Thunder. He's averaging a career-high 14.9 points and 9.6 rebounds per game this season.
Class of '13: Flops and Mediocrity
The top-overall pick, Anthony Bennett, was a classic bust. He's currently playing for the Caliente Clippers. Nerlens Noel started 158 games, mostly with the Sixers during their tanking years, and he averaged 9.3 points. Ben McLemore started 216 games with the Kings, but only averaged 9.1 points. Trey Burke averaged 11 points in limited action with three teams including the Knicks. Burke was tossed in with the Unicorn after the Knicks traded Kristaps Porzingis to the Dallas Mavericks.
Kentavious Caldwell-Pope carved out a solid career in the NBA, starting 348 games as a shooting guard, mostly with the Pistons. He joined the Lakers this season with LeBron James. He was one of the few names not mentioned in a potential trade for Anthony Davis. KCP is now coming off the bench for the Lakers and scoring only 10.3 points per game this season, compared to 13.4 points last season as a starter.
Michael Carter-Williams, the 11th pick overall, won the 2014 Rookie of the Year. He's career has been in decline since after bouncing around with five different teams. Shabazz Muhammad washed out of the NBA and he's currently playing in the Chinese Basketball Association with Jimmer Fredette. Former Gonzaga standout, Kelly Olynyk, has been a worthy reserve off the bench for the Celtics and now with the Miami Heat. He's averaging 9.8 points per game in his career.