If you Gotta Get Unstuck after a rough Sunday, there's always Sunday Night Football and Monday Night Football to help you get even. The Philadelphia Eagles (0-2-1) seek their first win of this season, but their outlook seems grim with a SNF matchup against the San Francisco 49ers (2-1). The high-octane Green Bay Packers (3-0) face the worst defense in the NFL during a potential shootout on MNF against the winless Atlanta Falcons.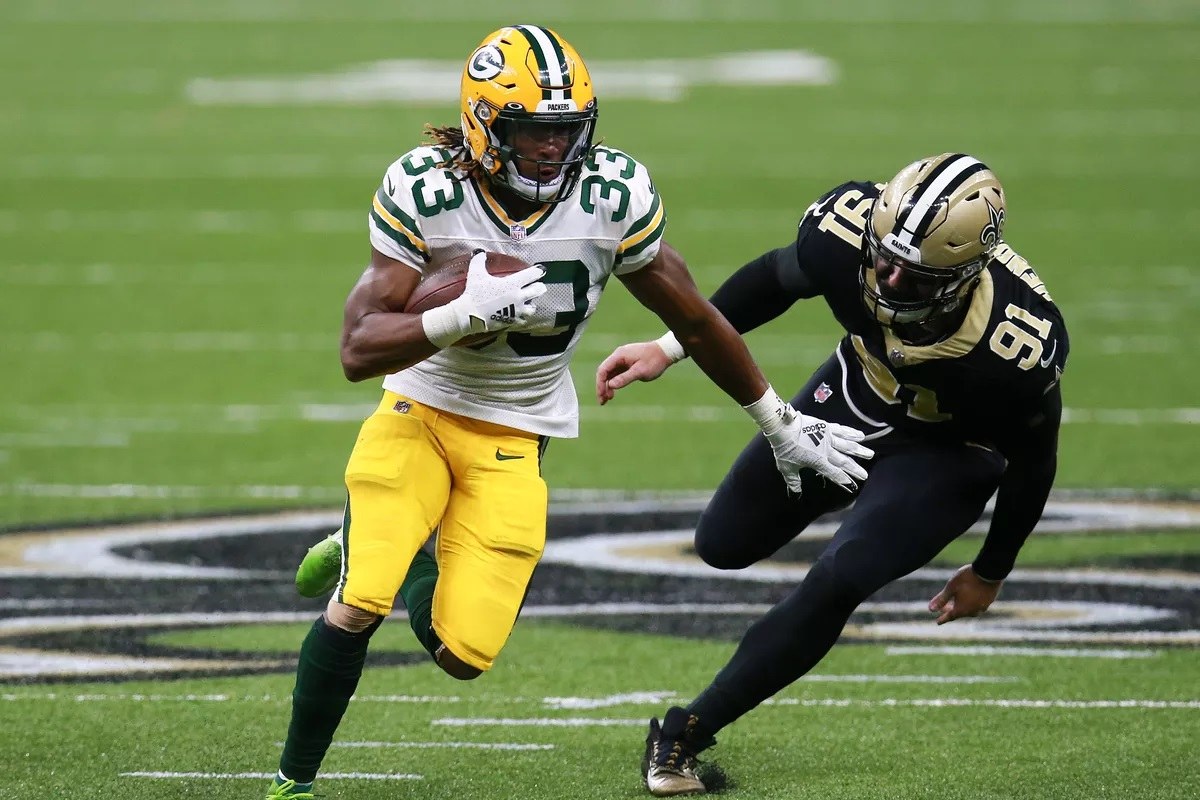 This week's Gotta Get Unstuck games feature two NFC teams with Super Bowl aspirations battling two winless teams that have yet to secure a victory this season.
In addition, the NFL postponed the New England Patriots at Kansas City Chiefs game to Monday night at 7:05pm ET after Cam Newton tested positive for coroanvirus.
Who knows when the Falcons will fire head coach Dan Quinn? But every week the Falcons lose, he comes closer to coaching his final game for the Dirty Birds. Quinn is on the shortlist of potential coaches that could become the first fired coach of the NFL season.
The Eagles are no longer a high-soaring predator that instilled fear into the ecosystem. In the last few weeks, the Eagles looked more like a flock of grubby pigeons underneath a park bench fighting over a few morsels of bread fed to them from a senile lady with 14 cats.
Desperate Philly
It looks like the Eagles will have to wait another week to secure their first W of the season.
Carson Wentz and the Eagles generate 19.7 points per game, which is ranked #5 worst offense in the NFL. Their offensive line is in shambles with injuries to Jason Peters, Brandon Brooks, and Andre Dillard. They recently lost their top receiver, TE Dallas Goedert, to a fractured ankle.
Philly's lackluster offense will have a difficult time against a tough San Francisco defense. The Niners are ranked #4 in defensive DVOA. Only the Indy Colts (15.0 ppg) allowed fewer points than the Niners (15.3 ppg).
SNF: Philadelphia Eagles (0-2-1) at San Francisco 49ers (2-1)
Kick-off: 5:30pm PT
Point Spread: SF -7
Total: 45 o/u
Money Line: PHI +275 / SF -300
The Niners could not be any happier to return to the Bay Area. They spent two weeks in New Jersey to play the New York Jets and Giants in back-to-back weeks. It's bad enough they were hunkered down in NJ, but they had to play two games on the sketchy new turf at MetLife Stadium. Numerous players succumbed to the sticky turf that claimed several members of the Niners including Jimmy G, Raheem Mostert, and Nick Bosa.
Jimmy G continues to nurse a high-ankle sprain, but Nick Mullens is at the helm of Kyle Shanahan's offense. George Kittle (knee) and Deebo Samuel (fractured foot) returns to action, much to the delight of Mullens.
"Two great playmakers and so, so fast," said Mullens. "We're going to love to have their speed on the field."
Best of Times vs Worst of Times
The Atlanta Falcons could be 2-1 in an alternate universe. If the Falcons caught a couple of breaks like not botching an onside kick against Dallas Cowboys, or not blowing a fourth quarter lead against Mitch Trubisky and the Bears. Ah, but it's not. In the real world, the Falcons allow the most points in the league. Opponents average 36 points per game against their Swiss cheese defensive scheme.
The Falcons can score though. Matt Ice leads the sixth-best scoring attack in the NFL that can put up 30 points per game. The offense can secure a lead, but it's the defense that squanders it every time.
MNF: Atlanta Falcons (0-3) at Green Bay Packers (3-0)
Kick-off: 5:50 PT
Point Spread: GB -7
Total: 56.5 o/u
Money Line: ATL +275 / GB -320
Good thing that the Green Bay Packers operate a high-potent offense (40.7 ppg). Their defense is shaky at best. In terms of DVOA, Green Bay is ranked #30 or the third-worst defense in the NFL.
Aaron Rodgers threw 9 touchdowns and zero picks thus far. In the first game of the season, Rodgers lit up the Minnesota Vikings for 364 yards and 4 touchdowns.
Last week against the New Orleans Saints on SNF, Rodgers tossed 283 yards and three touchdown strikes.
The Packers will not have WR Allen Lazard this week on MNF. He has a core injury and will not suit up. Davante Adams (hamstring) practiced this week, but the Packers will make a game-time decision with Adams for MNF.
If you feel behind on Sunday, consider backing the Packers -7 for the Gotta Get Unstuck Game of the Week.
Added: NE at KC on Monday
Originally, oddsmakers thought the New England Patriots were +7 underdogs heading into Arrowhead Stadium to play the Super Bowl champion Kansas City Chiefs. After word got out about Newton's positive test, the Westgate SuperBook in Las Vegas changed the line from a touchdown point spread to KC -11.
Newton will not play. Brian Hoyer had been his backup QB in the first three games of the season.
This postponed game, which kicks-off at 7:05pm ET, is an added bonus to the slate of Gotta Get Unstuck games.