If your NFL fantasy football team needs help after three weeks of action, you'd better work the waiver wire to plug those holes in your roster. Consider Myles Gaskin (Miami Dolphins), Carlos Hyde (Seattle Seahawks), rookie Justin Jefferson (Minnesota Vikings), or Allen Lazard (Green Bay Packers) as potential Week 4 waiver wire pickups.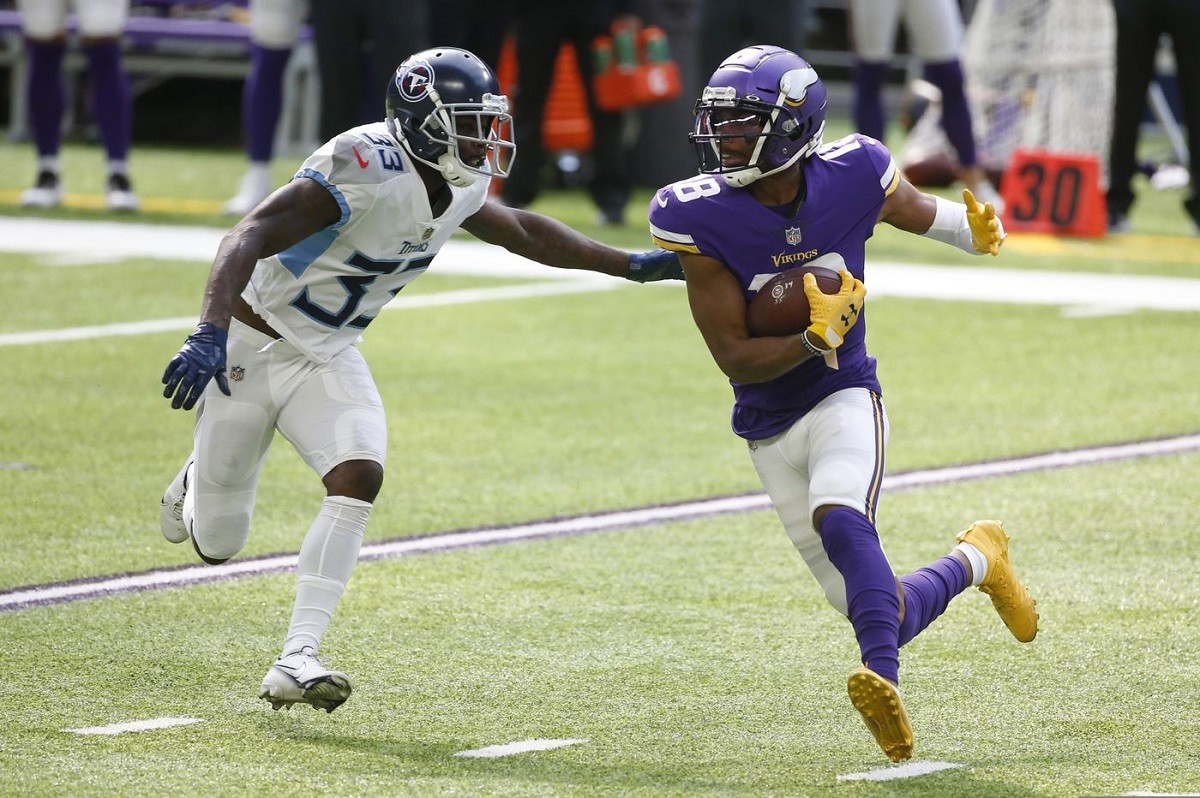 No Davante Adams? No problem. Aaron Rodgers lit up the New Orleans Saints on Monday Night Football and found Allen Lazard for a touchdown.
LSU won the championship last year in college football. Joe Burrow won the Heisman and got a ton of credit for their success, but Justin Jefferson was the centerpiece of the offensive ensemble. It only took three games before the rookie made his mark in the NFL.
---
WEEK 4 WAIVER WIRE PICKUPS
Myles Gaskin (RB, Miami Dolphins)
Carlos Hyde (RB, Seattle Seahawks)
Justin Jefferson (WR, Minnesota Vikings)
Allen Lazard (WR, Green Bay Packers)
---
The Seattle Seahawks just don't have good luck when it comes to keeping their running backs healthy. They took another bad beat when Chris Carson went down with a knee injury in Week 3 after a shady tackle. The Seahawks are 3-0 and have one of the stronger offensive lines in the NFC, so it makes sense to snatch the next guy up on Seattle's depth chart, Carlos Hyde.
RB: Myles Gaskin or Carlos Hyde
Late in the fourth quarter of the Seahawks' victory over the Dallas Cowboys, Trysten Hill took Carson down with a dirty play, aka a gator roll, that injured his knee. Carson exited the game prematurely.
"Yeah, I was really pissed about that one," said Pete Carroll. "I don't know what's going to happen with that, but I was pissed because that guy hurt him, unfortunately."
An MRI revealed just a sprain, which does not require surgery. Carson will be out for a couple of weeks.
Carlos Hyde rushed for only 57 yards and a touchdown in limited action this season. Last season, he appeared in every game for the Houston Texans, rushing for 1,070 yards and six touchdowns.
Seattle's bad mojo with backfield injuries continue. Maybe Marshawn Lynch should get limber for another possible return to the Seahawks?
If you're in deep trouble or in a 12-14 team league, then consider Miami's Myles Gaskin. He tallied 95 combined yards from scrimmage against the Jacksonville Jaguars on Thursday Night Football. Gaskin averages 4.2 yards per carry, but he's yet to find the end zone this season. Over three games, he has 14 receptions for an additional 91 yards this season.
WR: Justin Jefferson or Allen Lazard
The Green Bay offense averages more than 40 points per game and looks better every week. No matter who's lining up at wide receiver, Rodgers is finding the open guy and spreading the ball around. He completed passes to eight different players against the Saints.
Allen Lazard has 13 receptions and two touchdowns over the first three weeks. Lazard was Rodgers' favorite target in Week 3 with eight possible targets. He torched the Saints' secondary for six catches for 146 yards, including a 72-yard monster.
"We have the best deep ball thrower in the league if not NFL history," said Lazard. "To be able to go out there and connect on those plays I think is huge. It's demoralizing for the defense."
We advised that Marquez Valdes-Scantling would be a worthy addition to your team if you were seeking wideouts. MVS had an off week with just one reception for five yards after netting 160 receiving yards in the first two games.
Instead of trying to figure out who will be Rodgers' top target in Week 4 (MVS or Allen Lazard), don't sleep on Justin Jefferson.
After Stefon Diggs bolted from the Vikings, it looks like Jefferson is the leading candidate to become the next big-play wide receiver for the Purple People Eaters. He wore gold and purple last season with LSU and continues to wear the same color scheme with the Minnesota Vikings. The Vikes selected him with the #22 pick in the 2020 NFL Draft. It's a small sample size, but it looks like they chose wisely.
Jefferson, a rookie WR out of LSU, had his coming-out party in Week 3. Jefferson caught nine passes for 175 yards and a touchdown. He came into the Titans game with just five catches for 60 yards and no touchdowns.