Julio Cesar Martinez failed to make weight for his Saturday fight against Roman "Chocolatito" Gonzalez, but the two are still on for the highly anticipated super flyweight matchup at the Pechanga Arena in San Diego.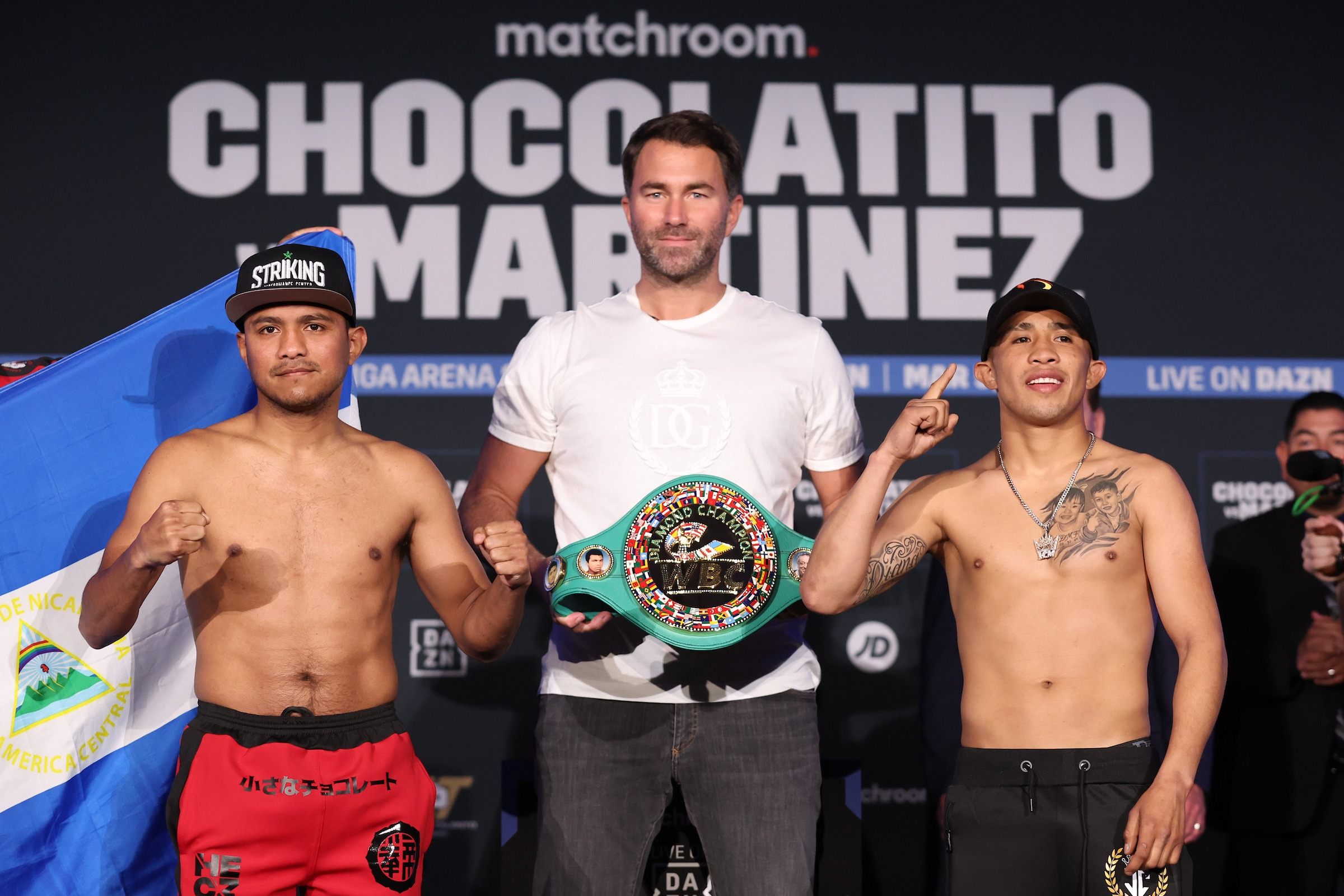 Martinez weighed in at 117 pounds on Friday morning, two pounds over the contractual limit of 115 pounds.
Weigh-in drama puts fight in jeopardy
That still left Martinez with two hours in order to make weight. About an hour and a half later, Martinez stepped on the scales again, this time clocking in at 116.4 pounds.
Gonzalez decided to allow the fight to go on. However, the California State Athletic Commission could still stop the bout on Saturday. Martinez will lose 20 percent of his purse for failing to make weight. He will take another fine if he weighs more than 10 percent above the agreed weight limit on Saturday. Should he weight in at more than 15 percent about the 115-pound limit – that would be above 132.25 pounds – then the fight is off under state rules.
The potential for a cancellation has left the Gonzalez team angry.
"He had two hours to lose the weight and all he did was hit mitts," Marcos Caballero, Gonzalez's head trainer, told The Ring. "He didn't run and he didn't use the full two hours. That tells me he wants an advantage. He still has water in his body."
The weigh-in drama threatens to overshadow what could be a tremendous battle at one of boxing's lower weight classes. Gonzalez (50-3, 41 KOs) had planned to fight Jan Francisco 'El Gallo' Estrada in a third bout after splitting their first two encounters. But Estrada tested positive for COVID-19, and Martinez jumped right in to replace him on less than six weeks' notice.
"They offered me a fight with 'El Ray' Martinez. I told them it was no problem, I am ready to fight," Gonzalez said to BoxingScene.com. "We have been in training for this [rubber match] with Gallo and I didn't want that to go to waste by waiting for the fight to be rescheduled."
Martinez: Fighting Chocolatito 'an honor'
Martinez (18-1, 14 KOs) moved up a weight class to fight Gonzalez, making his inability to make weight all the more surprising. He currently holds the WBC flyweight championship, and has developed a reputation as a trash talker. But he only had praise for the legendary Gonzalez ahead of their fight.
"I have every intention of beating Chocolatito, but it is an honor to face him," Martinez told BoxingScene.com. "He's an incredible fighter, he's a great person, a class act. He's very humble and I have all the respect for him."
Gonzalez comes into the bout as a -140 favorite over Martinez (+115) at DraftKings Sportsbook, a sign of just how competitive sportsbooks think this fight will be. Both men have promised to deliver an unforgettable fight on Saturday.
"I have an opponent that comes forward, but I'm going to come forward [too]," Gonzalez told reporters. "It's going to be a tremendous fight and I think the fans are going to be really happy with the fight."