Jon Rahm had a five-foot putt on Sunday for $5 million, but it was a clutch bunker shot that may have won him the DP World Tour Championship. The 25-year-old was tied for the lead with Tommy Fleetwood, and needed to get up and down from a greenside bunker to win this event, and the European Tour's season-ending, Race to Dubai.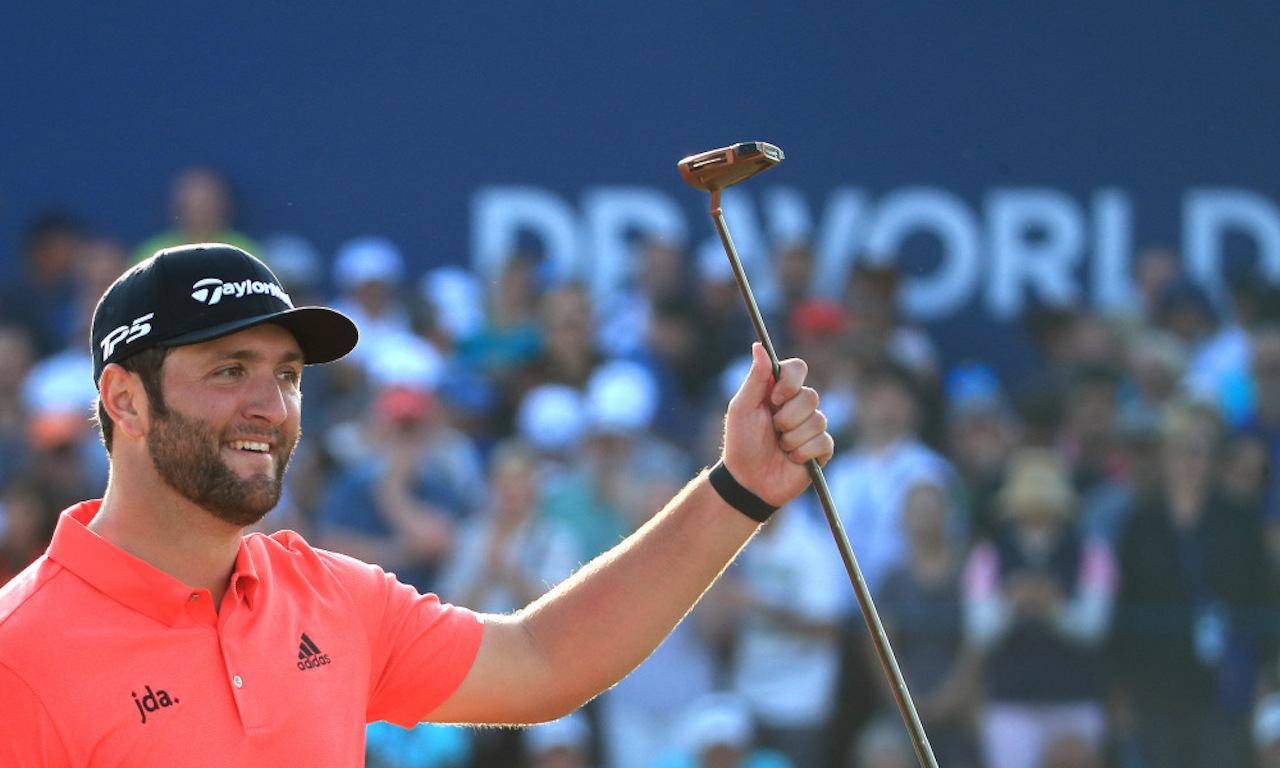 The former Arizona State golfer calmly hit the shot to five feet, before making the putt. He was 7/1 to win the event, and is only the second Spaniard to win European Tour Player of the Year. Seve Ballesteros was the first.
The victory moved Rahm to No. 3 in the Official World Golf Rankings. He told reporters in Dubai on Sunday he is still letting his accomplishments sink in.
"So many great players throughout the history of Spain that have had a chance, and they didn't get it done," Rahm said. "It's just hard to put that in perspective… to know that since Seve, I'm the next one to get it done. It just doesn't feel like it's true. It's hard to believe."
Rahm's Rest Pays Off
Rahm says a six-week hiatus from playing golf is one of the reasons for his victory on Sunday. He estimated that it was his first break from the game since he started playing amateur golf in his teens.
"I didn't touch a club for a month. Honestly, I needed it. After Spain, I stayed home for a week and after that, I think it was three more weeks in Arizona where I truly didn't even step on a golf course. Ever since I became a good amateur in Spain, it's almost been like 10 straight years of nonstop. Never have had a break like that."
Rahm spent the time with his fiancée Kelley. The two are getting married in December, and he said the rest really refreshed him for this event.
"We didn't go on any trips or do anything extravagant like that," Rahm said. "Just actually tried to be at home for a month and enjoy time with our friends and family around there, and live as normal a life as possible."
Mickelson Host with Most
Phil Mickelson has accepted the role of tournament host for the former Desert Classic. The event is played in the Palm Springs area from Jan. 16-19. Mickelson has been a fixture at the event for years, although it has struggled to attract other marquee golfers over the past several years.
The event will now be called The American Express, and is sandwiched in between the Sony Open in Hawaii and the Farmers Insurance Open at Torrey Pines in San Diego.
What Mickelson, who won the event twice, will do at the tournament is still to be determined, but he was at a ceremony on Saturday. Hosted by famed comedian Bob Hope for more than four decades, Mickelson said he would like to see Hope's legacy continued.
"It's always been an important part of my life. I would come out here and play junior tournaments here," Mickelson said. "I've always been passionate about here, and I love the tournament itself. But more than that, this tournament has meant historically a lot to this area, and I want to bring back the vision of Bob Hope."
Todd Comes up Short for History
Brendon Todd won two consecutive events, and was looking to become the first golfer to win in three consecutive weeks on Tour since Tiger Woods accomplished the feat in 2006. Todd, who was 40/1 to win the RSM at Sea Island Golf Club, came up short. He finished fourth, three shots behind winner, Tyler Duncan.
"I didn't feel I was in the zone," Todd said after his final round on Sunday. "I was in this like adrenaline-fueled zone the last three weeks, and I couldn't get there today,"