Gamblers worldwide are salivating over a proposed head to head, $10 million, winner-take-all golf match between Tiger Woods and Phil Mickelson.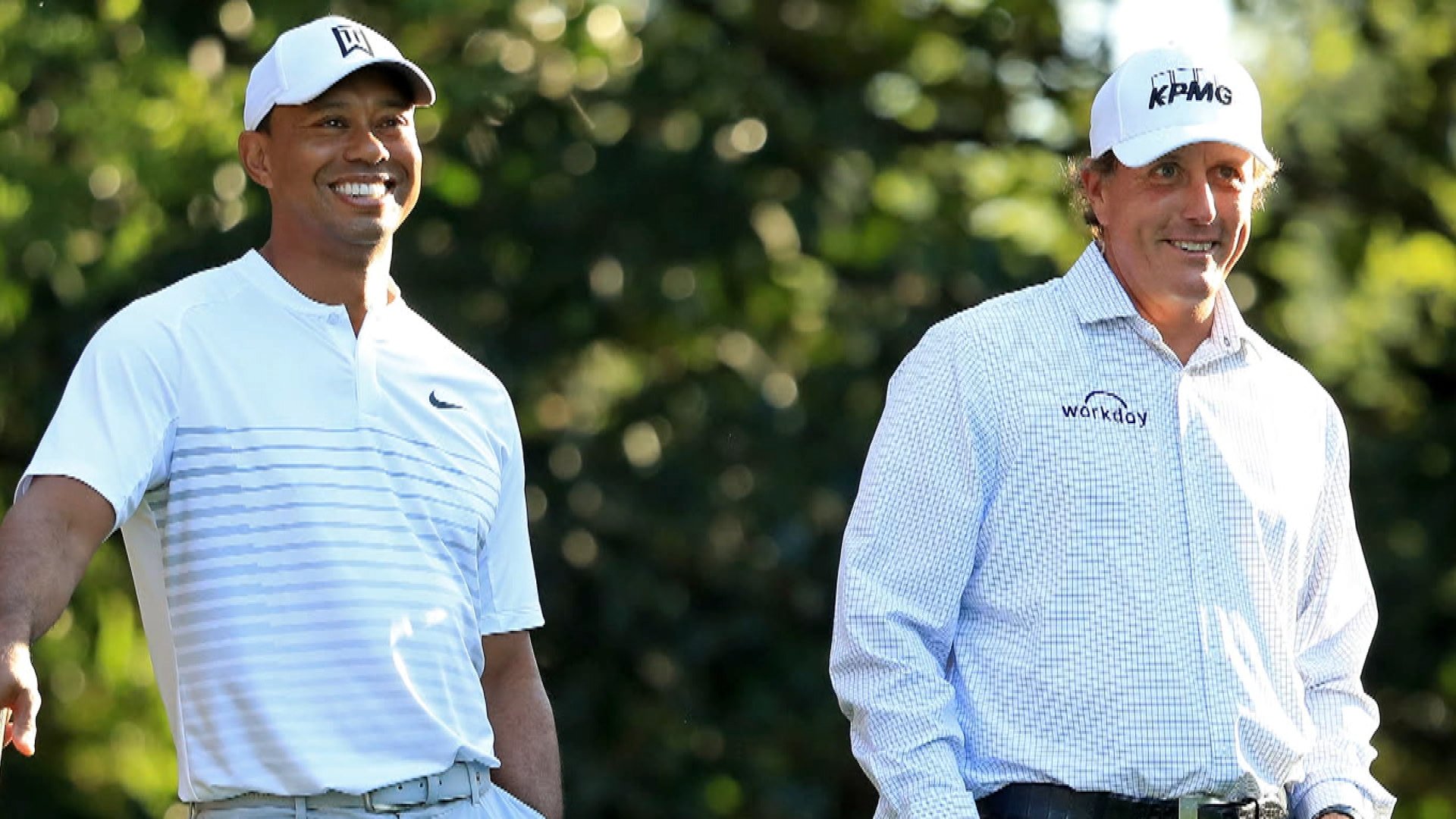 The longtime adversaries appear to be headed for a Las Vegas showdown, perhaps as soon as this fall. Mickelson, 48, has confirmed the possibility of the match noting that it could've been played on July 3 at the legendary Shadow Creek golf course in North Las Vegas — if only sponsorships, TV rights, and other logistics had been worked out.
"We're working on a different date," Mickelson told the Golf Channel on Thursday. "I thought it was done for the 3rd but obviously it wasn't."
Woods, 42, has yet to formally comment on the proposed showdown between two of the most popular, recognizable, and polarizing players on the PGA Tour. But tour officials seem more and more convinced its going to happen, which leaves bookmakers preparing for something big.
Mayweather / McGregor of Golf?
The possibility of a Tiger/Phil match for large stakes first came to light when the former heated adversaries openly discussed it in a seemingly lighthearted manner before this year's Master's in April.
Gamblers worldwide have been steadily moving towards golf as a sport of choice for betting. Bookmakers credit at least partly the recent growth in popularity of golf match-up bets — where oddsmakers pit players of relatively equal ability against each other for a plus or minus price — and believe that could make this match a major betting spectacle worldwide.
For comparison, last year's fight between Floyd Mayweather Jr. and Conor McGregor, thought at first to be more curiosity than real sporting event, neared $100 million in handle in Nevada alone. With the likelihood of expanded betting markets in additional states, the US handle for Tiger-Mick could easily surpass May-Mac numbers.
Capitalizing on the attention of such a duel, bookmakers are likely to offer "in-match" wagering, too, as well as bets on birdie, bogie, and eagle totals, and even hole-in-one props.
History of Heads-Up Golf Battles
Televised match-ups in golf do have a history, including Monday Night Golf on ABC featuring a series of match play golf challenges that ran from 1999 to 2005, and was briefly revived in 2012. All of those contests involved Woods, then World No. 1. This also marked the first time that live golf was shown in prime evening viewing hours during the week in the United States.
Though strong at the start for these matches, ratings gradually diminished, which critics attributed to a lack of real rivalry or animus between Woods and his opponents, such as David Duval, who lost to Woods, and Sergio Garcia, who beat him.
Woods and Mickelson, never overtly cordial towards each other, appear to have warmed to each other in recent months. Golf observers note that their budding new relationship could be good for business and for each other as well as the sport in the manner that Arnold Palmer and then upstart Jack Nicklaus became friendly in the early 1960's.
At the time, long before cable television, internet or streaming, Palmer's agent and business manager Mark McCormick conceived a television show "Big Three Golf" in which Gary Player joined Palmer and Nicklaus in pre-recorded matches that helped grow the sport at that time.
Observers remain anxious to see if such a Tiger/Phil live event would generate any "trash talk" between the opponents, such as Mayweather/McGregor or if the usual golf course civility would be the order of the day.