While the rest of the world postpones or cancels races due to the COVID-19 pandemic, it's almost business as usual for horse racing in Australia. The $3.5 million (A) Golden Slipper Stakes at Rosehill Gardens Racecourse in Sydney is all set to run on Friday, albeit in front of an empty grandstand.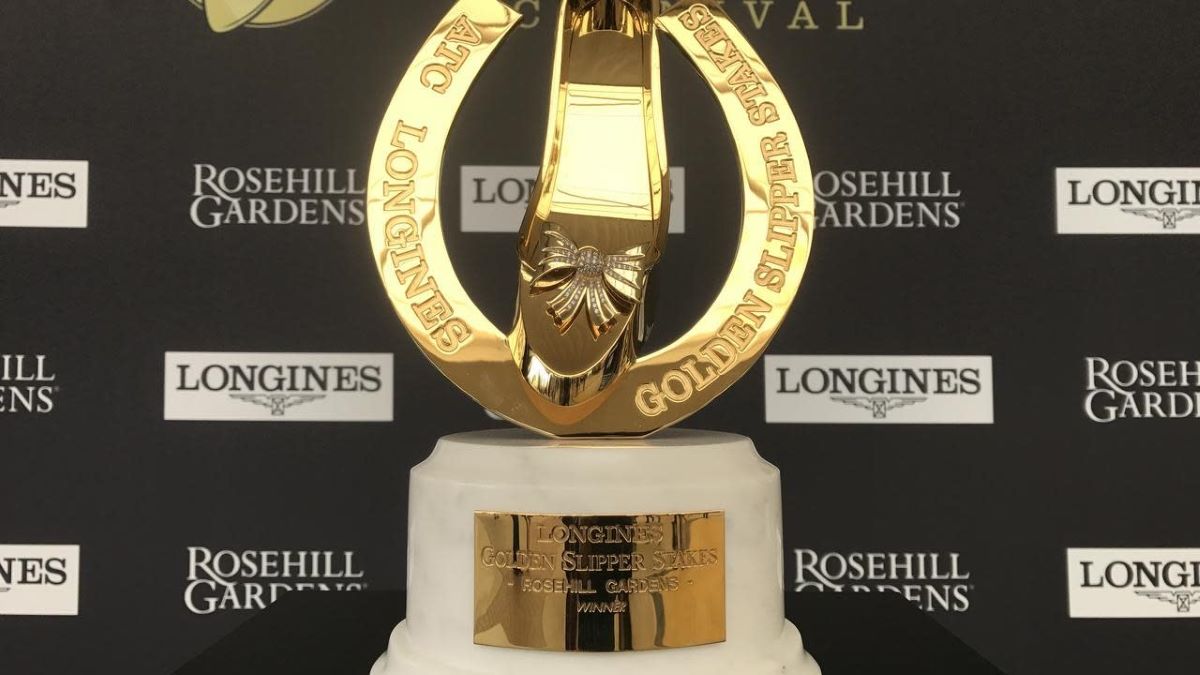 The Golden Slipper is the richest race in the world for 2-year-olds and the crown jewel in Sydney's Autumn Carnival slate of races. And like all races still running in Australia and worldwide, no spectators will be present when the starting bell rings.
Flat-out Sprint to the Wire
The nearly six-furlong (1,200 meters) race is something of a free-for-all on Rosehill's six-furlong course. A full field of 16 horses sprints from an infield chute and makes one long right turn coming into the stretch. Theoretically, that puts outside horses at a disadvantage. But the race's recent history suggests otherwise.
In the past two years, the winner has come from barrier (post) 14. Last year, that was 25/1 shot Kiamichi, the sixth filly that decade to win the Golden Slipper. This year in barrier 14, it's Farnan, the $4.80/1 favorite, who's won four of his last five races.
Farnan is trained by "Australia's First Lady of Racing," Gai Waterhouse. Her six Golden Slipper victories tie her with late father, TJ Smith, for the most wins in the race's history. In 2001, Waterhouse made history when she pulled off the trifecta: training the first, second, and third-place finishers. She last won this race in 2015 with Vancouver starting out of barrier 16.
That the Golden Slipper is happening isn't surprising when you consider there are more than 360 racetracks in Australia. That's roughly one for every 68,000 people, a ratio that leads the world by several lengths.
Barriers to Entry
The $8 million (A) two-mile Melbourne Cup is known as "the race that stops a nation" for its prominence and history. And The Everest is more than a mountain to Australian race fans. The highlight of the Sydney's Spring Carnival in October, The Everest, is a $14 million (A) sprint similar to the Pegasus World Cup.
However, COVID-19 has put some barriers in the way that require creativity to clear. Under current restrictions, jockeys in Australia can travel across state lines only by private vehicle or chartered flight. This flight option is how 11 jockeys are getting from Melbourne to Sydney for Friday's Rosehill card, which features five Group 1 (Grade 1) races.
New Zealand jockey Opie Bosson rearranged his travel schedule to arrive in Australia 2½ hours before a national rule went into effect mandating that all visitors self-quarantine for 14 days upon entering the country.
Mandatory Showers, Temperature Monitoring the Rule
At Rosehill, jockeys must shower for five minutes on arrival and before departure. They also are responsible for disinfecting their equipment between races. In addition, they'll have their temperatures taken upon arrival. (This could put a crimp in common weight-loss tactics such as sauna visits or driving to the track in a heated car.)
If the first reading comes back high, medical staff will check the jockey's temperature again 15 minutes later, after which, doctors will render a decision about the jockey's suitability for saddling up.
The jockeys are taking these checks in stride.
"It feels a bit different," Sydney jockey Nash Rawiller told the Sydney Morning Herald, "but if it is the way we keep going, we just have to do it."