Joe Schoen, the new general manager of the New York Giants, said that he would field phone calls from teams interested in acquiring running back Saquon Barkley in a trade because the Giants are having trouble getting below the salary cap.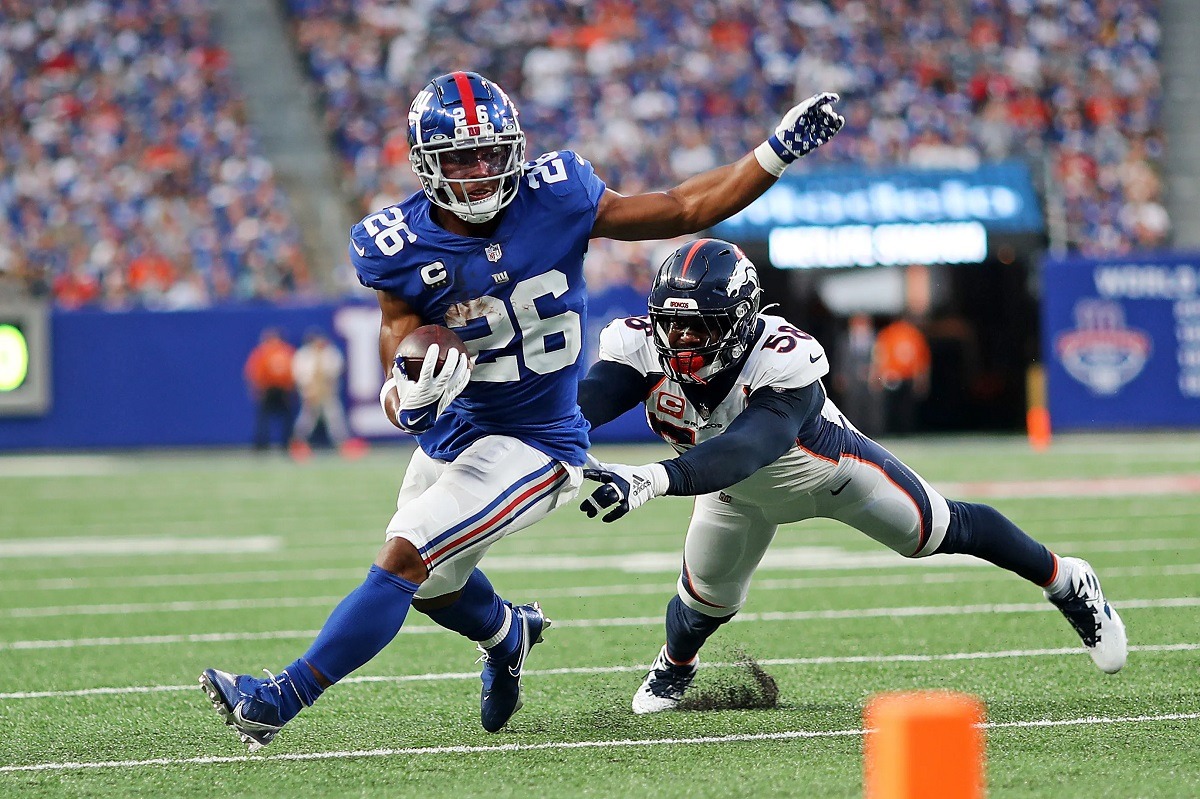 The Giants went 4-13 last season and had one of the worst offenses in the NFL. With an average of only 15.2 points per game, the Giants were the league's second-lowest scoring team. Only the inept Jacksonville Jaguars were worst.
The Giants decided to clean house when their dismal season ended, they fired head coach Joe Judge after a disastrous two seasons in which he went 10-23. In addition, the Giants also fired general manager Dave Gettleman.
After an extensive search for a head coach, the Giants tapped Brian Daboll to become their new head coach. Daboll had tremendous success as the offensive coordinator of the Buffalo Bills. The Giants also raided the Bills when they hired their assistant general manager and added Schoen as their new GM.
Schoen has the tough task of rebuilding a team in disarray. He inherited a hot mess and Daboll will have an uphill battle trying to win with subpar players that Gettleman put together during his atrocious tenure.
According to DraftKings, the Giants are +6500 odds to win Super Bowl 57 and listed in the bottom five teams on the NFL futures board.
Barkley Dunzo?
Barkley is set to earn $7.2 million this season, which will be the fifth year on his rookie contract. If the Giants trade Barkley, they can ditch an injury prone player and make a big step in trying to get under the salary cap.
"We're not in very good salary-cap health," said Schoen. "I'm not going to say yes to every deal, but I'm definitely going to listen and be open to the situations that are best for the New York Giants."
Daboll would like to have healthy Barkley in the lineup, but the ultimate decision is up to Schoen.
"I think if you have good players, you try to get the ball in their hands as much as possible," said Daboll. "Saquon is a good player for us. We'll do our best to try to put him in a good position."
The Giants selected Barkley with the #2 pick in the 2018 NFL Draft out of Penn State. During his first season with the Giants, Barkley played like a future Hall of Famer with 15 combined touchdowns and 2,028 yards from scrimmage. He also averaged a whopping 5.0 yards per carry as a rookie.
However, Barkley has been plagued with injuries since his auspicious debut and he missed 21 games since his second season. He missed three games in 2019 with an ankle injury, missed 14 games in 2020 after blowing out his ACL, and sat out four games in 2021 with a sprained ankle.
In 2021, Barkley appeared in 13 games. He rushed 162 times for 593 yards and two touchdowns. He averaged only 3.7 yards per carry. The dual-threat back caught 41 passes for 263 yards and two touchdowns. Overall, Barkley contributed just four touchdowns and 856 yards from scrimmage for the Giants in 2021, and now he's trade fodder.
Check out more NFL trade rumors.