On Dec. 4, Alabama crushed Georgia 41-24 to win the SEC Championship as an underdog, a rare position for college football's most dominant team. The Crimson Tide will find themselves in that same role when they take on the Bulldogs in a rematch next week in the College Football Playoff national championship game.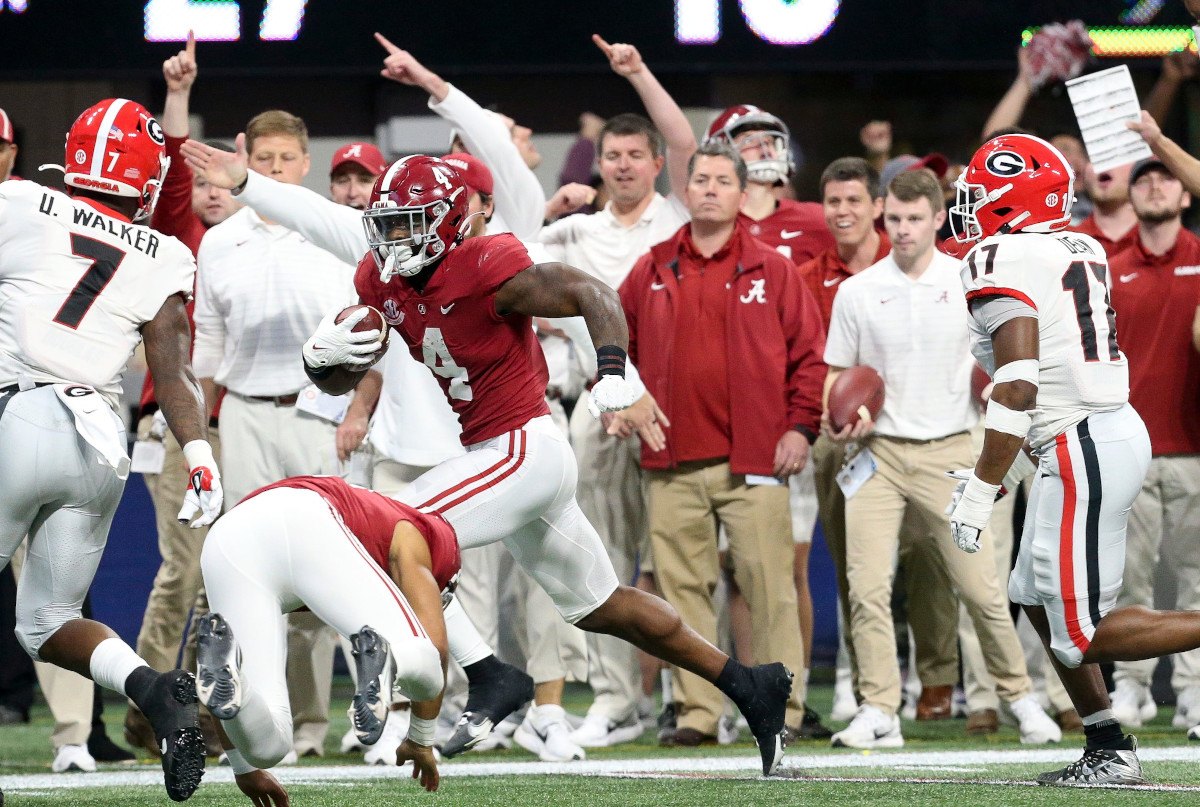 Georgia opened as a 2.5-point favorite at many sportsbooks on Friday, and the line has only shifted toward the Bulldogs since that time.
Money comes in on Georgia
Now, most oddsmakers list Georgia as a full three-point favorite over Alabama. DraftKings, FanDuel, and BetMGM all list that same line, with only slight differences in payouts differentiating the popular online sportsbooks.
Many books moved their lines toward Georgia over the weekend as smart money came in on the Bulldogs.
"I didn't want to go to -3 until we took a real bet on it, and we did," SuperBook Westgate Las Vegas vice president of risk management Ed Salmons told ESPN. "One of our respected players laid -2.5 [on Georgia] for $40,000, so we went to -3."
It may feel strange that Georgia will come into the national championship as a favorite after what happened in the SEC Championship. But there are at least two good reasons why oddsmakers – and sharp bettors – think that Alabama faces an uphill challenge.
First, there were the results of the CFP semifinals on Friday. Yes, Alabama looked strong in its 27-6 win over previously undefeated Alabama, but that game remained an open contest until early in the fourth quarter. When Cincinnati's Bryan Cook intercepted a Bryce Young pass with just under five minutes remaining in the third quarter, the Bearcats had the ball at midfield down just 17-6 – well within striking distance at that point.
Saban using odds as motivation
On the other hand, Georgia absolutely dominated Michigan in its semifinal, jumping out to a 27-3 lead by halftime. While Michigan scored late to make the final a slightly more respectable 34-11, there was little doubt to the result for the entirety of the second half.
But oddsmakers don't make lines based on just one game – and that's the other reason Georgia remains a favorite over Alabama. While the Crimson Tide dominated the Dec. 4 matchup, the Bulldogs have easily defeated opponents all year long. Meanwhile, Alabama struggled in many of its wins over the course of the season, even if it has looked better in its last two games.
Put that all together, and bookmakers see Georgia as the favorite, albeit by a smaller margin than in the SEC Championship. At that time, the Bulldogs rated as about a 6.5-point favorite.
Alabama won that game, despite being the underdog for the first time after a 92-game streak of closing as a favorite. And head coach Nick Saban told reporters that he used those odds as motivation for his team, a tactic he might take again on Jan. 10.
"You guys gave us a lot of really positive rat poison," Saban said after the SEC title game. "The rat poison that you usually give us is usually fatal. The rat poison that you put out there this week was yummy."