Khris Middleton and Giannis "Greek Freak" Antetokounmpo combined for 71 points in the Game 3 victory to put the Milwaukee Bucks ahead of the Atlanta Hawks 2-1 in the Eastern Conference finals. The Hawks head into Game 4 with an air of uncertainty because their leading scorer and All-Star, Trae Young, suffered a sprained ankle and bone bruise in the second half of Game 3. He's currently listed as questionable for Game 4 against the Bucks.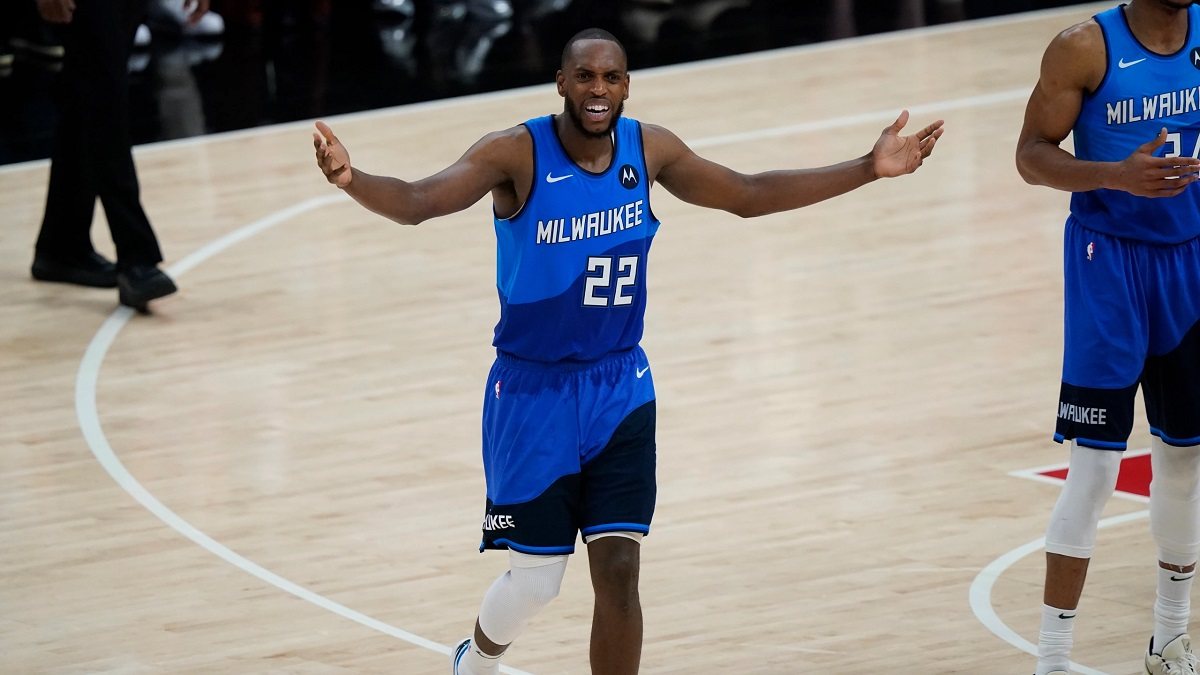 The Hawks won Game 1 by three points, but the Bucks cruised to victories in the last two games, including a 34-point shellacking in Game 2 and a nine-point victory in Atlanta in Game 3.
The Hawks are +7 home dogs heading into Game 3 as a long shot to even the series at 2-2. With Young's ankle injury slowing him down, the Bucks smell blood in the water with a chance to extend their lead to 3-1.
---
Game 4: #3 Milwaukee Bucks (2-1) vs. #5 Atlanta Hawks (1-2)
Tip-off: 8:30pm ET
Location: State Farm Arena, Atlanta, GA
Point Spread: MIL -7
Total: 218.5 o/u
Money Line: ATL +210 / MIL -265
Series Line: ATL +900 / MIL -2000
---
The Hawks slipped to +900 odds to win the series. The Bucks are huge favorites at -2000 to win the Eastern Conference finals and advance to the NBA Finals. The Hawks are the long shot on the NBA Futures board at +2500 odds to win the 2021 NBA championship. The Bucks are the favorite at -115 odds to win the NBA title.
Bucks: Big-time Middleton
When Khris Middleton scores 30 or more points in the playoffs, the Bucks win. Middleton unleashed a pair of 35-plus point games in the East semifinals against the Brooklyn Nets, including 38 points in Game 5, and the Bucks won both those games.
Middleton led all scorers with 38 points in Game 3's victory over the Hawks in Atlanta. That tied his career playoff-high, which he set a week earlier against the Nets. Middleton scored 20 of those points in the fourth quarter and personally outgunned Atlanta 20-17. He shot 15-for-26 from the field and added six 3-pointers. He also pulled down 11 rebounds and dished seven assists in the victory.
"What he did was unreal," said Antetokounmpo. "He was unbelievable. Carried the team at the end. What I saw today was greatness. Simple as that."
Middleton was bogged down in a shooting slump from long range with a 2-for-16 clip in the first two games of the Atlanta series, including a dismal 0-for-9 from beyond the arc in Game 1.
"I just finally got them to go," Middleton said. "I've been struggling some with the ball going in the basket. Finally, they started dropping for me at the right time."
"He starts to see it go in, he starts to feel good, he gets in a rhythm in a lot of ways," said Bucks coach Mike Budenholzer.
If Middleton continues to play at this level, the Bucks will be the team to beat in the NBA Finals.
Hawks: Short-handed, Bojan slumping
Trae Young and an official got tangled up toward the end of the third quarter of Game 3, causing Young to roll his ankle. He missed almost half of the fourth quarter getting his ankle taped in the locker room before returning. Young knocked down his first shot — a 3-pointer — but that would be his only points in the fourth quarter. The Hawks were outscored 30-17 in the final frame and they lost their first home game of the series. Young finished with 35 points in the loss.
An MRI on Monday revealed a bone bruise, but the Hawks listed Young as questionable. He wants to play, but how effective will he be?
"I'm just hoping and praying he's gonna be OK," said John Collins.
The Hawks need a good game out of Bojan Bogdanovic. He's been struggling ever since he dinged his knee in the East semifinals against the Philadelphia 76ers. He failed to reach double digits in six straight games and is shooting only 23.3% from 3-point range after shooting nearly 44% in the regular season.
"His shot has not fallen for him, but he's a guy who I believe that next shot is going down," said head coach Nate McMillan said. "It just isn't falling for him. It hasn't fallen for him this whole series."
Where's the D?
While the Bucks were getting skewered about their inability to slow down Trae Young, the Hawks have done a bad job on defense as well. They allowed the Bucks' top three scorers to average at least 20-plus points per game, including the defensively-minded Jrue Holiday (20.3 ppg).
"It's really a three-headed monster over there with Antetokounmpo, as well as Khris and Jrue," said McMillan. "All of those guys are isolation players. They do a good job of spacing the floor. If you are committing to the ball, then they are more than happy to shoot the 3 ball."
Antetokounmpo will get his points, but they've been unable to contain Middleton or Holiday. In Game 1, Holiday lit them up for 33 points. In Game 3, Middleton couldn't miss a shot in the fourth quarter with 20 points. It was a bit embarrassing that one player, who had been mired in a shooting slump, outscored Atlanta by three points.
The Hawks need a better defensive effort in Game 4 if they expect to even this series with a banged-up Young. "We have to do a better job across the board, " said big man Clint Capela. "No excuses. Just gotta play better defense."
Check out more coverage of the 2021 NBA Playoffs.