The Boston Celtics host the Golden State Warriors on their home court for the next two games, with the 2022 NBA Finals tied at 1-1. DraftKings posted player scoring props for key players in Game 3, such as Jayson Tatum (27.5 o/u), Jaylen Brown (23.5 o/u), Steph Curry (28.5 o/u), and the slumping Klay Thompson (18.5 o/u).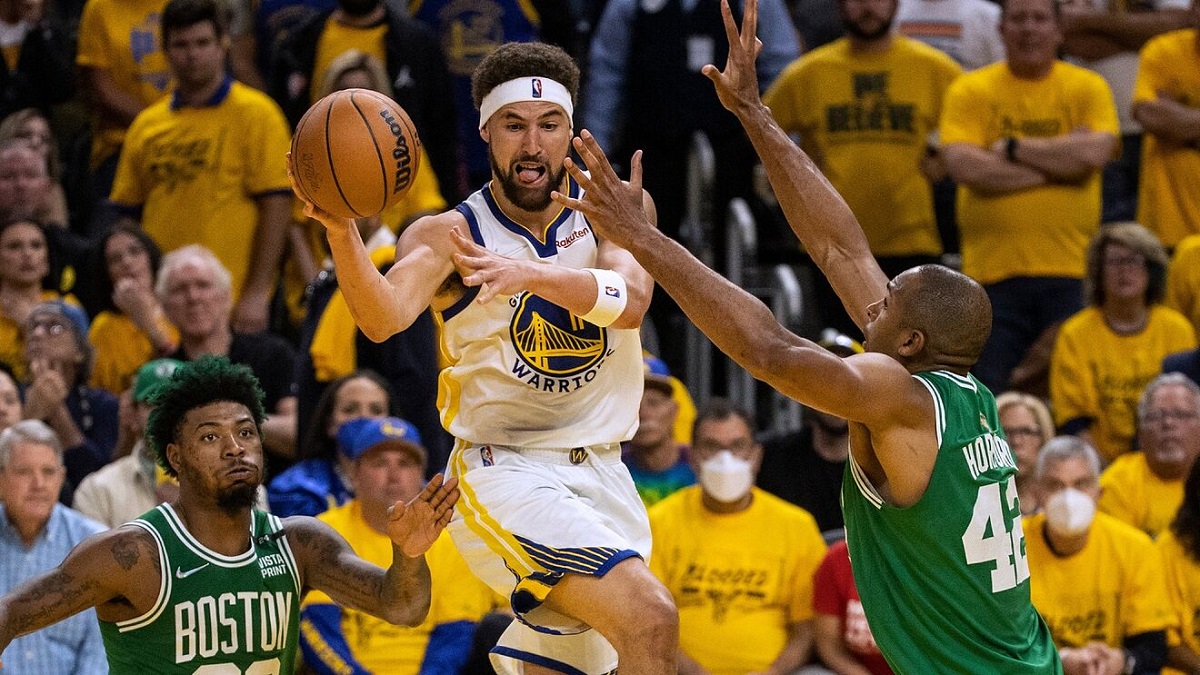 Boston stole Game 1 in San Francisco to take a 1-0 lead in the NBA Finals. The Warriors rallied in Game 2 and evened the series after taking advantage of another sloppy third-quarter performance from the Celtics.
The Celtics opened as a -3.5 favorite in Game 3. They're a slight favorite to win the title at -115 odds while the Warriors are -105 odds to win another championship.
The NBA released referee assignments for Game 3, and Scott Foster is the crew chief. The Celtics are 17-19 in playoff games officiated by Foster.
Celtics: Horford or D-White scoring boost?
Al Horford 11.5 o/u… Horford is always good for one insane game every series, and he didn't waste his first trip to the NBA Finals without a sensational performance in Game 1, putting up 26 points and going 6-for-8 from beyond the arc. The Warriors shut him down in Game 2 where he took just four shots (and zero treys), scoring just two points.
Derrick White 11.5 o/u… In the NBA Finals, White averages 16.5 ppg while knocking down 58.3% of his 3-pointers. He went off in Game 1 with 21 points and five treys, yet the Warriors made sure they didn't let White beat them in Game 2. The Warriors were a little more physical defending White, and he struggled in Game 2, shooting 4-for-13 with only two treys for just 12 points.
Jaylen Brown 23.5 o/u… Brown has been steady and reliable throughout the playoffs. He averaged 22 ppg in the first two rounds, but lit up the Miami Heat for 24.1 ppg in the Eastern Conference finals. He's averaging 20.5 ppg in the NBA Finals with 24 points in Game 1, but notched just 17 in Game 2. Brown knocks down only 29.4% of his 3-pointers, and he's missed 12 already.
Jayson Tatum 27.5 o/u… If Tatum has an off night, he always bounces back with a big performance in the next game. The Celtics won Game 1 despite 12 points and 14 missed shots from Tatum. In Game 2's loss, Tatum looked sharp with 6-for-9 from 3-point land and a team-high 28 points. If the zebras –especially Foster — keep Draymond Green in check with a couple of early foul calls, then expect a scoring explosion from Tatum in Game 3.
Warriors: MVP Curry, Thompson struggling
Jordan Poole 12.5 o/u… Poole averages 17.8 ppg in the postseason, but the Celtics held him to 13 ppg in the NBA Finals. He's certainly capable of scoring 20-plus on any given night, so he's due for a big game. If Klay Thompson continues his slump, then the Warriors will rely on Poole to provide extra scoring in Game 3.
Andrew Wiggins 16.5 o/u… Wiggins, playing in his first NBA Finals, averaged 15.5 ppg in the first two games against the Celtics. He's shooting a juicy 40% from 3-point range, so the Warriors would like to get him some more looks from deep.
Klay Thompson 18.5 o/u… Thompson averages 19.1 ppg in the postseason, and he's typically the team's second-best scorer behind Curry. However, he's averaging only 13.0 ppg in the NBA Finals. Head coach Steve Kerr thinks he's pressing and trying to make things happen instead of just going with the flow of the game. Kerr reduced Thompson's playing time by almost 25% in Game 2. If Thompson continues to struggle, expect Poole to see an uptick in court time and scoring in Game 3.
Steph Curry 28.5 o/u… Curry never won an NBA Finals MVP, but he's been playing like one in the first two games. He's leading all scorers with 31.5 ppg while shooting a scorching 46.2% from 3-point land. Expect Curry to continue his scoring barrage in Game 3.
Check out more coverage of the 2022 NBA playoffs.