The Boston Celtics trailed by double digits heading into the fourth quarter of Game 1 of the NBA Finals against the Golden State Warriors, but they didn't panic and stormed back by knocking down their first seven 3-point attempts in the fourth quarter. The Celtics cruised to a 12-point win over the Warriors, 120-108, thanks to a team-high 26 points from Al Horford.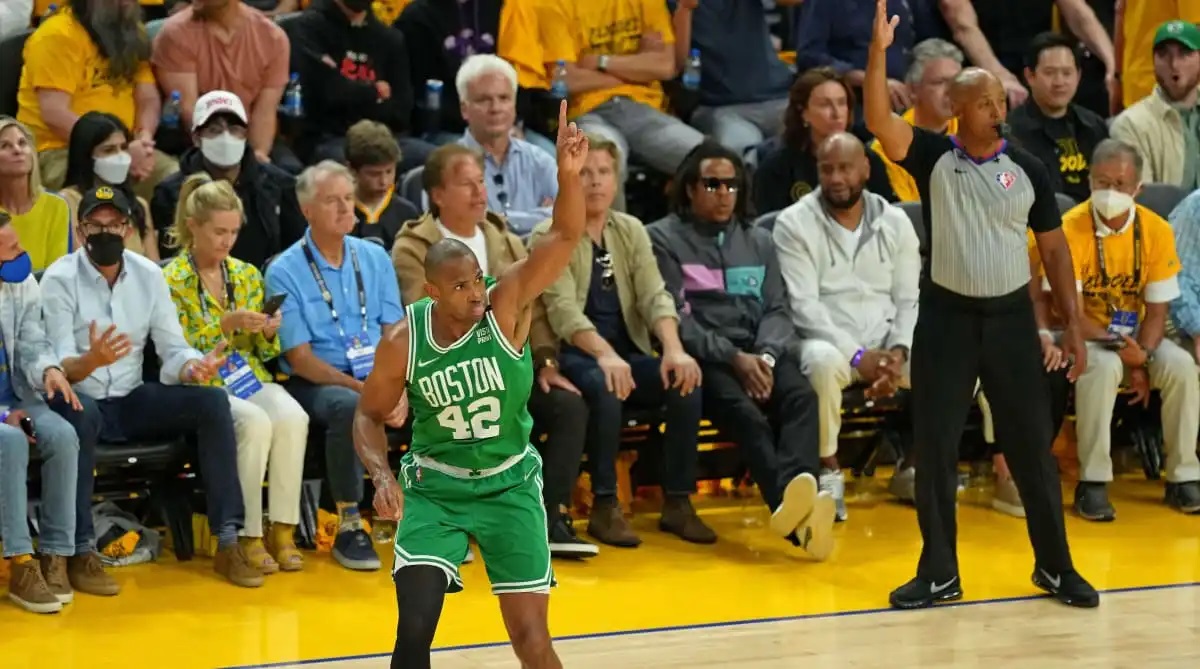 After taking a 1-0 lead in the NBA Finals, the Celtics are the new betting favorite to win the 2022 NBA championship at 190 odds, while the Warriors are +160.
Oddsmakers installed the Warriors as a -4 favorite heading into Game 2 slated for Sunday at the Chase Center in San Francisco.
The Celtics improved to 8-2 on the road this postseason.
Horford shines in comeback
Prior to this postseason, Horford led the NBA with the most games played without an appearance in the NBA Finals. Horford made the most of his first NBA Finals appearance in Game 1 against the Warriors with a career-best six 3-pointers for the Celtics.
"I felt like the guys kept finding me time after time," said Horford. "Also Derrick White hit some tough shots there, too. I was just getting the looks, knocking them down. That's that."
The Celtics stole a victory in Game 1 in which their star — Jayson Tatum — had a rough night. Tatum scored just 12 points and missed 14 shots. However, he added 13 assists after drawing a lot of attention from Golden State defenders.
The Celtics didn't lose their poise at the start of the fourth quarter while trailing by 12 points.
"The message at the start of the fourth was, 'We've been here before,'" said Tatum. "We know what it takes to overcome a deficit like that.
"We pride ourselves on everybody being able to contribute on both ends," said head coach Ime Udoka. "That's rewarding, especially on a night when your best guy has an off night, others step up."
Horford led the Celtics with 26 points. Brown added 24 points, while White scored 21 points off the bench.
Warriors: 4Q implosion
The Warriors were fired up from the opening tip, especially Steph Curry who scored 21 of the Warriors' 32 points in the first quarter. Curry knocked down six 3-pointers in the first quarter, which set both NBA and personal records. After just 12 minutes, Curry looked like a lock for NBA Finals MVP. However, he connected on just one more 3-pointer through the other three quarters.
The Warriors trailed by two points at halftime, but eradicated the deficit with a third-quarter surge when they outscored the Celtics 38-24. Things went off the rails in the fourth quarter, however, when they blew a double-digit lead and proceeded to lose by double digits. Their shooters went cold and they couldn't stop the Celtics' aerial assault.
Curry finished Game 1 with a game-high 36 points. Andrew Wiggins added 20 points while Klay Thompson scored just 15.
"It's not ideal but I believe in who we are and how we deal with adversity, how we responded all year, how we respond in the playoffs after a loss," said Curry. "So learn a lot from that fourth quarter, obviously they made a lot of shots."
"You obviously go into Game 2 with more of a sense of desperation," said head coach Steve Kerr. "That's all part of this stuff. We've been in this position before. Boston played a brilliant quarter. They came in and earned the win."
"We've always embraced challenges," said Draymond Green. "It's no different. We'll embrace this one. So no, it's not a hit to the confidence at all not one bit."
NBA Finals 3-point shooting contest
We hinted that the 2022 NBA Finals would come down to a 3-point shooting contest. The Warriors fared well in Game 1, shooting 19-for-45 for 42.2%, but failed to counterattack in the fourth quarter when the Celtics got hot with a 9-for-12 barrage.
"It seemed like they didn't miss until deep into the fourth," said Curry. "When you have a team that just finds a little bit of momentum like they did, and they keep making shots, it's tough to kind of regain that momentum."
Curry knocked down 50% of his 3-pointers, shooting 7-for-14, but the other four starters struggled from deep. Jordan Poole (1-for-5), Green (0-for-4), Wiggins (2-for-7), and Thompson (3-for-7) missed 17 treys while shooting 6-for-23 from beyond the arc.
Aside from Poole, the rest of the bench was sharp from downtown, combining to go 6-for-8, including four treys from Otto Porter.
The Celtics connected on 51.1% of their treys on 21-for-41 shooting. Their bench combined for 8-for-13, including White's five treys. Tatum and Brown combined 3-for-13 from downtown, but Horford and Smart were sizzling with a 10-for-15 clip or 66.7%
Check out more coverage of the 2022 NBA playoffs.