When Alexander Povetkin stunned Dillian Whyte with a left uppercut in the fifth round of their heavyweight fight on Saturday, he confirmed his status as a top contender while damaging Whyte's chances of getting a title shot. But he also helped open the door to one of the fights that boxing fans most want to see: Tyson Fury vs. Anthony Joshua.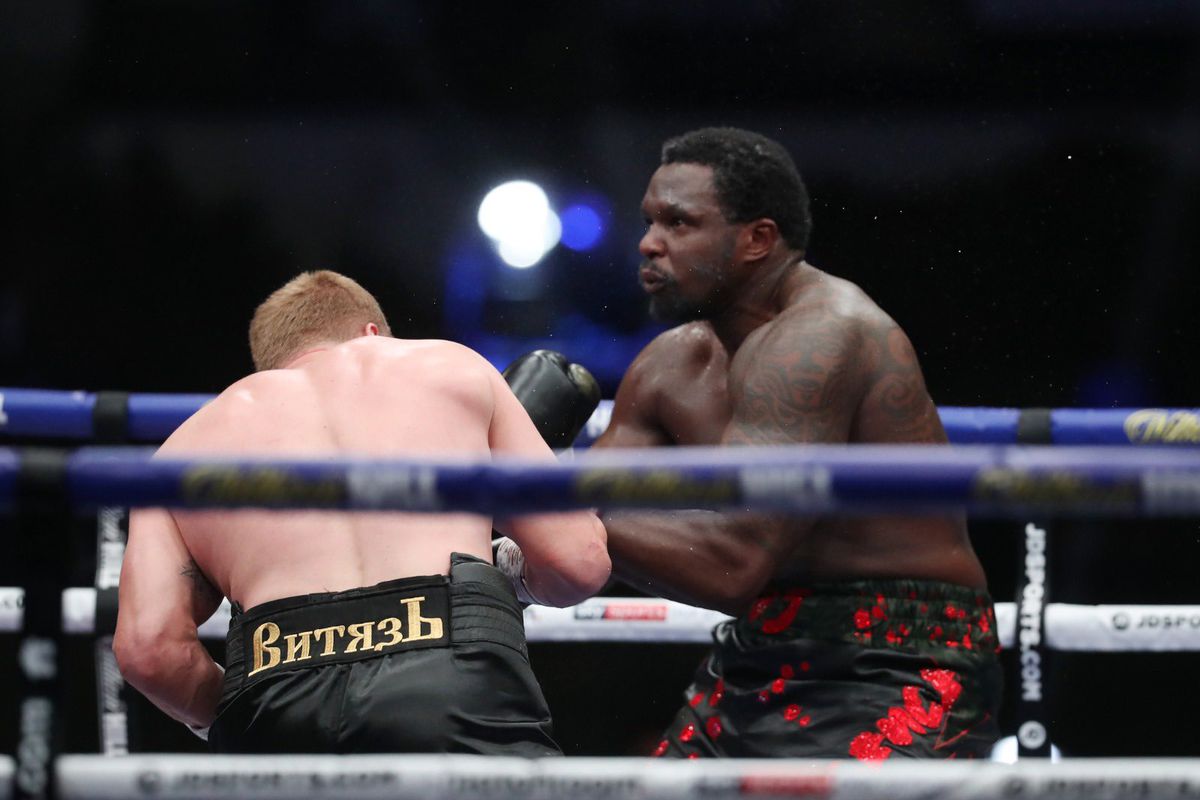 WBC president Mauricio Sulaiman confirmed that Fury no longer faces any restrictions when it comes to fighting Joshua sometime next year.
Whyte Loses Mandatory Challenger Status
The WBC had scheduled Fury to fight Whyte in a mandatory title defense sometime in early 2021. But Whyte's loss took that opportunity off the table.
"We don't speculate, but the time limitations which were put by the WBC Board, which had Dillian Whyte won, the winner of the third Fury-Wilder fight has to fight without an intervening bout against Dillian Whyte," Sulaiman told Sky Sports. "That has now changed. Dillian has lost, so there are no limitations at the moment for the winner of Fury-Wilder to do any fight whatsoever."
Fury (30-0-1, 21 KOs) and Deontay Wilder (42-1-1, 41 KOs) plan to meet for a third fight in December. Fury defeated Wilder by TKO in the seventh round of their February bout after the two fought to a tough, controversial draw in December 2018. FanDuel Sportsbooks lists Fury as a -350 favorite over Wilder (+250) in the trilogy bout.
Fury, Joshua Have Two-Fight Deal in Place
Meanwhile, Fury and Joshua (23-1, 21 KOs) have reached an agreement to fight twice during 2021. Fury currently holds the WBC and lineal heavyweight championships, while Joshua owns the WBA, WBO, and IBF belts.
The coming fights between the three biggest heavyweight stars promise to finally give boxing fans a unified champion in the sport's glamour division. But obstacles remain before that can happen.
First, Joshua must defeat challenger Kubrat Pulev (28-1, 14 KOs) this December. Joshua enters as a massive -1100 favorite over Pulev (+590), who ranked ninth in the last OnlineGambling.com heavyweight rankings list.
Should Joshua handle his business against Pulev, and remain open to taking on Fury or Wilder, there will be nothing in the way of a huge heavyweight title clash next year.
"An ultimate unification would be something that everyone would like to see," Sulaiman said. "It's a matter that brings boxing to the highest level."
Povetkin Still Dangerous at 40
Povetkin set these events into motion with a one crushing blow to Whyte's chin.
Whyte dominated the first four rounds of Saturday's fight, even knocking Povetkin down twice in the fourth. But Povetkin remains powerful even late in his career, and the knockout showed he can end a fight in a moment's notice.
"I didn't feel I would finish the fight like this," Povetkin said via a translator after the fight. "I was watching his fights and I was thinking he was missing uppercuts from left and the right, so I was training for it. It's probably one of my best-ever punches."
Whyte entered the bout fifth in the OG.com heavyweight rankings, while the 40-year-old Povetkin took the eighth position.