Rob Font lost his four-fight winning streak last December when Jose Aldo beat him by unanimous decision. He'll look to get back on track Saturday night at UFC on ESPN 35 when he battles fellow bantamweight contender Marlon Vera in the main event.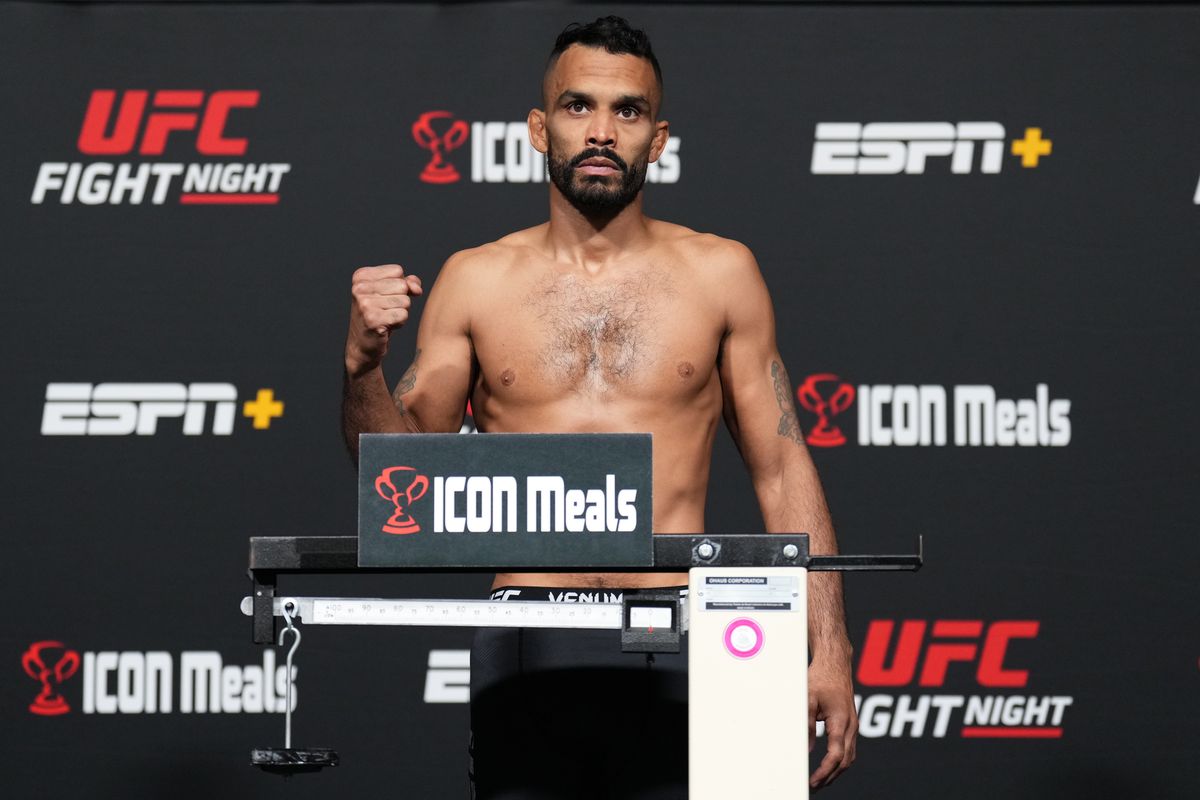 Font (19-5) weighed in at 138.5 pounds, 2.5 over the limit for a non-title bantamweight fight.
Font forfeits 20 percent due to weight issues
Still, the fight will go on as a catchweight bout, with Font forfeiting 20 percent of his purse as a penalty for failing to make weight. Font comes in as a slight -130 favorite over Vera (+110), according to DraftKings Sportsbook.
While the result could embarrass Font, he'll quickly turn his attention back to the fight on hand. Font is headlining his third straight card. Not only is he the No. 5 contender in the bantamweight division, but the UFC has positioned him as a strong draw, something he says he's proud of.
"Three back-to-back, three main events, especially against two former champions – I think they trust me," Font told reporters. "I think they know I'm going to put on an exciting fight. I think they know I'm going to make weight, I'm going to show up and I'm going to handle business."
Sure, Font didn't make weight this time – the first time in his career he failed to do so. But he has plenty of motivation to bounce back from his loss to Aldo. While Vera isn't necessarily a marquee opponent – he ranks No. 8 in the bantamweight division – Font sees him as a necessary step to getting back in the title picture.
"Obviously this fight is one of those where we're fighting backwards," Font said. "That doesn't necessarily catapult me to the title shot, which is whatever. I'm just trying to get my hand raised, try to get back to that win streak and we'll see what happens after that."
History says early finish unlikely
On the other hand, Vera (18-7) recognizes the opportunity this fight presents. A big win over Font could put Vera into the top five, and after that, a title shot would be within reach.
"I believe a great win on Saturday night would put me in title contention," Vera told reporters. "Depending on how the cards are played at the top, it's either I can go straight for the belt or I have another fight. But a win this Saturday puts me right there."
Oddsmakers see a close fight largely because of what both men have proven they can do. Both have big gas tanks and can easily go a full 25 minutes. Additionally, both possess strong chins, making a knockout unlikely. DraftKings is offering -150 on the fight to go the distance, and even that may be generous considering neither man has suffered a knockout loss in their career. Only Font has lost by submission, and only once – in 2017, at the hands of Pedro Munhoz.