Rob Font won a one-sided decision over Cody Garbrandt in the main event of UFC Fight Night on Saturday to position himself as a leading contender for the bantamweight title.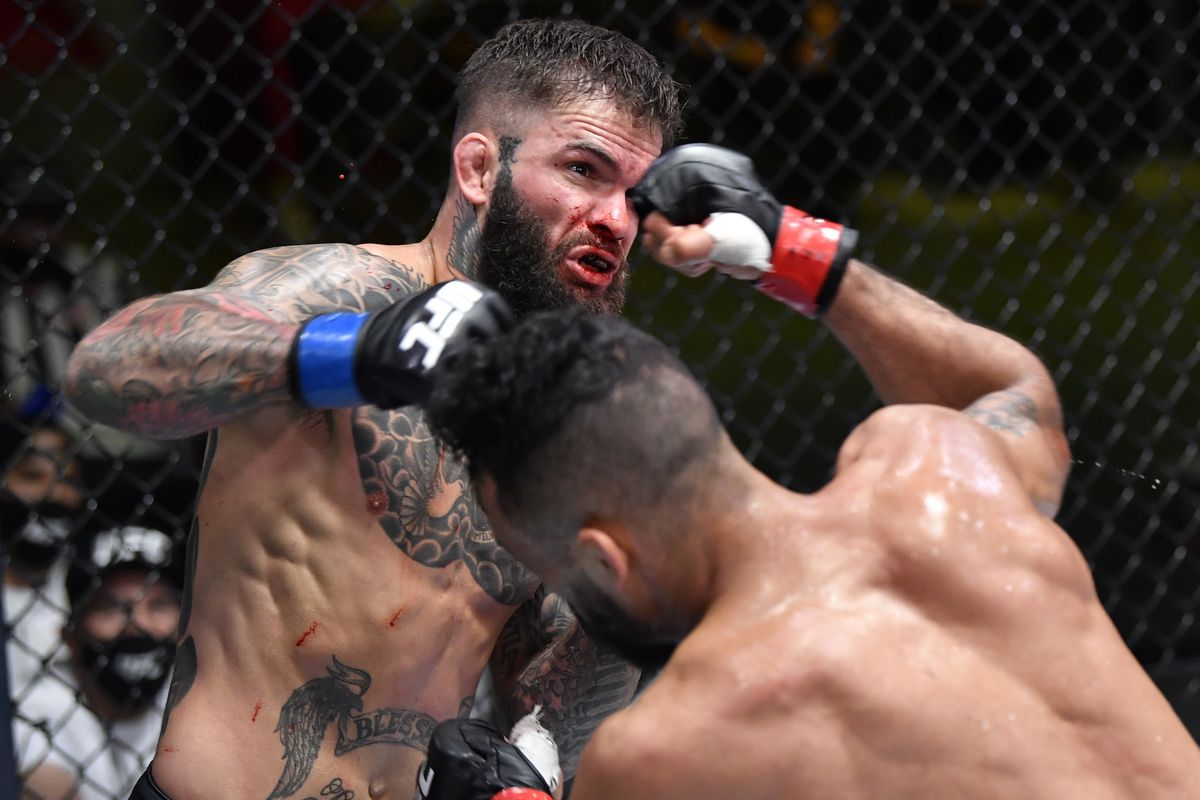 Font defeated the former bantamweight champion 48-47, 50-45, 50-45 in a controlled, dominant performance that could set him up for a big fight in his next appearance.
Font uses jab to control striking battle
While Garbrandt occasionally found success through wrestling, Font was able to control the fight while standing up. He accomplished this through the use of his jab, which allowed him to maintain distance and avoid Garbrandt's knockout power.
"I can't go hook for hook with him," Font said after the fight. "I was preaching the whole time – stay disciplined. I really believe it's the best jab in UFC."
Font called out two potential follow-up fights. Naturally, he's interested in fighting for the title, whether that's against current champion Aljamain Sterling or Petr Yan. But he's also expressed interest in fighting the winner of a July bout between TJ Dillashaw and Cory Sandhagen.
Font has now won four straight fights. He entered the bout as the No. 3 contender in the UFC's bantamweight division.
Cyborg finishes Smith, calls out Zingano
In Bellator action, Cris Cyborg picked up a late TKO victory over Leslie Smith to defend her women's featherweight title. Cyborg finished Smith at 4:51 of the fifth and final round in the main event of Bellator 259 on Friday night.
Cyborg (24-2) rarely fights into the deep rounds. But Smith hung tough, becoming only the second fighter to go into the fifth with the former UFC featherweight champion. Cyborg beat Smith once before – at UFC 198 in 2016 – winning by first-round TKO in just 1:21, though Smith argued that the stoppage was premature.
This time, Cyborg dominated from start to finish, though she praised Smith for hanging tough.
"I knew she's tough," Cyborg said afterward. "I've met her before. I know her. I really respect her. She's a real fighter."
After the bout, Cyborg called out Cat Zingano as a potential challenger, but Bellator president Scott Coked hasn't committed to that matchup.
"That's one of the reasons we brought Cat here, is that she has a victory over Amanda Nunes," Coker said, via MMA Junkie. "This is something that I think she came here to fight Cyborg … will we do that fight next? I'm not sure, but we'll definitely have a conversation next week with everybody."
Felder announces retirement from MMA
UFC lightweight veteran Paul Felder announced his retirement from MMA on Saturday. The 37-year-old compiled a 17-6 record during his career.
An absolute class act. 👏

We'll hate to see him go, but @FelderPaul can hold his head high after an absolutely remarkable career. #UFCVegas27 pic.twitter.com/D5Z47uVemL

— UFC Europe (@UFCEurope) May 23, 2021
Felder revealed his decision during the broadcast of UFC Fight Night. He was commentating on the card, a role he has taken on more frequently in recent years.
While Felder still competed at a high level, he said he no longer feels a hunger to compete for several more years to try and get a title shot.
"I always said if I don't see that title picture a year or so into my future, I would retire and I would do it for my friends, family, and myself," Felder said. "I love the UFC with all my heart for everything they've given me and the opportunity they've given me [as a commentator]. I'm retiring officially from the sport of mixed martial arts."