The #3 Texas Tech Raiders defeated #1 Gonzaga, the top-ranked team in the country and the top seed in the West regional, to advance to their first-ever Final Four. Meanwhile, in the South regional, #1 Virginia, needed an overtime session to defeat #3 Purdue and overcome a sizzling shooting performance from Carsen Edwards.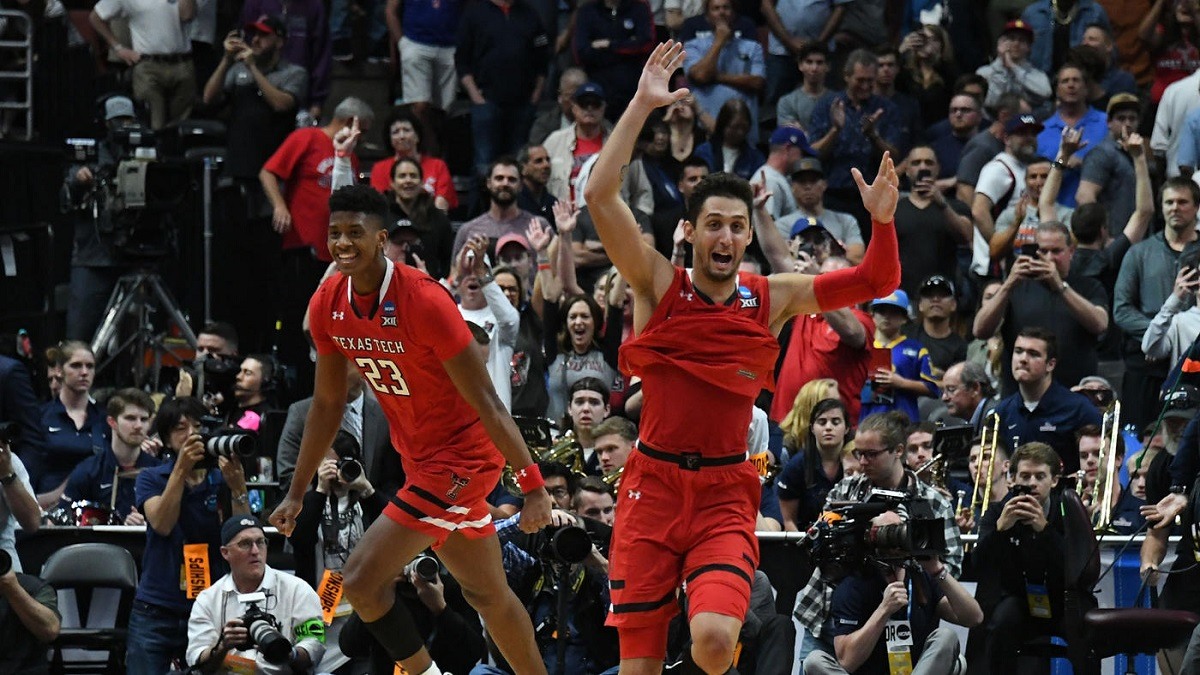 On Saturday, Texas Tech (30-6) and Virginia (33-3) became the first two teams to advance to the Final Four. They will await the outcome of Sunday's Elite Eight games featuring Michigan State/Duke and Auburn/Kentucky.
Virginia advanced to their first final four since 1984. UVA has never won a men's college hoops title. Head coach Tony Bennett finally guided the Cavaliers to a Final Four berth, despite being awarded a #1 seed four times since 2014.
Virginia narrowly escaped Purdue in the Elite 8. They were down two points when Mamadi Diakite, a junior forward from Guinea, hit a floater as time expired to tie the game and send it into overtime. UVA prevailed in OT to win 80-75 and advance to the Final Four. Kyle Guy led UVA with 25 points and Ty Jerome added 24 points. They combined for 9 three-pointers, which is one shy of how many Carsen Edwards unleashed during his 42-point performance that including a record-breaking ten three-pointers.
According to the South Point Casino and Sports Book in Las Vegas, Virginia is a 2/1 odds favorite to win 2019 March Madness. Texas Tech is 5/1 odds to win the college basketball championship.
Texas Tech Making History
Head coach Chris Beard made history this season by leading Texas Tech to consecutive berths in the Elite 8. He was not done though because Tech was on a mission to go all the way to Minneapolis, which is where the Final Four is hosted this season.
The Raiders and their smothering defense stepped up in the second half. They held the Zags to only 26.9 percent from long range. Rui Hachimura and Brandon Clarke combined for 40 points on 15-for-29 shooting, but the Raiders shut down the rest of the Zags.
Jarrett Culver led the Raiders with 19 points. He shrugged off an off-night shooting (5-for-19 overall including 2-for-8 from downtown) but hit several clutch free throws late in the game. Matt Mooney, a senior guard from the Chicago suburbs, added 17 points. Davide Moretti, a sophomore guard from Bologna, Italy, added 12 points. Moretti's family flew in from Italy and surprised him the night before the game.
Carsten Edwards, En Fuego
Edwards, 6-foot-1 junior shooting guard, led Purdue in scoring this season with 23.8 points per game. Everyone in the Big Ten already knew he could shoot, but the rest of the world watched Edwards put on one of the single-greatest scoring performances in the history of March Madness.
Edwards finished the night with 42 points against UVA including 10 three-pointers. Several of his long-range bombs were attempted several feet beyond NBA 3-point range. He finished the night 4-for-6 from the floor and 10-for-19 from beyond the arc.
Edwards was a true one-man show. No other player on Purdue scored more than 7 points, including swingman Ryan Cline. In the Sweet 16, Cline dropped 27 points with 7 treys in an overtime win against Tennessee.
Edwards scored 42 twice this year in March Madness. He torched the defending-champs Villanova for 42 points in the Round of 32. Edwards finished the tournament with 28 three-pointers in four games, which set an NCAA record. He attempted 61 total three-pointers and hit 45.9 percent of them. Edwards hit ten treys against UVA, five in the OT-win against #2 Tennessee, nine against #6 Villanova, and only four against #14 Old Dominion.
2️⃣8️⃣ 👌's

Carsen Edwards' 10 threes vs. UVA gave him 28 for 2019 #MarchMadness, a new record! 🔥 pic.twitter.com/GiMdmrRHPt

— NCAA March Madness (@marchmadness) March 31, 2019