UCLA is only two wins away from winning their record-leading 12th March Madness championship, but Johnny Juzang and the Cinderella Bruins face their biggest challenge of the season with undefeated #1 Gonzaga awaiting them in the Final Four.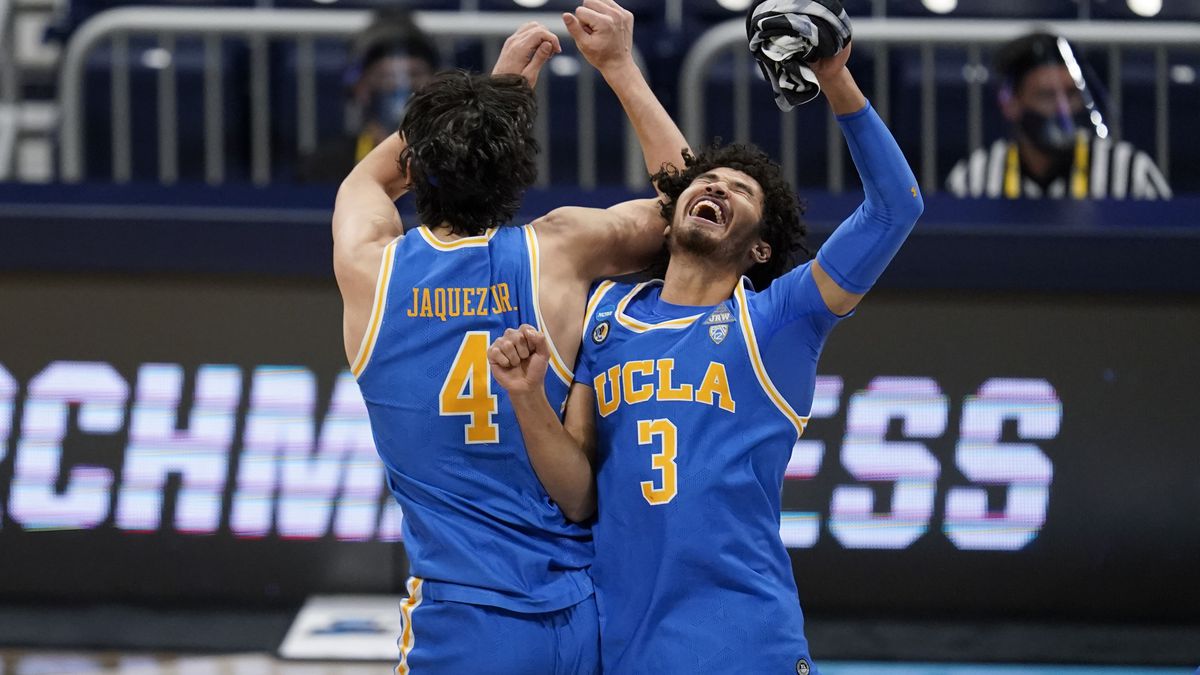 No one expected #11 UCLA would make it this far after their leading scorer, Chris Smith, blew out his ACL with a season-ending injury in early January. Smith, a senior guard, was the team's floor general and locker room leader. Many other teams would have folded up if they lost a player of Smith's ilk.
UCLA also got screwed when one of the top high school recruits in the country, Daishen Nix, chose to play in the NBA's G League instead of enrolling at UCLA.
---
#11 UCLA Bruins (30-0) vs #1 Gonzaga Bulldogs (22-9)
Tip-off: April 3 at 8:34 pm ET
Point Spread: GON -14
Over/Under: 145.5
Money Line: GON -1200 / UCLA +775
---
Yet, Mick Cronin and the Bruins hunkered down and embarked on a magnificent run in March Madness thanks to a core unit of sophomores, including Juzang, Tyger Campbell, and Jaime Jaquez Jr.
UCLA is the long shot at +2500 odds to win March Madness, whereas Gonzaga is the big favorite at -250 odds. KenPom ranked UCLA #15 overall.
Bubble > First Four > Final Four
UCLA narrowly missed playing in March Madness. After they were bounced in the first round of the Pac-12 conference tournament by Oregon State, UCLA found themselves at the mercy of the March Madness selection committee. After starting the season 12-2, things went off the rails after UCLA lost an overtime game against Stanford. They went on a 5-7 clip to end the season. Heading into March Madness, UCLA lost four games in a row and slipped to 17-9.
Thanks to the committee's affinity for power conferences and its disdain for mid-majors and minor conferences, UCLA earned a trip to March Madness as a First Four team. UCLA would have to earn the #11 seed by facing another power conference bubble team with the Big Ten's Michigan State. The Big Ten sent nine teams to the tournament, but it was the Pac-12 that had the most impressive showing with four Pac-12 teams in the Sweet 16 versus just one for the Big Ten.
Basketball fans were treated to a bit of March Madness in the play-in games when Michigan State and UCLA needed an overtime session to advance to the first round. Jaquez and Juzang combined for 50 points in the 6-point overtime victory.
Cinderella Path to the Final Four
UCLA crashed the March Madness party, then crashed the Final Four in true Cinderella fashion.
In the opening round, UCLA defeated #6 BYU by 11 points after Juzang lit them up for 27 points. During the Round of 32, UCLA squared off against #14 Abilene Christian, who had pulled off a major upset over #3 Texas in the opening round. UCLA spoiled Abilene Christian's bid to become this year's Cinderella with a 20-point blowout.
In the Sweet 16, UCLA faced a difficult opponent against #2 Alabama. UCLA jumped out to an early lead, but nearly choked when they let Bama storm back to send the game into overtime. It marked the second overtime game in just four March Madness games for UCLA. The Bruins didn't flinch, even after Juzang fouled out; it was Jaquez's turn to lead UCLA to victory, and he scored 17 points.
In the Elite 8, UCLA squared off against #1 Michigan in a tough defensive battle. UCLA jumped out to a lead thanks to a hot Juzang. Michigan chased the Bruins all game. UCLA held off a late rally by Michigan to pull off an upset and secure a spot in the Final Four. By the time the buzzer sounded, Juzang had scored 28 points.
In the Final Four, oddsmakers don't have much faith in UCLA, who come in as +14.5 underdogs against #1 Gonzaga.
West Coast Renaissance
A team from the West hasn't won March Madness since 1997. Gonzaga has never won a March Madness championship, and if the Zags expect to win their first title, they'll have to battle the Cinderella UCLA Bruins. If UCLA can pull off the upset, they would've beaten back-to-back #1 seeds to reach the championship game.
"This is a renaissance for West Coast basketball," said ex-UCLA coach Steve Lavin. "People forget that the West Coast was the epicenter of college basketball for decades. Naturally, the results of this season will be tough to duplicate on an annual basis, but this a timely shot in the arm for college basketball on this side of the country."
UCLA won 10 titles under John Wooden, aka the Wizard of Westwood, during a dynasty that began in the early 1960s and lasted through the mid-1970s. In 1995, Jim Harrick guided UCLA to a March Madness title for the 11th time in school history. It marked UCLA's first and only championship without Wooden.
Now the Bruins are just two wins away from restoring championship glory to UCLA thanks to head coach Mick Cronin.
"When he came to UCLA, coach basically preached the entire time, no matter what was going to happen, we were going to be a tough team and a defensive team," said Jaquez. "That was his whole attitude. No matter what happens, we're going to be the toughest team."
Cronin set the tone from the first day he joined the team two seasons ago. The players bought into his philosophy and helped turn around the program. Cronin put UCLA and the Pac-12 back on the map.
UCLA Super Sophs
Juzang, a 6-foot-6 sophomore guard, has become the toast of Hollywood. Any time you get your name mentioned alongside Lew Alcindor and Bill Walton, you must be doing something right. Juzang averaged 15.5 ppg this season, but he's peaking at the right time. In five March Madness games, he averaged 21.6 ppg. He knocked down 12 3-pointers and shot 35% from beyond the arc. He's also a 90.2% free-throw shooter, and hit several clutch free throws to seal games in the tournament.
Jaquez, a 6-foot-6 swingman, averaged 12.1 ppg and 6.1 rebounds this season. He led UCLA in scoring eight times this season, including twice in March Madness. He's one of UCLA's best sharpshooters, connecting on 39.3% of his 3-pointers. Jaquez had a quiet game against Michigan in the Elite 8 with just six points on 1-for-6 shooting, but he did a bang-up job holding Michigan's Franz Wagner to just 1-for-10 from the floor.
Tyger Campbell, a 5-foot-11 sophomore point guard, has an uncanny resemblance to reggae star Bob Marley. His wild hair and dreadlocks make him seem much taller than his listed height in the media guide. Campbell averaged 10.2 ppg this season, but his 3-point shooting has been erratic at 24.6%. He made two key steals down the stretch against Michigan, and he did a stellar job slowing down Michigan's point guard Mike Smith. Campbell will be tasked with stopping Gonzaga's Jalen Suggs.
Check out more Final Four betting previews.