Trying to find betting value in the NBA playoffs is a pretty daunting task, as the favorites aren't allowing for much drama. In the first round the three favorites, Golden State, Cleveland and San Antonio all moved on the next level.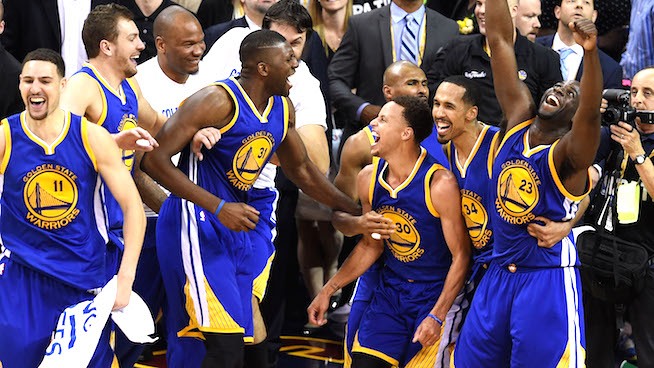 When the postseason began, Golden State came out as a 1-2 pick to win the NBA Championship and they swept their initial opponent, Portland, 4-0. In those games the Warriors won by 12, 29, six and 25 points.
The defending champion Cavaliers had a little tougher time on its road to repeating. They came out at 3-1 to win and swept the Indiana Pacers in four, but won their games by one, six, five and four points.
San Antonio, who was listed as 10-1 to win, was the only team to lose a game to a first-round foe. They took their series to six games before closing out the Memphis Grizzlies.
Second Round Should Benefit Higher Seeds
The Warriors, who had the league's best record in the regular season, are dominating despite All-Star Kevin Durant sidelined with an injury. He was used sparingly in Game 4, but is expected to be cleared by the medical staff to play his regular minutes in Game 1 against the Utah Jazz.
The Cavaliers have already played their first game and defeated the Toronto Raptors, 116-105. Toronto finished two games behind Cleveland in the standings and only won one game out of four in the regular season.
San Antonio also won three games against their challenger, the Houston Rockets, but they were stunned Monday in their first contest, losing 126-99 at home.
Value Difficult, Not Impossible
At minus-350 to win the Western Conference, there isn't much value in taking Golden State, but there are a couple of interesting picks for bettors. The first one is Boston to win the Eastern Conference Championship. The Celtics are 4-1 and have been peaking at the right time. The had the best record going into the playoffs and are currently leading the the Washington Wizards 1-0. If they make the conference finals it may be smart taking a look at them.
One squad that has some worth would be the Houston Rockets. They 7-1 to win the conference and should they get past San Antonio, would likely face the Warriors. If Golden State continues to be affected by injuries an upset is not out of the question.
Another option is to look at individual games for a betting advantage. The Spurs lost to the Rockets in their first game, but losing two in a row is not expected in what some are calling a tight match up. San Antonio is plus-110 on the money line for Wednesday's contest.