Erling Haaland's staying at Borussia Dortmund in the German Bundesliga for another season looks less likely day by day.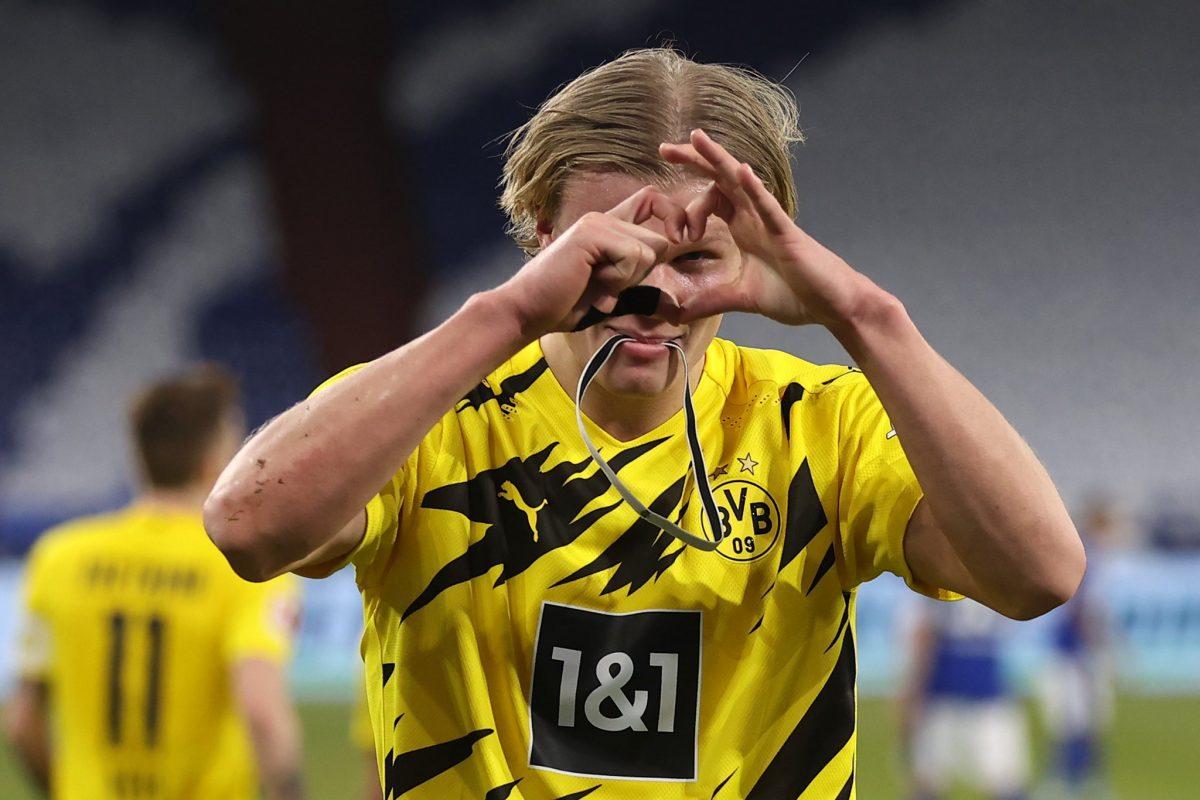 The 20-year-old goal machine is in big demand. After Manchester City put him at the top of their summer transfer list to replace outgoing Sergio Aguero (32), Spanish giants Barcelona and Real Madrid have swooped in, making their own plays for the rising star.
On Thursday, Italian super-agent Mino Raiola was spotted in Barcelona alongside Haaland's father, Alf-Inge, having brunch with newly-elected Barca president Joan Laporta. From Catalonia, they flew to Madrid for talks with Real Madrid chairman Florentino Perez. It's rather unprecedented to see a player negotiate openly with the two biggest rivals in Spanish football, but Haaland wants to leave now, and his entourage couldn't have made it clearer to Dortmund.
High-value forward
Dortmund paid $22 million to buy Haaland from RB Salzburg in January 2020. They beat out interest from Juventus and Manchester United by convincing the young forward to make an intermediary step in the Bundesliga to support his development before heading to one of the continent's biggest spenders. At Dortmund, he scored on a regular basis and now is valued at $180 million by the German club.
The forward has a release clause in his contract with Dortmund, negotiated by Raiola and Haaland's father. That price is set at $90 million. Even though big clubs regard it as highly affordable, it only becomes valid at the end of next season, in June 2022.
Raiola, the agent looking to maximize his transfer rate, also represents the likes of Zlatan Ibrahimovic (AC Milan) and Paul Pogba (Manchester United).
Alf-Inge Haaland, who has been instrumental in helping direct his son's career, knows the ins and outs of world football well. He capped 34 times for the Norwegian national team, playing primarily as a defender, and built a consistent career in the English Premier League with Nottingham Forest, Leeds United, and Manchester City. He had to retire early at the age of 30 in 2003 due to a leg injury. Having raised Erling to love the Premier League, a move back to England, where he was born in July 2000, is one of the options he has: Pep Guardiola would welcome him with open arms at Manchester City.
With all these interested parties trying to movie pieces on the chessboard, the next few months promise to deliver quite a proper derby on the transfer market and on the pitch, where Barca and Real are fighting Atletico for the La Liga title.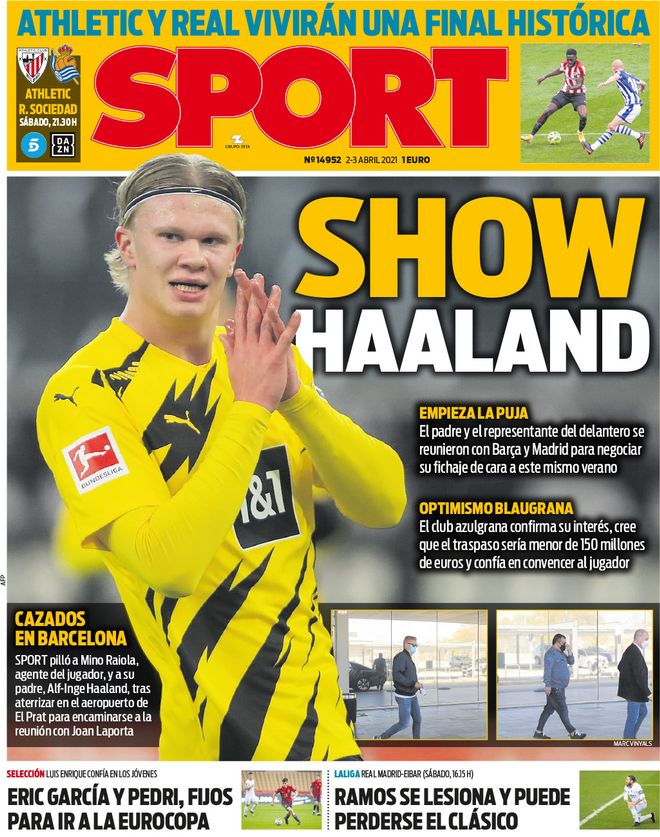 Does Barcelona want Haaland to keep Messi, or replace him?
President Laporta hopes to convince Dortmund to lower its financial expectations. It's hard to imagine them actually doing that, though. Borussia told Raiola that they'd prefer not to sell in 2021, and would prefer to wait for another year with the risk of losing $90 million (the difference between the current asking price and next year's release clause).
Meanwhile, Barcelona fans are asking what might a deal for Haaland mean for Messi's future. The world superstar's contract expires at the end of this season and he has yet to give any public hints about a decision on his future.
While some see Laporta's move for Haaland as a clear indication that the boss is trying to build a new winning team around Messi, others fear the opposite — that Barcelona's persistence to close this piece of business means they are preparing for next autumn to start without Messi at Camp Nou.
One other factor complicating matters is the massive cash crisis Barca faces. With debts surpassing $1.2 billion, the club couldn't sign any of the big targets they had since January 2020. Once the coronavirus hit, they had to turn to their current stars to help keep them afloat, asking players to accept 70% pay cuts for a few months during the pandemic's peak.
Haaland just can't stop scoring
Since the beginning of the 2019-2020 season, which he started in Austria with RB Salzburg, Haaland took the world of football by storm. Despite his young age, he proved lethal even at Champions League level, scoring eight times for the Austrian champions in a group featuring Liverpool, Napoli, and Belgian [then champions] Genk. In just half a season with Salzburg, Haaland netted 28 times over 22 games, making his stay in Austria just a minor stepping stone. He continued his amazing run of form with Dortmund, scoring 49 times in 49 games across all competitions for the past year and a half.
"His ambition is winning the Champions League, and, when he leaves Dortmund, he won't do it for money. It will be for what he feels and for his ambition," Raiola told Italian paper Tuttosport in December.
Odds find Barcelona at +450 to sign Haaland, while Real Madrid is at +600. Surprisingly, the bookies' favorite remains Man City, at +300.