Welterweight title holders Errol Spence Jr. and Shawn Porter will meet on Saturday at the Staples Center in Los Angeles for a unification fight in the 147-pound division.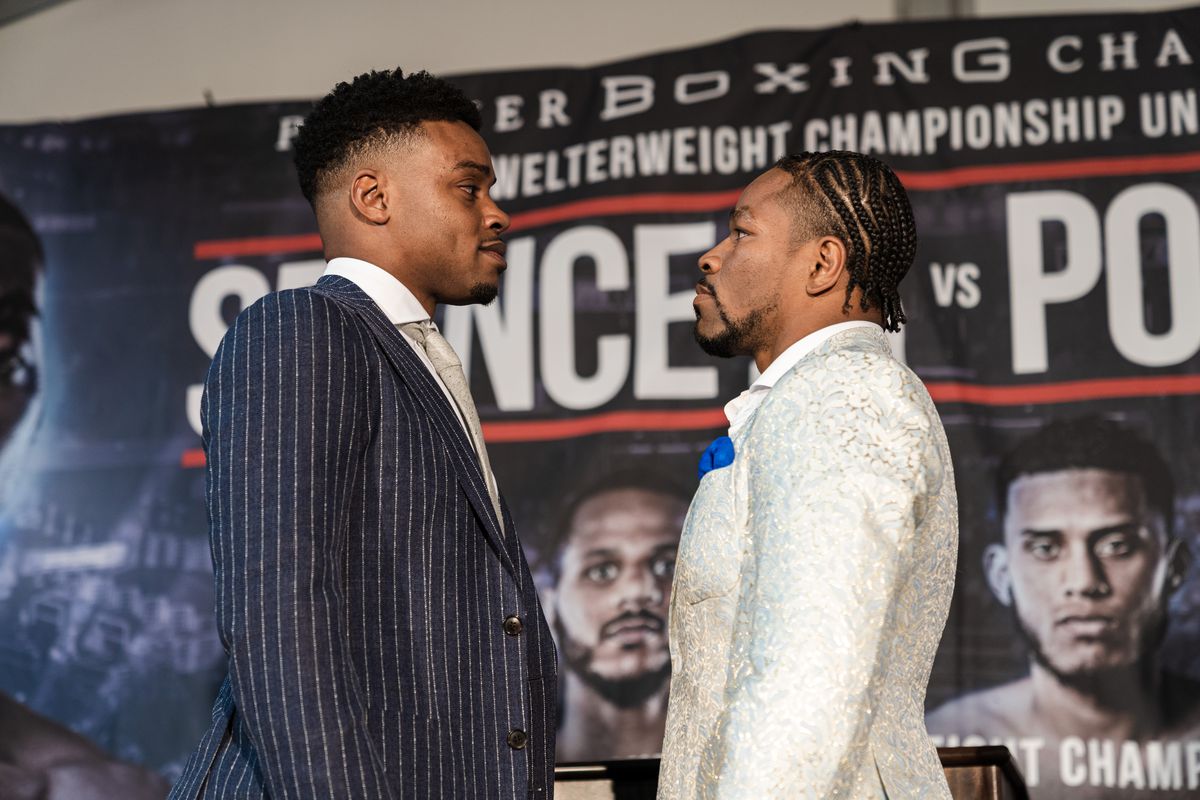 The winner will likely be seen as the true challenger to Terence Crawford, the undefeated welterweight that many see as the best pound-for-pound boxer in the world.
Spence Looking for Knockout
As in many divisions in boxing, the title picture is murky at welterweight. Crawford (35-0, 26 KOs) is seen as the legitimate champion by most: he's not only the WBO title holder, but he also has the No. 1 rating at BoxRec. Spence (25-0, 21 KOs) is No. 2 on BoxRec, but No. 1 according to The Ring, and is the IBF champion. Finally, Porter (30-2-1, 17 KOs) is seen as a step below those two men – he's No. 4 in BoxRec's ratings system – but holds the WBC title.
The fight between Spence and Porter should serve to start cleaning up that picture. Both men have admitted that this fight has big stakes for them, with Spence saying that he's looking for a dominant performance after failing to stop Mikey Garcia in March.
"It's important to me to get the knockout," Spence told reporters at a pre-fight press conference. "It's a goal of mine to stop him, and I hope to get it done. If I can't get it done, then I'm just going to be comfortable with the victory. But you know, I'm looking for the stoppage."
Porter Comfortable with Underdog Status
Porter comes in as a major underdog, which is surprising considering his strong resume suggests he's a legitimate world-class welterweight. But with FanDuel Sportsbook listing Spence at -900, Porter (+500) says he's comfortable with taking on the role of underdog – even if he doesn't agree that he deserves it.
"Being in the underdog position is literally where I come from. Northeast Ohio is always an underdog," Porter told reporters. "Everybody works where I come from. We always do the best we can."
Porter is also unfazed by Spence's talk of looking for a knockout, saying that there's little chance that Spence can finish him off after he failed to do so against a smaller fighter in Garcia.
"I think he may be trying to psych himself into thinking he can do it," Porter said. "I think I have a proven chin. We never want to get hurt, but I've taken some pretty good shots from some top guys out there, and I've managed to handle that and come out on top."
While this fight will be a step in the right direction toward clarifying the welterweight picture, there will still be plenty of work to be done going forward. Along with the winner and Crawford, Manny Pacquiao (62-7-2, 39 KOs) is still in the picture, as the 40-year-old has won his last two fights, including a split decision victory over the previously undefeated Keith Thurman.