Sergio Aguero, the 33-year-old Barcelona striker, has seen his playing career come to an early, and unexpected, end.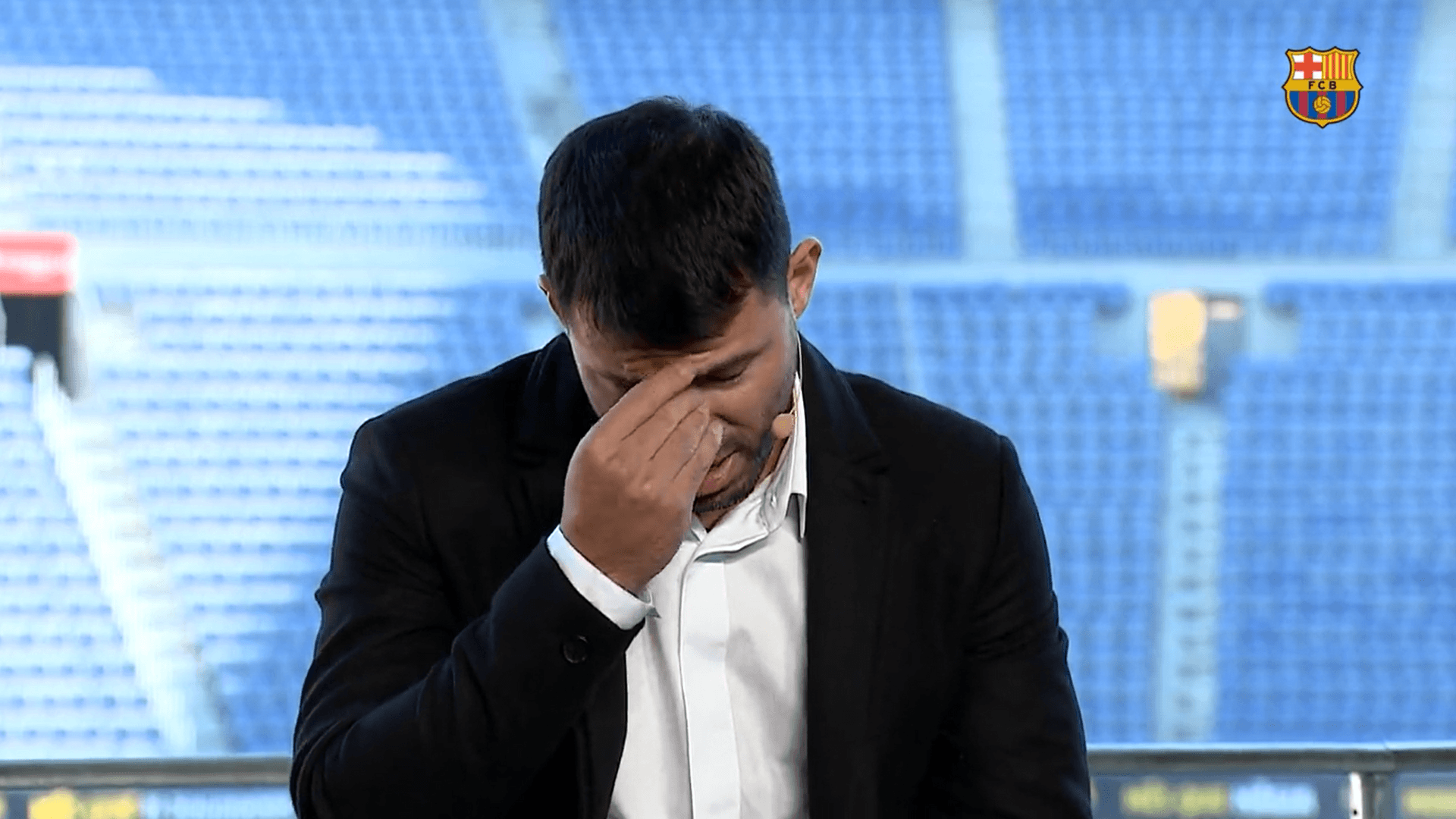 Aguero was taken to the hospital after he suffered chest pain and breathing problems during his team's game against Alaves in October. Soon after, he was diagnosed with a cardiac arrhythmia, which translates as an irregular heartbeat.
Aguero was not immediately released by the doctors, who insisted he should undergo a number of tests to avoid any risk regarding his health. The Argentinian was placed in a treatment program, with a verdict on his career expected in the early months of 2022.
Now, on the advice of specialists, Aguero has decided he should stop playing. He made the announcement during a press conference at Camp Nou on Wednesday. His former manager at Manchester City, Pep Guardiola, flew to Barcelona after last night's thrashing of Leeds United to show support, with Aguero's teammates from FC Barcelona and his friends on the Argentinian national team also attending.
Aguero, a legend for City and Argentina
Aguero burst into tears as he was introduced, then got his voice back to say he decided to stop playing football.
— FC Barcelona (@FCBarcelona) December 15, 2021
"It is a very tough moment, but I am happy with the decision I have taken. First comes my health," Aguero said. "I took the decision for the problems I had a month and a bit ago. I was in the good hands of the doctors who told me the best was to stop playing. My decision was taken about a week ago, I did everything possible to keep hope alive, but there was not much. I am very proud of my career, very happy," he said.
"I have decided to stop playing football."

— @aguerosergiokun pic.twitter.com/kVpislPA9K

— FC Barcelona (@FCBarcelona) December 15, 2021
"I wanted to come to the best team in the world, but things happen for a reason, and they have treated me very well here. Also, I am grateful to the Argentina national team, and everybody here at this moment, my family," Aguero added.
— Sergio Kun Aguero (@aguerosergiokun) December 15, 2021
Aguero joined FC Barcelona after his contract with Manchester City expired over the summer. He is City's all-time top scorer, having spent 10 years at the Premier League club. Aguero netted a total of 260 goals in 390 games for City before moving to Barcelona.
In the Premier League alone, he scored 184 times in 275 appearances. A calf injury stopped him from making his Barcelona debut until October. He played under Barcelona's crest on five occasions, scoring once in the El Clasico home defeat to arch-rivals Real Madrid.
Thank you, Sergio 💙#ManCity pic.twitter.com/idj2Rf8RxL

— Manchester City (@ManCity) December 15, 2021
Apart from Barcelona and Manchester City, Aguero also played for Atletico Madrid between 2006 and 2011, and Independiente in his home country starting in 2002. He's a five-time Premier League champion and a Champions League finalist with City. He won the Copa America with Argentina in July and represented his national side at three World Cups, playing the final in 2014. Aguero scored 41 goals in 101 caps for Argentina.